Current Course Offerings
Fall 2021 (August 16th, 2021)
IGNATIAN SPIRITUALITY
Dr. Marcus Mescher
Mondays, 6:00pm-8:30pm
This course provides an understanding of the context out of which Ignatian Spirituality developed and some of the major ways that it has expressed itself as a movement that fosters a faith that does justice at the service of education, peacemaking and the remediation of injustice in the world around us. Topics addressed include: (1) the context of Ignatius's own life and the theological and spiritual questions at the heart of the Catholic reformation of the 1520s; (2) the development of the Spiritual Exercises; (3) the Jesuit approach to education and mission; and (4) key figures of the 20th Century.

Gender and Race: Theology in Context
Dr. Ashley Theuring
Tuesdays, 6:30pm-9:00pm
This course offers an introduction to the conversations of contextual theologies, focusing on gender and race. Students unpack women and minority voices and their influence throughout the history of Christianity, focusing on the modern conversation of contextual theology, including proto-feminist and abolitionist theologians, early feminist and womanist theologians of the 1970's and 80's, and intersectional theologians who look at race, class, and sexual orientation in addition to gender. This course examines major theological themes—as well as current global issues of social justice—and how context and identity shape our theological exploration and response. 
ETHICS IN A TIME OF PLANETARY CRISIS
Dr. John Sniegocki
Wednesdays, 6:00pm-8:30pm
In a world marked by crisis and division, what is our reason for hope? In a time of such widespread apathy and despair, what sustains our faith? Surrounded by so much sin and suffering, what can love accomplish? This course will rely on the four sources of Christian ethics (Scripture, Tradition, reason, and human experience) as resources for wisdom, courage, compassion, and a bold imagination of what can be possible for living ethically today. We will consult views and voices from around the globe to inform our reflection, discernment, study, and conversation designed to clearly identify, critically analyze, and creatively apply ethical norms to build agreement and accountability for promoting the conditions -- personal, social, and systemic -- that can foster peace, justice, and solidarity in our lives, both locally and globally.
Current Course Offerings- Summer 2021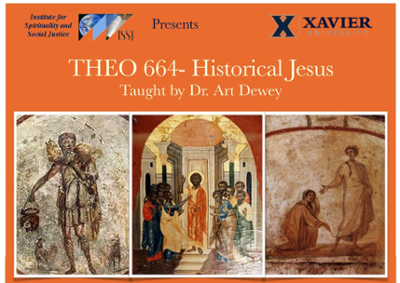 Historical Jesus
Dr. Art Dewey
Two Week Intensive: May 10, 2021 - May 21, 2021
Monday-Friday 1:00pm-4:45pm
An introduction to the historical question of what Jesus said and did. Students will analyze the early Jesus data with critical tools and detect the implications of this investigation for the contemporary situation.
Franciscan Spirituality
Dr. Gillian Ahlgren
Fully Online with Zoom Meetings
May 17th - June 25th, Tuesdays 7:00-7:50pm
Born into a world of socio-economic turbulence, conflict over property, and social discrimination, Francis and Clare of Assisi chose to forge a new way for themselves and their contemporaries.  The "Franciscan Revolution" of the thirteenth-century has a great deal to teach us today.  As Pope Francis invites us toward a "revolution of tenderness," we too can discover the power of encounter and the presence of God at the margins, just as Francis and Clare did.  This course creates a fruitful dialogue between past and present with global implications for today.