Transportation
Bus
Metro buses make traveling to your favorite off-campus locations easy and sustainable with stops at Kenwood Mall, downtown Cincinnati, Kroger, Target and more!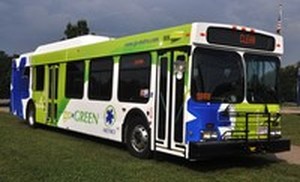 Metro*Plus services Kenwood Mall to Downtown, an express bus with only 17 stops, connects Xavier to UC, hospitals, downtown, and more. See the 17 stops on the

Metro*Plus route map

.

Metro riders reduce carbon emissions by over 4,800 pounds per year as compared to driving a car. Across the country, public transportation saves 4,200,000,000 (4.2 billion) gallons of gasoline every year.

Never been on the bus before? Not sure which route to take? Read more about how to use the bus from Xavier by visiting our Metro Bus page. Or attend brown-bags on riding Metro. Sessions include: How to use the bus, How to get to UC and the Malls, Bike loading, and Best sightseeing routes.

The two Metro bus routes that best serve the Xavier area are Route 4 and Route 51 (click links for maps). The routes have stops right next to Xavier's campus on both Dana Ave and Montgomery Rd and travel to anywhere you could want to go, including downtown Cincinnati, Kenwood, and the University of Cincinnati. 
More Links >> Queen City Metro Buses // Metro Bus Stops Near Xavier
Shuttle
The Xavier Shuttle is sponsored by the Division of Student Life and Leadership and the Student Government Association and is managed by the Gallagher Student Center office. Its purpose is to provide Xavier students shuttle service between the university's campus and shopping centers. Before and after academic breaks, the shuttle provides transportation between the university's campus and the airport. The shuttles run on a fixed route. Xavier students must show their All Card and non-students must be accompanied by a Xavier student. No alcohol is permitted on the shuttle.
For more information on the Xavier Shuttle, visit http://www.xavier.edu/student-involvement/sga/Campus-and-Airport-Shuttles.cfm.
Lime Bikes and Scooters
In 2018 Xavier and the company Lime, introduced the Lime bikes on campus to provide easier, more sustainable transportation for students. The partnership was set up by Xavier's Co-Chair of the Sustainability Committee and Professor, Dr. Nancy Bertaux, along with the rest of the committee members. Following the bikes came the scooters all in an effort to help reduce Xavier students' carbon footprints. Click here to read more about the company and how it works on campus.