EDUCATION PROGRAMS AT XAVIER
The School of Education prepares leaders who are intellectually, spiritually, and ethically prepared for the challenges of a career in education. In the spirit of St. Ignatius our programs inspire teachers and educational leaders to act with integrity, justice, and generosity while changing the world together.
Education Programs at Xavier Options
We offer degrees in areas of teacher and administration licensure.
99% of teaching licensure students at all levels pass their state exams.
99%
of teaching licensure students at all levels pass their state exams.
STAND OUT THAT'S THE XAVIER DIFFERENCE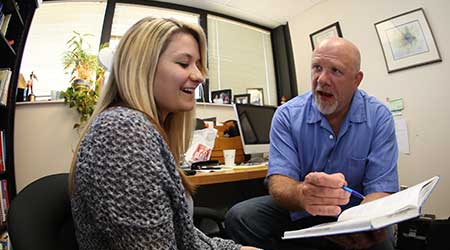 PARTNERSHIPS
Strong partnerships with local public, private and Catholic schools provide students with valuable field experiences and student teaching opportunities in a variety of classroom settings.
SCHOOL OF CHOICE
Many assistant principals, principals, assistant superintendents and superintendents in Southwest Ohio schools chose Xavier for their licensure and degrees.
SUCCESS
Our students get results. Early and middle childhood education students at both graduate and undergraduate levels are successful in finding teaching positions.
Special Centers for Education
The School supports the Center for Excellence in Education, which provides additional preparation for educators with consulting services and professional development, and the Center for Catholic Education, which provides extra support for Catholic schools.
Montessori Pioneers
Xavier opened the first graduate-level Montessori teacher education program in the U.S. in 1965 and has been a leader in Montessori education ever since.
Core education courses are offered at five Cincinnati area locations, making it even easier for students to take courses. The locations include:
Covington Catholic High School in Northern Kentucky.
Middletown Fenwick High School north of Xavier.
Wilmington High School, northeast of Xavier.
Oak Hills High School west of Xavier.
West Clermont High School easy of Xavier.
View Offsite Programs »
School of Education: It Takes a Partnership
The School of Education is second only to the College of Nursing in numbers of students. What makes Xavier the destination of choice for teaching is also what makes Xavier the choice for so many other degrees—a focus on experiential learning.
Oyler's Legacy: Breaking the Cycle of Poverty
He left four years ago, but Craig Hockenberry is still tethered to the school—and the kids—he began saving more than 11 years earlier.
Get to Know Lizzy Wylly
Lizzy Wylly (Special Education, '18) didn't always know that she wanted to be a teacher. It wasn't until her junior year of high school—after volunteering to lead a special education gym class— that she realized her passion for helping others discover their abilities.