Undergraduate Ceremony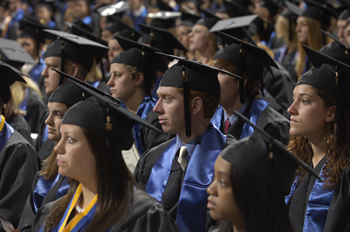 Commencement Update - Regarding Coronavirus (COVID-19)
Based on the information from the Centers for Disease Control and Prevention regarding large gatherings, Xavier will postpone Commencement. At Xavier, celebrating our graduates and all they have accomplished is important both for the students and all who have supported them. Wonderful ideas have surfaced about special ways to celebrate. Xavier will have a Commencement, even if the timing and details of those festivities are currently beyond our control. As soon as we have more details, we will share them with the Xavier community so graduates, families and friends can plan to join us for a long-awaited, truly memorable ceremony. 

Commencement Speaker:
Information for Graduates
Alert: Due to the response to COVID-19 and the temporary implementation of a new S/U grading policy for the Spring 2020 Semester, diplomas will not be mailed until mid-July. Diplomas will be mailed First Class USPS. Pick-up at the Office of the Registrar is not an option until further notice.
Actual diplomas are not distributed at the Commencement Ceremony. Diplomas will be mailed or available for pick up in the Registrar's office on June 17, 2020.
Degree recipients should arrive at the Cintas Center between 7:45 - 8:15 a.m. on Saturday, May 16 and enter the assembly area inside the Cintas Center at the west entrance marked Kohlhepp Family Auxiliary Gym. Guests should enter the main front entrance (south side) of the Cintas Center.
Each candidate should obtain a name card that indicates a row/position according to college and degree. After taking your position in the line of march, remain in place and keep your name card. The name card will be used for reading your name when you walk across the stage. Marshals will direct participants at appropriate times throughout the ceremony. No rehearsal is required.
Personal property should not be left in the assembly area. Xavier University cannot be responsible for missing articles.
The candidate seating diagram will be posted on the concourse of the Cintas Center the day of the commencement ceremony. The seating for candidates is arranged by degree within Honors Bachelor of Arts, Service Fellows, University Scholars, College of Arts and Sciences, College of Nursing, College of Professional Sciences and the Williams College of Business.
Undergraduates should return to and remain in their seats until the conclusion of the ceremony.
We estimate the undergraduate ceremony to last approximately two to two-and-one-half hours.