French Student Spotlight
Check out what our students majoring/minoring in French have to say about studying abroad and the French program at Xavier!
---
Rachel Barth, AIFS Grenoble (Fredin), Fall 2019
Hometown: Fairfield, OH
Majors: French, Psychology
Minor: Gender and Diversity studies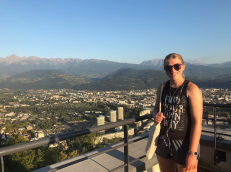 How would you describe the study abroad program in Grenoble?
It was absolutely amazing. Grenoble was the perfect city to study abroad in because it is located in the heart of the Swiss Alpes. I love nature, hiking, and being active, and I was able to do all these things in Grenoble. Further, we had the best resident director who placed us in amazing host families where we built long-lasting relationships and practiced our spoken French. Finally, Grenoble is a college town. The university has almost 60,000 students, so it's really fun to meet new people and get involved. The French classes we took were also very fun and informative, and the staff was incredible.
What was the best part of your experience abroad?
I loved how easy it is to travel in Europe. Grenoble has a major tram and bus system, so I was able to get to any part of the city very quickly without having to worry about driving a car. I also loved experiencing other cities and countries in Europe because plane and train tickets were so cheap! I got to visit 5 different countries, and this helped me broaden my cultural knowledge. Plus, we got to eat some really great food!
How did this experience serve you academically?
You must take a placement test in order to be put in a certain French level in the classroom. Therefore, the people in your class are at very similar French levels as you so it really helps in your development of the language. I spoke, wrote, and read a LOT of French, but I now feel like I can easily hold a conversation in the language. I also finished up the majority of my French major! Lastly, the classes are difficult, but the professors know that French is not your first language, so they work diligently with you and do not assign a lot of outside work. I had much more free time in France to explore and build connections. It was a great break from my hectic life at Xavier.
How will it impact your career goals?
It is always good to say that you know another language. In addition, it would be amazing for me to travel back to France and perform psychological research. Now I am more comfortable traveling alone, and I know that I am competent enough to conduct research in a foreign country. Plus, only 10% of all US college students study abroad, so it really does make you stand out, and there are many transferable skills that you learn for the workplace.
Anything you'd like to say to a prospective study abroad participant?
DO IT! It can be scary and intimidating, but it will be one of the best experiences of your life. Also, studying abroad is what you make it. You have to be willing to put your all into it, reach out and build connections, and immerse yourself in the culture.
---
Julia Daanen, AIFS Grenoble, Spring 2019
Major(s): Occupational Therapy and French
Hometown: Geneva, IL (Western suburb of Chicago)
How would you describe the study abroad program in Grenoble?
It was an amazing program. The program staff, Marie and Miranda, were fantastic and happy to help you with any issues you may have had. They took care of everything from placing us into host family's to organizing fun activities throughout the semester. In addition to the staff, the city itself was beautiful and there were so many activities going on to keep us busy. The academic program was also well managed; students are placed into an appropriate French level that is challenging, but not impossible. Overall, I really enjoyed every aspect of the program and strongly suggest considering it!
What was the best part of your experience abroad?
My host family. I lived with an older couple during the semester and spent a lot of my time in Grenoble getting to know them. Throughout the course of the semester I met their entire extended family and attended all of their family gatherings. I am fairly close with my family here so it was amazing to live with people who invited me into their own family with open arms. We did many fun things together including skiing in the Alps, hiking, going out to dinner, and shopping around Grenoble. I still keep in touch with them today and I look forward to visiting them again soon.
How did this experience serve you academically?
I returned to Xavier with more French credits than initially expected and my French speaking, writing, and reading levels were all better than I ever could have imagined. Upon returning to a normal French class here at Xavier, I was much more confident in my French ability and my course work reflected that. All classes were pass/fail and they did not influence my GPA in any way. Going into this experience I was worried about falling behind in my other major, but all the Xavier professors were very flexible and I came back still on schedule for both my OT and French major.
How will it impact your career goals?
When most people hear Occupational Therapy and French they don't see much of a correlation, but I believe having a French background really opens up doors in my career. It gives me the ability to practice somewhere else if that's what I decide to do and it can help me to communicate with a variety of clients. While I was in Grenoble, I thought a lot more about working in a francophone country. I'm not sure if this is where I'll end up in the future, but it's a very attractive idea. My time abroad broadened my view on the future and led me to consider more possibilities than I had before.
Anything you'd like to say to a prospective study abroad participant?
If you're considering going abroad definitely do it. It's a once in a life time experience and you really grow as an individual. Whether you go abroad for a semester or for a few weeks, fully immerse yourself in the culture and be prepared to be outside of your comfort zone.
---
Olivia Simons, French Language and Culture AIFS, Spring 2019
Hometown: Dayton, OH
Majors: Psychology
Minor: French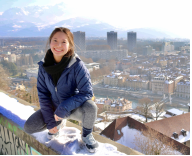 How would you describe the study abroad program in Grenoble?
Studying abroad through AIFS gave me an experience I couldn't be more grateful for. Grenoble is such a beautiful place to spend a semester abroad!. The city is filled with activities at every corner and a beautiful view of mountains every time you look up. I had the opportunity to take challenging classes with other
American and international students that pushed me to improve as a student. The program in
Grenoble allows you to gain the independence and international experience you might be craving!

What was the best part of your experience abroad?
My favorite part of being abroad was realizing how much I was improving in the short amount of time I lived in Grenoble. My French language speaking and comprehension levels were very basic at the beginning of the semester; however, I wasn't afraid of putting myself out there and making mistakes. Throughout my study abroad experience, I became very comfortable talking to locals and practicing my French whenever I got the chance! I tried my hardest to learn from every interaction I had. Even if it meant I learned one new vocab term, I was learning!
How did this experience serve you academically?
This experience served me academically by helping me achieve credits to go towards my minor at
Xavier! I was also taking classes taught by French professors at the university, therefore, I was
constantly exposed to the language in the classroom. I had the chance to take very interesting
courses like culture and society in France and even a theater class! I had professors that cared for my
language improvement and overall wellbeing.
How will it impact your career goals?
Studying abroad has heavily impacted my career goals. One of my favorite experiences in France was
that I had the chance to help five high school students improve their oral English skills in an afterschool program. I made personal connections with my students and treasured the hour I had with
them each week. Working with these students made me interested in helping with English education
abroad. After graduation in May 2020, I will be going to China to teach English in public schools,
alongside my twin sister. After dedicating some time in China, I hope to take what I will learn and
return to France to do more ESL work with French students.
Anything you'd like to say to a prospective study abroad participant?
If you have the chance to spend a semester abroad, DO IT!!! I obviously will advocate for France, but if you are interested in going elsewhere, please do! No matter where you go, you'll have the time of your life. I believe that studying abroad is such a meaningful experience because you get the chance to do something so unique and live in a different country. You are likely to meet people from all over the world and make connections with strangers. I made life-long friendships in under five months, and you can do the same! Furthermore, if you have the opportunity to live with a host family, I'd highly encourage it! I loved my host family and I learned so much from them, plus you get to eat authentic cuisine! If you decide to go abroad, follow the cliché saying of "What you put in is what you'll get out." Give it your all and you'll have an unforgettable time! Safe travels J -Olivia