Meet the Board
Olivia Biddle
Chair
Olivia is a senior biology major with minors in chemistry and criminal justice from New Palestine, IN. In her sophomore year, she went on two experiences, Preserving Appalachian Ecosystems in the fall and Food Security: From Seed to Table in the spring before joining the board as the Reflection Site Coordinator her junior year. She loves trying out new coffee spots and would love for people to reach out! Her email is biddleo@xavier.edu
Charlie Collins
Financial Chair
My name is Charlie Collins and I am a senior finance major and a Spanish minor from Buffalo NY. My experiences with Alternative Breaks started in freshman year when I went on Immigration Apopka and learned about the opportunities that AB holds. These opportunities led me to become the Financial Chair of AB two years in a row and along with some of the coolest people on campus, I enjoy playing a role in the awesome and positive ways AB can shape one's college experience. Outside of AB I like to bike and am a fan of trying new food. Email me at collinsc19@xavier.edu.
Fiona Brown
Fundraising Chair
Fiona is a senior Biophysics and Spanish major from Mount Prospect, Illinois. Fiona's journey with AB started as a first-year when she went on Refugee Resettlement. In her second year, she was a co-site leader for The Rights and Welfare of Animals trip. After having such amazing and transformative experiences, she decided to apply to the board to have a more active role in AB. Outside of AB, you can either find her studying in Gallagher or exploring different coffee shops in Cincinnati. Feel free to contact her at rowanf@xavier.edu if you have any questions!
Rosie Schlidt
Membership Chair
Rosie is a sophomore PPP major from Milwaukee, WI. While she has not been any Alternative Breaks trips yet, she has been a part of many groups with similar goals and values and is passionate about social justice issues. She is open-minded and can't wait to see what this year of Alternative Breaks experiences brings! Rosie is also a member of the Interfaith board through the CFJ and is a SWAG Peer Educator. She loves to be outdoors, spend time with friends, and meet new people! She can't wait to get to know more students interested in AB, so please feel free to chat with her at schlidtr@xavier.edu!
Noah Ip
Fall Site Coordinator
Noah is a senior marketing and data analytics major from Naperville, IL. Last semester, he went on his first AB trip to South Bend, IN, and learned about Gentrification. After having a fun and educational experience, that trip sparked an interest for him to acquire a larger role in Alternative Break, so he signed up to be Fall Site Coordinator. He joined the AB board because the organization, as a whole, is full of nice, funny, and dedicated social justice workers that are passionate about making communities better. Other than AB, he loves working out and playing basketball at the HUB, as well as listening to alternative and rap music. Noah is also originally from Vancouver, Canada, and is a huge Canucks fan.
Jenna Wood
Travel Site Coordinator
Jenna is a sophomore Fibers, Sculpture, and Printmaking major from Apex, North Carolina. This is her second year participating in AB and her first year as the Travel Site Coordinator. Her first experience was "Urban Farming: From Seed to Table," that focused on the combination of urban farming and food insecurity. In addition to AB, Jenna is the Treasurer of Xavier Art Society and works in the Office of Admissions. In her free time she loves to crochet and attend different events on campus! You can email her at woodj14@xavier.edu, if you want to chat!
Kellie LeTart
Risk Management Site Coordinator
Hi my name is Kellie LeTart and I will be a senior this year at Xavier.  My major is Communications and I have a minor in Public Relations with the hope of attending law school after graduation.  In the past I have gone on the Urban Schools and Civil Rights trip with AB.  I look forward to creating a great year of learning experiences for the Xavier community.
Carly Whitmore
Education Site Coordinator
Carly is senior political science major from Indianapolis, Indiana with minors in economics, public relations and peace & justice studies. This is her third year with XUAB and second year as Education site coordinator. Her first experience was "The Legacy of the Civil Rights Movement" and her second was "The Rights and Welfare of Animals." In addition to XUAB, Carly is the Vice President of Xavier Students Against Trafficking and works in the School of Psychology. You can usually find her in Gallagher doing homework or at any ice cream shop in the city. Email her at whitmorec@xavier.edu, she is always open to chat!
Jenna Buckman
Campus and Local Engagement Chair
Jenna is a sophomore History and English double major from Grosse Pointe, Michigan. This is her second year participating in AB and her first year as the Campus and Local Engagement Chair. The first experience she went on was "The Legacy of the Civil Rights Movement," where she learned about how Civil Rights has affected and continues to affect Cincinnati and different parts of Kentucky. Jenna is very excited to continue being a part of AB and wants to help make it a fun and positive experience for everyone! She is also a Companion Group Leader and a part of the Symphonic Wind Ensemble. Feel free to reach out to her at any time at buckmanj1@xavier.edu!
Melissa Navarra
Reflection Site Coordinator
Melissa is a junior economics major from Dayton, OH. She went on an alternative breaks experience her first year called The Effects of Coal Mining in Appalachia, and during her sophomore year she was a site leader for the Urban Farming: From Seed to Table experience. She wanted to further her involvement in AB, and now she is the reflection site coordinator! Melissa is also involved in the music department, works as the business manager for the Xavier Newswire, and tutors ECON, ACCT, and BAIS courses. She encourages people to reach out if they have questions, her email is navarram@xavier.edu.
Molly Parker
Leadership Development Site Coordinator
Molly is a senior business management and entrepreneurial studies double major with a minor in finance from Cleveland, Ohio. She began participating in Alternative Breaks her freshman year and is now the current Leadership Development Site Coordinator. In addition to AB, she is involved in Student Activities Council. In her free time, Molly likes to go to the mall and shop! You can contact Molly at parkerm13@xavier.edu.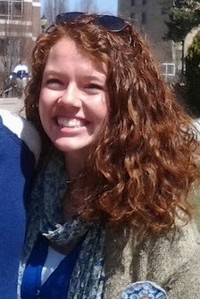 Shannon Hughes
Staff Advisor
Shannon is excited to be continuing Alternative Breaks in her role as Senior Assistant Director in the Dorothy Day CFJ! Shannon works with students to deepen our commitment to the pursuit of justice in our campus, local, and global communities. Prior to her work at Xavier, Shannon managed the NETWORK Education Program in Washington, DC (the partner of NETWORK, a National Catholic Social Justice Lobby). where she helped to raise awareness of the justice issues at stake in federal policy. Shannon is also a proud XUAB alum and as a student participant and Board member, traveled to Colorado to work with men in recovery from addiction, to the Dominican Republic to work with Orphanage Outreach, and to Little Rock, Arkansas to learn about Global Hunger (and clean up after a few water buffalo) at the Heifer Ranch. When she's not hanging out with the AB Board, Shannon loves to play outside, write, and try yellow mustard on anything in the fridge. Email her at hughesse1@xavier.edu.