What is the Writing Center?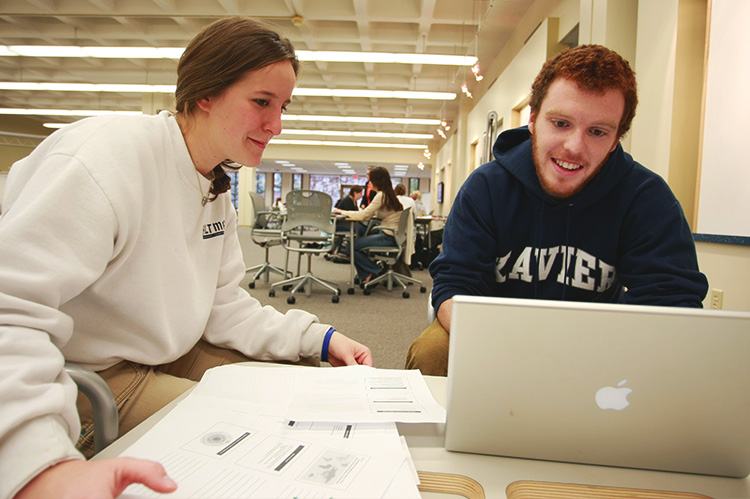 James A. Glenn Writing Center provides free tutoring services to all members of the Xavier community — undergraduate and graduate students, staff and faculty. 
Follow us on our instagram: @xuwritingcenter
How can I make an appointment?
Tutoring appointments are scheduled in 50 minute time slots and can be reserved by calling (513) 745-2875, visiting our office, or emailing writingcenter@xavier.edu with your preferred times. 
We recommend that appointments for tutorial assistance (either in person or distance learning) be made in advance, although walk-in appointments are possible if a tutor is available. No appointment is required to use the Center's computer lab.
The Writing Center is located in the Conaton Learning Commons (CLC) Room 400.
Hours of Operation:
Monday/Wednesday: 9:00 am--8:00 pm 
Tuesday/Thursday: 9:30 am--8:30 pm
Friday: 9:00 am--3:00 pm
Saturday: Closed
Sunday: 1:00 pm--7:00 pm
What kind of appointments are there?
We offer one-on-one tutoring sessions in person, online via Microsoft Teams, and through e-mail. No matter where you are, we are here to assist you in reaching your writing goals  
How could a tutoring session benefit me?
The tutors in the center can help at any stage of the writing process:
understanding an assignment
generating ideas
drafting
organizing
revising
editing (addressing sentence structure, grammar, and punctuation concerns)
documenting sources
Writers can also receive assistance in refining cover letters and resumes, and other such non-class-related writing projects.
The mission of the Writing Center is to support writers in their efforts to become better writers. The Writing Center thus does not provide superficial copy-editing or proofreading services, where a writer drops off an essay for us to 'fix' before the writer picks it up again.
Tutors will, however, do something better: they'll sit down with writers, assisting them in learning how to identify their own particular writing strengths and weaknesses and to develop or improve their self-editing strategies. As experienced writers know, discussing a writing project and getting informed feedback helps all writers to clarify their ideas and to express them more effectively.
Need Additional Help?
The following centers on campus offer additional assistance to students who are engaged in specific writing tasks or have particular needs regarding reading and writing:
Career Services: The Center for Career and Leadership Development provides assistance to students seeking employment upon graduation. 
Office of Academic Support: Located on the fifth floor of the Conaton Learning Commons, the Office of Academic Support provides peer tutoring free of charge for a variety of different subject areas and peer advising in the residence halls.
Accessibility and Disability Resources: Located on the fifth floor of the Conaton Learning Commons, Accessibility and Disability Resources provides support services and accommodations for students with disabilities.