About the Veteran and Military Family Center
Since its founding in 1831, Xavier University has produced and supported thousands of veterans, many of whom paid the ultimate price in defense of our nation. The Veteran and Military Family Center strives to provide the current student veterans and military affiliated students of Xavier University a safe, studious, and recreational setting. Located on campus at the Conaton Learning Commons in room 529, the Veteran and Military Family Center offers student veterans and military affiliated students a space of their own.
The Center provides students the ideal place to unwind, connect with fellow student veterans and military affiliated students, and to access the myriad resources the staff make available on a personalized basis. The Veteran and Military Family Center has comfortable space for relaxing, desks for coursework, computers and printers available for use, as well as a conference room and offices for group projects.
The Veteran and Military Family Center has multiple resources available to both student veterans and military affiliated students including financial aid and planning, academic advising, and career coaching.
Mission
The Xavier University Veteran and Military Family Center provides unparalleled personalized support to enhance the educational experience of veteran and military affiliated students that results in unlimited success in the classroom and beyond.
2025 Vision
Xavier University is recognized as a National Center of Excellence for Veteran and Military Family support and is in the top 1% of Veteran programs in the Nation. Military affiliated students comprise 10% of the student population and are exceeding all University standards for success while in school and after graduation. Military affiliated students have access to a professional mentorship program and a dedicated alumni network that enhances their experience at Xavier and facilitates success within the values of the Jesuit tradition.
---
Alumni Spotlight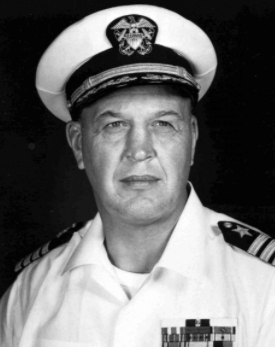 Captain Phil H. Bucklew (U.S. Navy, Retired)
Phil H. Bucklew was born and raised in Columbus, Ohio, where he attended Columbus North High School. He went on to attend Xavier University in Cincinnati, where he earned fame as a football player. After college, Bucklew played for the Cleveland Rams in 1937 and 1938. In 1939, Bucklew left the Rams and founded the Columbus Bullies; he was their coach for two years, until the United States entered World War II in 1941.
Bucklew had served in the Naval Reserve from 1930 until 1934, and once again volunteered for military service on December 8, 1941, the day after the Japanese attack on Pearl Harbor. He reported to Norfolk, Virginia, for his training and was commissioned as an ensign upon graduating. He soon joined one of the Navy's first special warfare units, the Navy Scouts and Raiders, an elite force of combat swimmers who scouted beaches for amphibious landings. While serving in the European Theater, he was twice awarded the Navy Cross, the second highest decoration in the United States Military.
After World War II, Bucklew completed his Ed.D. at Columbia University and went on to command SEAL Team One. In the early stages of the Vietnam War he authored a report in which he predicted the Vietcong would make use of the intercoastal waterways and rivers as routes for supplies and personnel. Although it was initially dismissed, this report was later used as a source to increase the use of Navy SEALs in direct action missions. In 1969 Bucklew retired as a Captain and worked as a consultant for a shipbuilding company in the private sector.
Bucklew is often called "The Father of Naval Special Warfare" by members of the Naval Special Warfare community and military authors. In 1987 Bucklew attended the ceremony in which the Naval Special Warfare Center in Coronado, California was named for him. In October 1989, he was inducted as the 34th member of the Columbus Hall of Fame, and his photograph hangs in City Hall. Bucklew died at Fairfax Hospital in Fairfax, Virginia, in 1992. He is buried at Arlington National Cemetery with his wife Helen Nagel.
---

General Michael X. Garrett
Commanding General, U.S. Army Forces Command
As commander of the U.S. Army's largest organization, he commands 215,000 active-duty soldiers and 190,000 members of the U.S. Army Reserve while providing training and readiness oversight of the Army National Guard. In total, the Forces Command team includes 745,000 soldiers and 96,000 civilians.
The son of an Army command sergeant major, Garrett has spent his entire life in and around the Army. A career infantryman, Garrett received his commission in 1984 upon graduating from Xavier University. Following his initial military training courses, including Ranger, Pathfinder, and Jumpmaster, he served his formative years in the 75th Ranger Regiment. Over the course of 11 years, Garrett served in and wore the Scroll of each of the Regiment's three Ranger Battalions.
Garrett commanded 3rd Battalion, 325th Airborne Infantry Regiment, 82nd Airborne Division at Fort Bragg. He also activated and commanded the "Spartan Brigade," 4th Brigade Combat Team (Airborne), 25th Infantry Division (Light) at Fort Richardson, Alaska, and deployed the unit to support Operation Iraqi Freedom in 2006.
Beginning in 2013, Garrett spent six consecutive years focused on military operations in the Middle East, first as chief of staff, U.S. Central Command, and later as commanding general, U.S. Army Central and Coalition Forces Land Component Command.
Garrett holds a bachelor's degree from Xavier University, and his military education includes U.S. Army Command and General Staff College and a Senior Service College Fellowship.