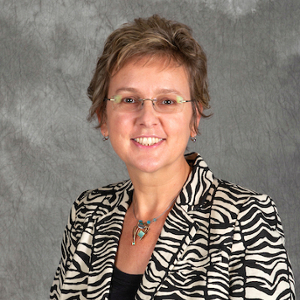 Dr. Kristine Suna-Koro
Assistant Chair, Theology Department
Associate Professor, Theology Department
Dr. Kristine Suna-Koro (PhD, Emory University) is Associate Professor of Theology. She is a Latvian-American diasporic theologian working at the intersection of postcolonialism, liturgical and sacramental studies as well as migration and diaspora discourses. At Xavier, she teaches in fields of modern historical theology, theology of migration, liturgical-sacramental studies, pastoral theology as well as diversity studies. She is the author of "In Counterpoint: Diaspora, Postcoloniality, and Sacramental Theology" (Pickwick, 2017) as well as numerous articles and book chapters on sacramentality and liturgy, constructive postcolonial theology, diasporic imagination, theological aesthetics, and theology of migration. 
Her most recent scholarly activities include participation in the Center of Theological Inquiry, Princeton, NJ, Global Concerns – Religion and Migration inquiry with a presentation on liturgy, migration, and justice (May 2018); the lecture at the Yale Institute of Sacred Music, "Sacraments and Postcolonial Planetarity: Reimagining the Sacramental Signature of All Things in the Era of Environmental Degradation" (October 2018); the chapter "Global Migration, Local Encounters: Explorations in Interfaith Pedagogy," The Meaning of My Neighbor's Faith: Interreligious Reflections on Immigration, eds. Laura Alexander and Alexander Y. Hwang (Lexington Books, 2018). Her articles "Confession of Sin and the Sinned-Against: An Inquiry from a Lutheran Perspective" and "Liturgy and Lament: Postcolonial Reflections from the Midst of a Global Refugee Crisis" are scheduled to be published in Liturgy: Journal of the Liturgical Conference in 2019. Currently she is working on a book manuscript exploring the intersection of constructive liturgical theology, migration, and justice from postcolonial perspectives. 
Since 2017 Dr. Suna-Koro has facilitated the collaboration between Xavier University and Cincinnati's Nancy and David Wolf Holocaust and Humanity Center to offer a summer course for students and educators "Holocaust Studies for Educators." 
Recently she has served as the convener of the Critical Theories and Liturgical Studies seminar at the North American Academy of Liturgy (NAAL) (2017-2019). During the annual meeting of 2019, NAAL elected Dr. Suna-Koro to serve on its leadership team as the Delegate for Membership. At the American Academy of Religion (AAR), she serves as the Co-Chair of the Religions, Borders, and Immigration Seminar. It promotes interreligious and interdisciplinary collaboration on global migration from theological perspectives by exploring how such theological inquiries begin to reshape the interpretations of the Ultimate reality as it is envisioned in various religious traditions in dialogue with diverse traditions of ethics and pastoral responses to the refugee crisis. 
As a Lutheran pastor, Dr. Suna-Koro has served the diasporic Latvian Lutheran communities in Great Britain, Germany, and the United States. In addition to her pastoral work she has served on the Board of the Lutheran Immigration and Refugee Service (LIRS) and continues to collaborate with the local Greater Cincinnati organizations supporting the integration of refugees and migrants through teaching a community engaged service learning courses such as THEO 358 Immigration, Theology, and Ethics and THEO 607 Gospel & the Global Refugee Crisis.
First Year at Xavier
2010
Degrees