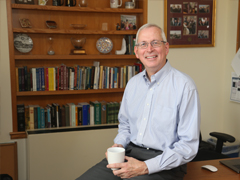 If you want to explore life's meaning; if you want to be challenged and inspired to change a world wounded by inequality, hatred, and ecological degradation; if you want to grow spiritually by drawing on the riches of the Christian tradition in open dialogue with others, come join us.
-Dr. William Madges, Chair of the Department of Theology
Fall 2021 Course Highlights
THEO 288: Medieval Female Mystics, which examines the lives, writings, and influence of Christian women in the Middle Ages who were unbounded by traditional worship practices and religious norms.
THEO 334: Racial Reconciliation, which explores the historical origin, growth, and theological justification for race discrimination in North America. At the same time, this course highlights efforts to counter racial injustice and to reconcile the scars of racism.
THEO 340 Health, Religions, Ethics, which explores the intersections of theology, ethics, and interreligious literacy with a particular focus on preparing students to address spiritual and ethical challenges presented by the contemporary multicultural, multireligious, and deeply inequitable society in their professional practice in contemporary healthcare fields such as nursing, occupational therapy and other related disciplines.
News & Events