Philosophy Major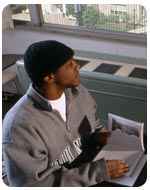 Building upon the core courses in ethics and philosophical perspectives, students majoring in philosophy go on to complete a total of 36 hours of course work. This includes a course in logic plus eight electives which are distributed between courses in the history of philosophy (three courses) and free electives (five courses). In addition, majors will also take a specialized course in metaphysics restricted only to students who have declared a major or minor in philosophy.
Students who intend to go on to graduate school with an interest in ancient or medieval philosophy will find a reading knowledge of Greek and Latin necessary; those who intend to concentrate on modern or contemporary philosophy should look to French or German.
The major program culminates in the preparation of a thesis during the student's final year. Majors work closely with a mentoring faculty member to prepare a lengthy research project to demonstrate the student's abilities in the discipline. An oral defense of the thesis completes the requirements for the major program. The major leads to a Bachelor of Arts (B.A.) degree.
The following is an outline of one possible course sequence for philosophy majors. Schedules will be tailored to students' specific academic plans and interests.
Year One
First Semester
Credit Hours
Second Semester
Credit Hours
PHILOSOPHY 100
Ethics as Intro. to Philosophy
3
SCIENTIFIC PERSPECTIVES
Elective
3
ENGLISH 101 or 115
English Composition or Rhetoric
3
ENGL/FREN/GERM/SPAN 205
Literature and the Moral Imagination
3
second language 201
Elective
3
second language 202
Elective
3
CORE 100
First Year Seminar
3
THEOLOGY 111
Theological Foundations
3
CREATIVE PERSPECTIVES
Elective
3
ORAL COMMUNICATIONS
Elective*
3
Total
15
Total
15
Year Two
First Semester
Credit Hours
Second Semester
Credit Hours
PHILOSOPHY 200
Philosophical Perspectives
3
HISTORY OF PHILOSOPHY
Philosophy 300-309, 354, 362-364
3
MATHEMATICAL PERSPECTIVES
Elective
3
PHILOSOPHY
Elective
3
HISTORICAL PERSPECTIVES
Elective
3
SOCIAL SCIENCE
Elective
3
NATURAL SCIENCE
Elective
3
THEOLOGICAL PERSPECTIVES
Elective
3
General Elective
3
QUANTITATIVE REASONING
Elective*
3
Total
15
Total
15
Year Three
First Semester
Credit Hours
Second Semester
Credit Hours
HISTORY OF PHILOSOPHY
Philosophy 300-309, 354, 362-364
3
HISTORY OF PHILOSOPHY
Philosophy 300-309, 354, 362-364
3
PHILOSOPHY 311
Symbolic Logic
3
PHILOSOPHY 340
Metaphysics
3
PHILOSOPHY
Elective
3
PHILOSOPHY
Elective
3
ETHICS/ RELIGION and SOCIETY
Elective*
3
DIVERSITY CURRICULUM REQUIREMENT*
3
GENERAL
Electives
3
HUMANITIES
Elective
3
Total
15
Total
15
Year Four
First Semester
Credit Hours
Second Semester
Credit Hours
PHILOSOPHY 398
Thesis Review I
1
PHILOSOPHY 399
Thesis Review II
2
PHILOSOPHY
Seminar
3
GENERAL
Electives
12
HISTORY OF PHILOSOPHY
Philosophy 300-309, 354, 362-364
3
GENERAL
Electives

9

Total
16
Total
14
*May double count with other core or major courses
A minimum of 120 credit hours is required for the degree