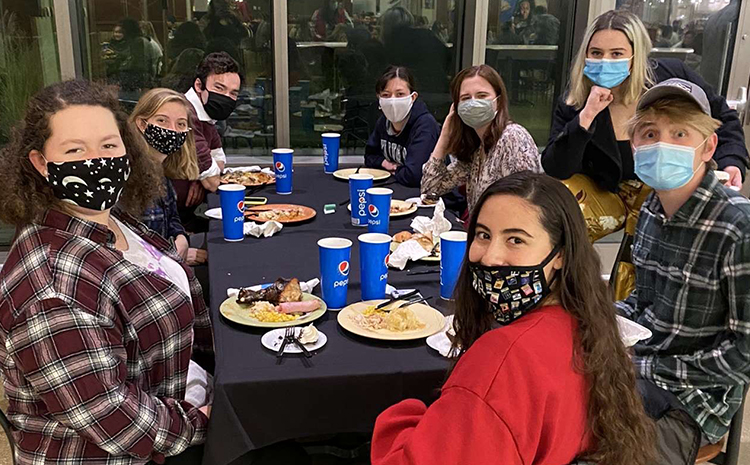 First Year Students Reflect on 2020 Academic Year
Mar 30, 2021
Each year, Xavier welcomes more than one-thousand students to join the first-year class. Many students bring with them ideas about college life, and specifically life on Xavier's campus. Something from a movie or a friend's college stories or even their Xavier campus tour informed their imagination about life in college.
Regardless of what this year's new students imagined, the COVID-19 pandemic introduced entirely unexpected elements to their first-year experience.
By the time they arrived last fall, all students knew there would be a series of new protocols in place to keep each other and the greater community safe. Gatherings would be limited, masks would be worn everywhere and gaining familiarity with Zoom technology would be essential.
Although the Xavier experience was undoubtedly different than in previous years, new students in the College of Arts and Sciences nevertheless experienced some of the hallmark features of the traditional first year while enjoying some brand-new experiences along the way. The College of Arts and Sciences spoke with a few first-year students to learn more about their journeys navigating academics, a new campus environment, and a global pandemic. 
Grace Caccavari is a first-year student studying Theatre and minoring in Digital Innovation, Film and Television (DIFT).
"I was drawn to Xavier by the Theatre Program."
Grace knew from an early age she wanted to be an actress. On March 1, 2020, Grace visited campus for one of the last in-person auditions before the university went remote during the spring 2020 semester. "Something that really stood out to me during my audition was how welcoming the community, specifically the theatre community, was while I was visiting."
After Grace received her offer of admission, she had a call with current theatre students and knew she was ready to commit.
"The program is designed to allow for other things in addition to theatre. I'm on the theatre performance track, but I still get to take classes on directing which is something I'm interested in." Another draw for Grace? The ability to expand her education. Beyond the theatre major, Grace is earning a minor in DIFT.
When Grace began in fall 2020, she admitted that her expectations were lowered because of COVID. "I knew I wouldn't be doing the normal, regular shows, but all in all I didn't really know what to expect."
After the end of Manresa, Xavier's student orientation program, the theatre program divided its students into groups that each created their own play or movie from scratch. Grace explained how this project showed her from the start how adaptive the program is. In her first weeks, she was already learning many different techniques used by today's theatre professionals.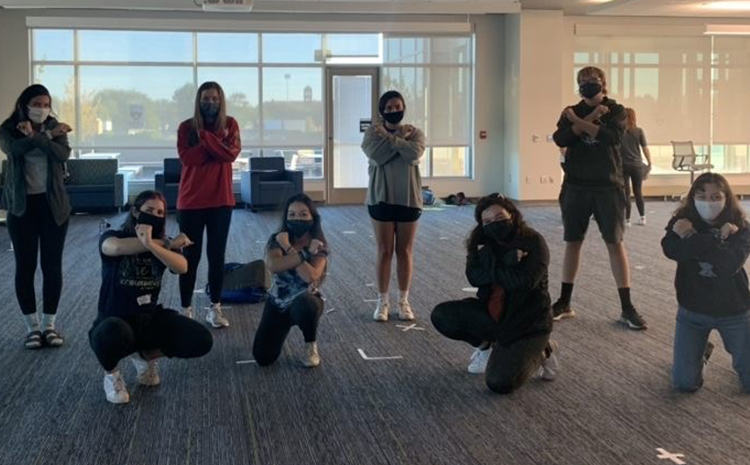 Grace's group created a radio play. "A radio play is essentially like reading from a script – think like an audiobook," she explained. Grace remembered needing, for the first time, to learn for this project how to act without using her face. "I feel like I'm learning things so much earlier in the program that I might not have otherwise learned if were running in-person plays as usual."
Although Grace remains incredibly positive about her experience, there's still quite a bit she's looking forward to in the post-pandemic campus. "I'm really excited for live theatre to return, and to learn about the process at Xavier! I'm also very excited to go to the cafeteria and not worry about sitting with too many people."
Darby Slunski is a first-year Biomedical Sciences student with a plan to enter medical school and become an allergist.
"During my first visit to campus, I could tell community was a really important part of the Xavier experience. Everyone seemed so friendly and nice."
After touring different universities across the Midwest just before the pandemic took hold, Darby realized Xavier was the right choice for her.
Because of her personal experience with allergies, Darby always maintained a close relationship with her allergist. As she began discerning what she wanted to study in college, she recognized her calling to become an allergist.
"I knew I wanted to go to a smaller school, but what really drew me to Xavier was the medical school acceptance rate. It was the highest I had seen!"
Darby's dream of becoming an allergist inspired her to accept admission to Xavier. The Health Advising Program recently hit a new record of 92% acceptance rate into medical school, so she was excited about all the resources and opportunities that would help her succeed.
Preparing for classes, Darby expected learning would be difficult over Zoom. However, she was able to adapt to the hybrid model that's allowed for most classes to include in-person sessions. She was especially concerned about the labs. All of those concerns, though, were lessened when she realized how much support she had from faculty on campus. "Of course there were challenges," she explained, "but the professors were really great about helping us through it."
Although the experience at Xavier has been different than she expected, Darby explained that despite all her nerves and concerns about being away from home and engaging difficult coursework, she has made many friends and found herself enjoying even the more challenging classes.
Mark Watson is a first-year commuter student studying Music with a concentration in Music Production.
Mark expected three things when he began in his program during the fall of 2020: to be a part of the community, to make new friends and to study music. Generally speaking, Mark shared that his expectations were, "a bit hazy because of COVID-19." Now, though, as his first year comes to an end, he admitted, "Xavier exceeded my expectations by far!"
The welcoming nature of campus initially attracted Mark to Xavier, but the Music Program ultimately helped him decide Xavier was the right place for him. He knew that his passion for music would be nurtured by the dedication and expertise of faculty who run the program. Although the classroom experience has been altered due to classroom capacity guidelines, Mark has still been able to perform during his favorite course, Symphonic Wind Ensemble, taught by Benjamin Chamberlin, Associate Professor of Music.
In order to ensure students would get as close to the normal experience as possible, the Symphonic Wind Ensemble course had to be split into two groups. One group consisted of the brass instrumentalists and the other of woodwind instrumentalists. This division allowed students to be properly spaced in accordance with COVID-19 guidelines. "We are expected to have excellent mask discipline," Mark explained, "and we have multiple ways to protect ourselves, such as instrument sleeves to cover the bell of brass instruments." These expectations, and the love of music, have kept students in the class determined to remain safe and adhere strictly to the safety guidelines that allow them to do what they love: create music together.
Asked about his favorite experience so far, Mark didn't hesitate. "Getting to work with the other band students and having an awesome conductor lead that group makes the experience enjoyable and memorable!"