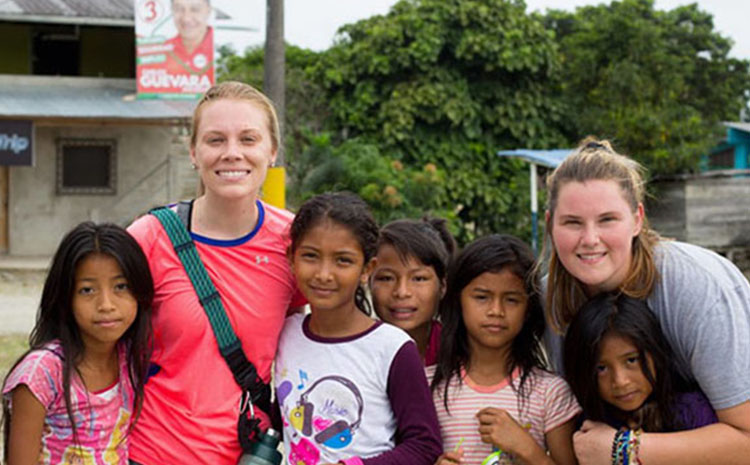 'Dream of the Details': Theology and Communications Grad Kellie Goff is Making a Difference in Ecuador
Oct 22, 2019
Kellie Goff, a 2018 grad with double majors in Communications and Theology, always knew she wanted to be a foreign missionary. But when she came to Xavier as a freshman from Orange County, Calif., she wasn't sure how to turn her dream into reality.
"I never thought it would be possible," says Goff. "But in my pursuit of prayer, building relationships with Xavier's faculty and staff, and never giving up on researching the dream I yearned for all my life, it's become possible."
Like many Xavier students drawn to service and justice, Goff quickly discovered that the Dorothy Day Center for Faith and Justice (CFJ) was a community that shared her passion for helping others. During her freshman, sophomore and junior years, she immersed herself in the Center's faith-based programs, volunteer opportunities and retreats.
Strong relationships with CFJ staff and her theology and communications professors led to two summer internships—one with the Dynamic Catholic Institute and one with Life, Teen Inc., where she used her communications skills to create web and social media content aimed at engaging Catholic youth in their faith through evangelism.
During her junior year, Goff spent a semester studying abroad in Rome, Italy, through the International Studies Abroad's Veritas Program. The Veritas program focuses on higher education abroad as well as missionary service. In Rome, she served refugees and local Italians by teaching them how to read, write and speak English.
"My heart for foreign missions grew intensely because of these experiences," says Goff. "They wouldn't have been possible without my relationships at Xavier University. St. Francis Xavier himself was a foreign missionary and I have been blessed to walk in his footsteps with the ambition of serving the world."
She now serves as a Catholic missionary in Ecuador through an organization called Family Missions Company. She has been in Ecuador since February 2019 leading people in praise and worship, sharing her testimony in Spanish and holding communion services.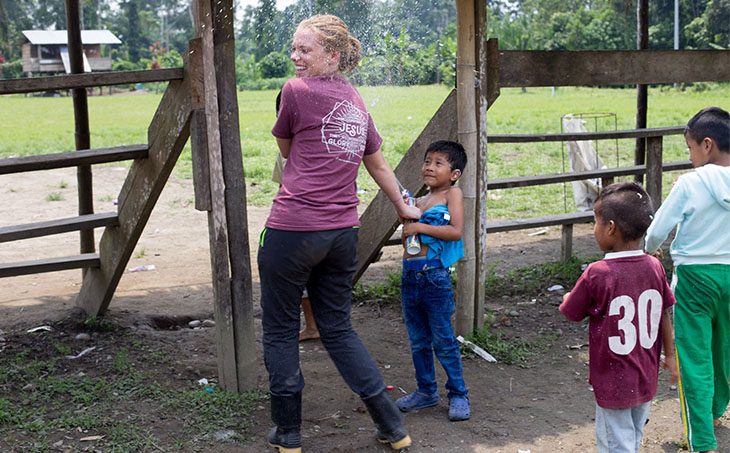 She credits the CFJ staff with helping connect her to the organization she is currently serving with as a missionary, as well as showing her it was possible to live out her dream to be a foreign missionary. And she credits her communications and theology faculty advisors for helping her develop the skills she uses to communicate with and relate to the people in her new community.
Thomas Wagner, PhD, associate professor of communication and one of her advisors, said Goff's focus on her faith and making a difference in the world helped her stay focused. He introduced her to a missionary and author, Beth Guckenberger, who inspired her to pursue missionary work. 
"Kelli's Communication Studies major prepared her for this calling through a variety methods including the following courses: Interpersonal Conflict Management, Group Dynamics, Persuasion, Presentational Speaking, and Principles of Strategic Communication," Wagner said. "Her 30-page senior thesis was titled, 'Being a Missionary: Effective Interpersonal Communication Styles In One-On-One Discipleship.' We are proud and thankful for Kelli's excellent work!"
Her goal, she says, is to live as simply as the people she is serving and to share the joy and love of Jesus.
Her advice for students?
"Sometimes I think we dream too little," she says. "My advice to you would be to dream of the details of the life you desire after Xavier. This was the best advice someone gave me during my time at Xavier: to dream of the details! So I challenge you to do the same. With endurance and the guidance of the Lord, you will find yourself living your dream someday." 
Interview conducted by Morgan Hayes (Marketing, International Studies '20)
Story written by Jen Saltsman, Office of Marketing and Communications 

Discover the Center for Faith and Justice
Explore Career Outcomes for Xavier Alumni