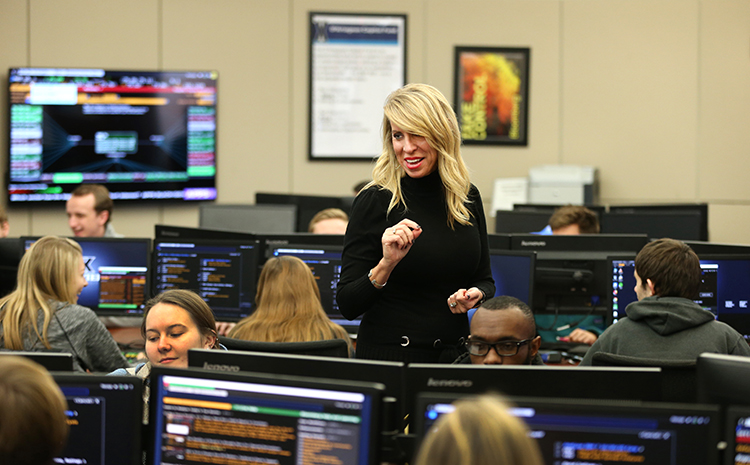 Finance prof Kim Renners' goal? To be Mentor as well as Teacher
Dec 7, 2018
Xavier Professor Kim Renners is a mentor to her students. Want help finding a job? She will tap into her contacts in the business world. Need some experience to boost that resume? She will offer some tips to get your resume noticed.
Want to learn the ins and outs of the finance world? Just take one of her classes.
Because that's what means the most to her, she says — being there when her students need her.
"That's what it's all about," she says. "And it really speaks to our Jesuit principles, too. Xavier is a special place where you're not just teaching — you've got a personal bond with your students. That one-on-one relationship sets us apart."
She's experienced it all first-hand, of course, as a student in the MBA program, then while serving on the board of the finance department, and guest-lecturing in an undergrad finance class.
But this was never the path Renners had planned.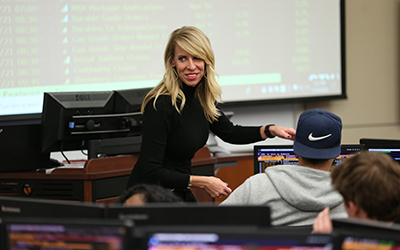 After earning a degree in accounting from Miami University, she worked as an auditor at PNC Financial Services Group before becoming a portfolio manager at Liberty Mutual Insurance Company in Fairfield in 1999. It was then that her boss said she should probably earn an MBA to continue her career.
One school stood out, and she began taking night classes in Xavier's MBA program. When she graduated in 2002, she started guest-lecturing in an undergraduate finance class, and eventually was hired as a professor in Xavier's Finance Department.
"I thought Xavier was a great institution," she says. "I would come down two or three times a year for our board meetings and I just had this feeling – I can't explain it. I loved seeing the students. I felt revived and young again."
She became an investment manager with OJM Group in Cincinnati in 2008, but five years later, an open position at Xavier came calling. She'd always had a blast as a guest lecturer – and she was ready to give back and help the young minds of today.
"I went to college 25 years ago, I was a first-generation student, and I was super shy," she says. "I barely talked to my professors, and I didn't have a mentor.  Now I realize that's not the way to be. Now I talk to everyone, and I want to be there for students who need me."
Today, you can find her teaching classes like: Introduction to Business Finance, Financial Statement Analysis, and Bond Portfolio Management (which manages a portion of Xavier's endowment). Plus, four years ago Renners was named the Director of the Fifth Third Trading Center in the Williams College of Business.
The center uses state-of-the-art Bloomberg financial software to increase the academic experience of the college, and Renners uses it to oversee the $1.4 million Xavier Student Bond Investment Fund, which is managed by her MBA students.
Every class she teaches incorporates some kind of experiential learning, from bringing in accomplished businessmen and women to speak, to choosing a service project to complete each semester (recently, the students chose to help the Xavier food pantry, which provides food for the hungry on campus).
Of course, this doesn't even count the 12 interns who work with Renners in the Trading Center, or her classes who put together annual reports for companies, or the annual Young Women in Business event, where local high school girls are invited to come to campus, work on case studies, and learn about business.
"Part of the aspect that I didn't expect when I took this job is the gratitude of the students," she says. "Here, I'm a mentor — I help the students get jobs and internships. They're like my kids – I want to see them succeed. I say, 'Come in and talk to me. Who do you need to meet? Where do you want to go? Who can I help you talk to?'  Finally and most importantly, she listens, and sometimes this is all a student needs to help them through the day.
"That's what makes Xavier special in my eyes, and that's what I will continue to do."