Adolescence to Young Adult (Secondary Education MEd)
---
Graduate
Program Details
The Adolescence to Young Adult (Secondary Education) master's degree program at Xavier University prepares graduate students to become beginning, secondary or PreK-12 teachers while meeting state licensure requirements. Students gain a strong foundation in liberal arts education that emphasizes the importance of the individual, educational growth and professional development through thorough classroom instruction and in-depth experience with practicing secondary or K-12 teachers.
Concentrations
Licensure concentrations require additional course work and can be planned as part of the degree program.
Fields of licensure available:
Grades 7-12 (Adolescent to Young Adult)
Chemistry
Physics
Integrated Language Arts (English)
Integrated Mathematics
Integrated Science
Integrated Social Studies
Life Science
Grades Pre K-12 (Multi Age)
French
German
Music
Spanish
Theater
Visual Art
Program Options
The Master of Education in Secondary Education is a 30-credit hour program that awards a master's degree to practicing teachers who want to enhance their teaching skills. A student may pursue the degree alone, without licensure, or add coursework that leads to licensure in Secondary Education.
30 credit-hour program
Xavier offers a separate graduate program for students who seek licensure only in Secondary Education at the graduate level. Please contact the Department of Secondary and Special Education for guidance.
Licensure
The X-Alt program leads to teacher licensure for those with degrees in licensure fields who want to change careers and teach at the high-school level. It can be completed in conjunction with a Master of Education in Secondary Education.
X-Alt Program
Admission
Applications are accepted throughout the year from students with a bachelor's degree and a solid academic background. You may begin the program in the summer, fall or spring term.
To apply, submit the following application materials to the Office of Graduate Admission:
The online graduate application.
One official transcript sent directly from the college/university of all previous undergraduate and graduate coursework to:
Xavier University
Admission Processing Center
3800 Victory Parkway
Cincinnati, Ohio 45207-5131
OR
Electronic transcripts to xugrad@xavier.edu
Official test scores from the Graduate Record Exam (GRE). If you have previously taken the GRE and want to have your scores sent to Xavier, please contact GRE at 1-888-GRE-SCORE.
Applications are processed immediately upon receiving all of the necessary materials, and you will be notified of your status as soon as possible. The admission committee considers all of the information contained in the admission application, including prior grades, test scores and evidence of potential for success in graduate study.
TEST WAIVER OPTION
Applicants to Graduate Programs in the School of Education Must Have:
Undergraduate degree from a regionally accredited university AND
Admission test score
Test score may be waived under one of the following conditions:
State licensed teacher
Pursuing a M.Ed. or M.S.Ed. without licensure (if undergrad GPA is 3.0 or higher)
Pursuing a principal or administration license
Pursuing a second license or endorsement
Pursuing a Montessori teaching credential only
*International students may have additional application requirements. See International Graduate Admissions for more information.
For questions regarding the application process, e-mail the Office of Graduate Services at xugrad@xavier.edu.
Curriculum
To discuss the course curriculum, please contact the office of the Secondary Education program (513-745-3485).
EDFD 500: History and Philosophy of American Education
EDFD 505: Organization of Education Systems in the U.S.
EDFD 507: Educational Research
EDFD 508: Educational Research Paper
21 Credit Hours From Approved EDMS, EDSP, EDRE or Content Electives
Sample Courses
EDFD 500: - History and Philosophy of American Education
EDFD 505: - Organization of Education Systems in the U.S.
EDFD 507: - Educational Research
EDFD 508: - Educational Research Paper
Tuition and Fees
Take the Next Step
Loading...
---
Secondary Education Master's Degree Program Success
With about 200 students overall, the Secondary Education Program is one of the most popular of Xavier's education programs, yet still small enough to guarantee personal attention. It is also successful, as 99 percent of Xavier's teacher licensure students pass their state exams.
---
---
Licensure Options for Secondary Education Students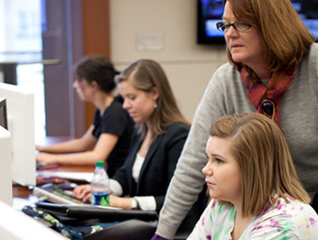 In addition to the 30 credit hours of coursework required for the degree, graduate students can add coursework for licensure in an area of specialty they choose, from science and language to history, music and art. Coursework for licensure areas can be planned as part of the degree program.
---
---
Secondary Education Master's Degree Student Teaching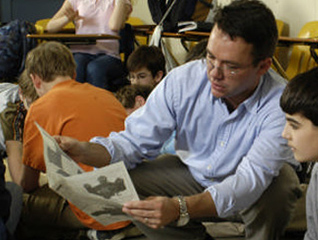 All students seeking licensure in Secondary Education experience a full semester of supervised student teaching in local classrooms. Xavier has long-term partnerships with over 50 regional school districts where students are placed for field experiences and student teaching.
---
---
Master of Education Programs at Xavier
Adolescence to Young Adult (Secondary Education MEd) Program at Xavier University
Xavier's School of Education offers a Master of Education in Secondary Education. The program is based on a foundation of liberal arts education that enhances the knowledge base for currently licensed teachers and other education stakeholders. The degree requires 30 credit hours of coursework consisting of 9 credit hours of core and 21 credit hours of approved courses for the degree and can be completed in conjunction with an initial teacher licensure program. The Master of Arts in English Education and the Master of Arts in History Education is also a degree option for interested candidates.
Xavier University's College of Professional Sciences prepares undergraduate and graduate students intellectually, morally and spiritually for careers and professions of service. CPS challenges students to strive for academic excellence and life-long learning through promoting collaboration and community partnerships, and incorporating research, scholarship and innovation.
Xavier University is a private university located in Cincinnati, Ohio, providing a liberal arts education in the Jesuit Catholic tradition. Founded in 1831, the University is the sixth-oldest Catholic university in the nation. It has been ranked among the top 10 master's-level universities in the Midwest by U.S. News & World Report for the past two decades. The Princeton Review names it one of the "Best 385 Colleges in America."
Additional Resources