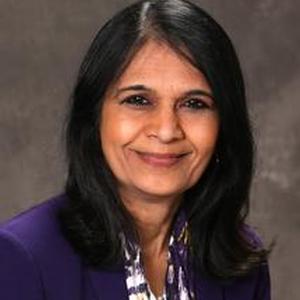 Hema Krishnan, Ph.D.
Professor, Management & Entrepreneurship

LEADER: I have significant leadership and administrative experience in academia as well as industry. I have served as Associate Dean of the Williams College of Business at Xavier University, Cincinnati, from 2009- 2014, and as chair of the Management and Entrepreneurship department at Xavier, from 2004-2009. I also possess several years of experience at the managerial level in the petroleum industry in India, in the areas of operations and marketing.
SCHOLAR: Current Research Areas: Mergers/Acquisitions, Healthcare Policy and Strategy, and Top Management Teams.
Publications: My 35+ articles appear in the premier journals of business such as Strategic Management Journal, Journal of Management Studies, Oxford University Press, Business Horizons, Business and Society, Academy Best Papers Proceedings, Journal of Government and Nonprofit Accounting, Journal of Business Research and Journal of Small Business Management among others. My work has been extensively cited in the popular press and in academic journals. My publication on acquisition premiums and workforce reductions, was judged among the top 50 publications from over 15,000 publications in the premier business journals, and my 1997 publication in Strategic Management Journal, was recognized with a citation of excellence.
Editorial Boards: I currently serve on the Editorial Boards of the Journal of Business Inquiry, Amity Journal of Management, and Prerana, and have served on the Board of Journal of Business Research.
External Examiner: I serve as External Reviewer on the promotion dossiers of faculty at other institutions including Jesuit universities, and on the Board of External Examiners at Bharathiyar University.
SPEAKER I have served as a distinguished speaker and have delivered keynotes in industry and academic institutions, in the areas of Strategic Leadership, Entrepreneurship, and International Business in the U.S., and in emerging countries such as India, Kenya and Rwanda.
WRITER: I write short articles for newspapers, magazines, and on LinkedIn.
BLOGGER: Other writings, andquot;career and life lessons,andquot; can be found on my blog: fromkrishnans.com
TEACHER: I teach International Management, Strategic Management, Strategic Leadership, and Global Strategic Thinking, at the Executive MBA and MBA levels, in the online, traditional and hybrid formats, and have served as the President of the Xavier Chapter of Beta Gamma Sigma, a scholastic society, during 2003-08.
My specialties are: Mergers and Acquisitions; Health-care Policy and Strategy, Strategic Leadership; Doing Business in Emerging Markets.
Expertise
Mergers and Acquisitions, Healthcare Policy and Strategy, Business in Emerging Markets- Asia and Africa, Strategic Leadership
First Year at Xavier
1993
Resume
Degrees
Awards
Distinguished paper award - Journal of Management Studies;Emerald Citation of Excellence-for Strategic Management Journal publication (1997);O'Conor Professorship- twice- WCB- Xavier;O'Conor Fellowship-twice-WCB-Xavier;Speaker;Writer for leading Newspapers