What Can I Do?
For Students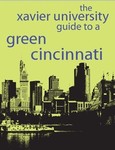 Check out the Xavier University Guide to a Green Cincinnati created for students by students with tips on how to live sustainably on or off-campus.
Join the Sustainability Committee and help create tangible change on Xavier's campus.
Practice sustainable habits in your dorm or apartment: take shorter showers, turn off the lights when you're not in a room, unplug energy vampires (chargers and electronics with lights that shine even in the off position such as TVs), don't run your air conditioner when you're not home, switch to CFL light bulbs, and more!
For Faculty and Staff
Take a look at the Green Office Guide for tips on how to promote a sustainable workplace. You can also order a recycling bin for your office by calling x3151.
Take the Green Umbrella Energy Challenge this winter, and take advantage of the Green Umbrella/Greater Cincinnati Energy Alliance/Xavier partnership to do an energy audit on your home and receive incentives for energy conservation measures.