Personal History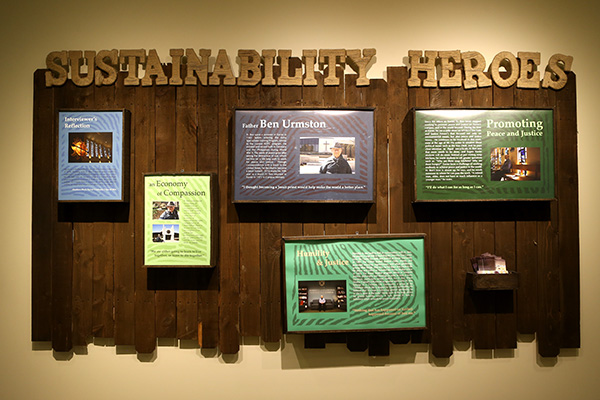 Father Benjamin J. Urmston, S.J., PhD
3844 Victory Parkway
Cincinnati, Ohio 45207-1040
After forty years at Xavier, twenty-seven years and founder of Xavier Peace and Justice Programs, Fr. Urmston is now Director Emeritus.
"What is it to be a Jesuit? It is to know that one is a sinner, yet called to be a companion of Jesus. It is to engage under the standard of the Cross, in the crucial struggle of our time: the struggle for faith and that struggle for justice which it includes." (Thirty-second International Congregation of the Society of Jesus, Decree Two.) Whatever I have been able to achieve has been by the grace of God and the help of the community. We recognize individual achievement, and we should. We underestimate I think how much we depend on one another, our parents, our schools, our co-workers, the police and fire departments, our health professionals, etc. etc.etc. We tend to reward excessively those at the top and neglect those handicapped, with fewer opportunities, with insufficient resources. I have been blessed in many ways and give thanks to God and to all of you!
Latest light graced story: http://www.xavier.edu/green/2016.cfm
Academic Degrees
A.B. Classics; M.A. Philosophy; STL, Theology; M.Rel.Ed. Religious Education; Ph.D. Peace Studies

"It is only appropriate to celebrate the tenth anniversary of the Dorothy Day Medal by honoring the man behind Peace and Justice at Xavier University. Fr. Benjamin Urmston has been the guiding force of peace and justice issues at Xavier. In 1943 Fr. Ben came to Xavier as an undergraduate. He left that same year to enter the United States Army. He was in Patton's army in Europe, also in the Philippine Islands. While in the Philippines, Fr. Ben decided to become a Jesuit and in 1946 he entered the Jesuit Novitiate. Then in 1971, he made his return to Xavier. At Xavier, Fr. Ben began in Campus Ministry, and shortly thereafter became an instructor of Theology, focusing his teachings on international issues, human rights, and non-violent solutions to the problems of the world. In 1977 he began Faith and Justice Forum, a weekly radio talk show on WVXU. A pioneer in many aspects, Fr. Ben helped begin the Peace Studies Minor, one of the first interdisciplinary minors on our campus. Soon Fr. Ben was appointed the Director of the newly founded Dorothy Day House, which would oversee the University's Peace and Justice Programs. Since then, Fr. Ben has influenced a large portion of the campus by initiating new programs in service learning, urban and rural plunges, and service projects in Nicaragua and El Salvador. The Dorothy Day House is now a place where students can actively learn about, and strive for, peace and justice on a global scale.
For fifty plus years as a Jesuit, twenty-five plus years as a Xavier University employee, and a lifetime as a human person working for peace, we are honored to present Fr. Benjamin Urmston with the Dorothy Day Medal."
Brendon J. Cull, Xavier Student, All-Honors Day Program, April 19, 1997.
On April 20, 1977, The Orchid Award was given to Benjamin J. Urmston, S.J. by the Tri-State Air Committee, a citizens group concerned with the quality of the air in Ohio, Kentucky and Indiana. "The Tri-State Air Committee Orchid Award is bestowed on those individuals, companies or institutions which have demonstrated their concern for the precious natural resource, the air, and have taken important, positive steps to upgrade the quality of this resource and maintain it at a higher and safer level."
On January 20, 1978, Archbishop Joseph L. Bernardin recognized Rev. Benjamin J. Urmston, S.J. "for his contribution to Catholic Social Action through notable service as a member of the Archdiocesan Social Action Commission, worthy of the sincere gratitude of all who have collaborated with him."
On April 2, 1987 Most Reverend Daniel E. Pilarczyk, Archbishop of Cincinnati recognized a contribution to the work of the Church. "Empowered by the Life of the Spirit and sent by the Church of Cincinnati to be a light to the Academic World, of you. Fr. Benjamin J. Urmston, S.J., it may be truly said 'You are my Beloved, in whom I am well pleased.'"
On September 28, 1997, Fr. Benjamin J. Urmston, S.J. was given the Golden Microphone award by Xavier University's WVXU.FM for twenty-eight years of successful weekly programming on Faith and Justice Forum, the Response of Religious Groups to the needs of the larger community. From 1977 to 1997 there were over 1000 shows!
On August 6, 1998, Fr. Benjamin J. Urmston, S.J., Ph.D. was awarded the Manhattan College Peace Studies Medal by Dr. Joseph J. Fahey on behalf of the faculty and students of the Manhattan Peace Studies Program "to recognize his outstanding and significant contribution to peacemaking and Peace Studies through his personal life and institutional witness."
On April 26, 2002, Fr. Benjamin J. Urmston, S.J. was given the Xavier University Muslim Student Association Award of Recognition "In honor of his work and dedication to support the goals of the Muslim Student Association and promotion of Islamic awareness on campus."(Discover.thenetworks.org say "Fr. Ben Urmston in 2002 received the Xavier University Muslim Student Association Award of Recognition in honor of his work and dedication to support the goals of the Muslim Student Association and his promotion of Islamic awareness on campus."
An internet group alleged: "The MSA is a key lobbying organization for the Wahhabi sect of Islam, and has been associated with the Holy Land Foundation for Relief and Development and the World Assembly of Muslim Youth, both of which have been investigated for funding terrorism."
I asked Mehrdad Safavian, a US citizen now a dentist who was President of the XU Muslim Student Association in 2002, whether the latter was ever investigated as a terrorist group. He responds:
Hi Fr. Ben,
Very good to hear from you, I was thinking about you the other day and I check this email after a while and there it is, an email from you. I would like to make a trip to Cincinnati soon and come visit you.
Regarding their claims in the website you sent me, all I can say is that I think only God knows how vicious these people's thoughts are. The connection of you to local MSA and then connecting National MSA to wahabbies and other organization is simply ridiculous.
It almost sounds like to say, I found a "T" in your last name and there is a "T" in the word "hiTler" and therefore you are associated with Hitler!!! haha
The writer of that part is either very ignorant and unknowledgeable of the wahabbies, MSA and the Muslim world or he/she is very vicious in trying to fool people into believing their made up propaganda.
My response is, MSA is not affiliated with any sect in Islam. As the matter of fact I am a Shia Muslim, and we have had a long history of conflict including what is happening right now in Iraq with wahabbies. However, I never made MSA a shia organization and people of other sects have never made MSA theirs either. MSA had a clear mission, and Muslims have been clear on where they stand when they join MSA and the people who support them also know exactly what they support.
Secondly, simply being under FBI investigation makes no organization a bad one. There has been so many of these cases, and even some with the final apology from the US government. Check this out: James Lee (Chinese American who grew up in America and graduated from West Point in 1990. A captain in the US army and Muslim chaplain to prisoners in Guantanamo, was arrested when Customs found a list of prisoners he had ministered to, and was imprisoned himself, put in solitary confinement and suffered sensory deprivation. After several months all charges were dropped. Later he was arrested again for adultery and pornography. Again later all charges were dropped. He has been seeking an apology from the US government.)
Finally, MSA at Xavier was never investigated, linked to those organizations, and no it definitely was not a wahabbi organization, as I would have had no interest serving a sect or group of people that I personally and religiously do not favor their opinions anyhow!!
However, I do have to congratulate you for all the accomplishments you have made in your life, you are truly a hero for youth and I have to congratulate you that they are so desperate to find something wrong about you that they have to stretch the truth this far!! they really are desperate!! I can't say this about too many people from my point of view, but I know God is happy of you for your life-time efforts, I hope to follow that in my life.
Hope you continue inspiring people, and I hope to get a chance to come see you soon. Feel free to call me if you get a chance. I have one more year before graduating from the dental school here at OSU.
Thanks,
Mehrdad (May 2009)
On December 8, 2002, Fr. Benjamin J. Urmston, S.J. was given a Rev. Maurice McCrackin Award. 
Conclusion of Building the Beloved Community , Maurice McCrackin's Life for Peace and Civil Rights: "Maurice McCrackin's story is one of great adventure, conflict, suffering, and triumph. The course of his life was motivated surprisingly by a very simple and powerful ideal, learned as a youth. .try to do as Jesus would do. That ideal led Maurice McCrackin to the ministry, to Iran and missionary work, to settlement houses in Chicago and Cincinnati, to pacifism, to the civil rights and human freedom movement, to picket lines, tax resistance, jail, prison ministry, defrocking from the Presbyterian Ministry. And it also led him to re-instatement, joyfulness, fellowship, community, reconciliation, and love." "The Rev. Maurice McCrackin Award is given to those who demonstrate the qualities for which Mac was known and loved: support for the basic human rights of all, integrity and commitment in the struggle for social justice, leadership and inspiration, teaching with wisdom and compassion through words and actions."
On November 6, 2003, Fr. Benjamin J. Urmston, S.J. was given the "Religious Leader of the Year Award" for his commitment to the Contact Center, the Cincinnati Welfare Rights Coalition, and the Ohio Empowerment Coalition."
In 2004 an article by Fr. Benjamin Urmston, S.J. "Human Rights" was printed in Keeping the Faith in Ohio, Words of Hope and Comfort from Our Spiritual Leaders edited by Kathleen M. Carroll. "This collection encompasses the cream of the crop of the messages of the region's spiritual leaders."
In Winter 2006 175th Anniversary Commemorative Issue of Xavier Magazine, Anne Marie Bourgeois, Xavier alumna, one of the five first women graduates, Master of Arts in clinical psychology, 1975, Psychologist, artist. Hindsight is 20/20: "I now appreciate the philosophy and theology courses we were required to take." She singles out Benjamin J. Urmston, S.J., John N. Felton, S.J., and Edward B. Brueggeman, S.J., among others, as "a credit to the Jesuit community and to Xavier."
Fair and Courageous Award Summary
Fr. Benjamin J. Urmston, S.J., PhD has been forty years at Xavier, is Director Emeritus of Peace and Justice. Over the years Father has been active in neighborhood Community Councils, especially Evanston Community Council, was a member of the Cincinnati Archdiocesan Commission of Social Action and World Peace, a member of the Metropolitan Area Religious Coalition of Cincinnati, the Rural Life Conference of the Cincinnati Archdiocese, the St. Francis-St. Joseph Catholic Worker House shelter for homeless men, the Peace and Justice Studies Association, Rural Resources, Plea for Soviet Jews, St. Robert Bellarmine Chapel, Christian Life Community USA., Cincinnati NAACP. Fr. Ben was also active with the Interfaith Center on Corporate Responsibility and the Justice Across the Campus Committee at Xavier. For twenty-eight years he hosted a weekly community radio show on WVXU-FM, Faith and Justice Forum. For two years he wrote a column on Faith and Justice for the Cincinnati Archdiocesan paper The Catholic Telegraph entitled The Catholic Moment.
He has created a web-site which is an up-dated and comprehensive version of his doctoral dissertation Restless Hearts, Ignatian Spirituality and Justice: A Vision of a Peaceful World. www.xavier.edu/frben. A former adjunct teacher in Theology, he now uses his web-site as a text-book for his E Pluribus Unum class.
He has produced a DVD Vision of Hope Five pillars of a new world mansion and a way toward the Vision, available on www.xavier.edu/frben

He is now Chaplain of Vision of Hope Christian Life Community and Companions on a Journey Christian Life Community. He is also Coordinator of Citizens for Global Solutions, Greater Cincinnati Chapter. (www.globalsolutions.org www.peaceinspired.com )
He has received the Dorothy Day Medal for his initiatives at Xavier, the Xavier Muslim Student Association Award of Recognition, the Orchid Award from the Tri-State Environmental Committee, awards for his work with the Archdiocese from Archbishops Joseph L. Bernardin and Daniel E. Pilarczyk, the Manhattan College Peace Studies Medal "to recognize his outstanding and significant contribution to peacemaking and Peace Studies through his personal life and institutional witness."
On December 8, 2002, Fr. Benjamin J. Urmston, S.J. was given a Rev. Maurice McCrackin Award. 
The Rev. Maurice McCrackin Award is given to those who demonstrate the qualities for which Mac was known and loved: support for the basic human rights of all, integrity and commitment in the struggle for social justice, leadership and inspiration, teaching with wisdom and compassion through words and actions."
On November 6, 2003, Fr. Benjamin J. Urmston, S.J. was given the "Religious Leader of the Year Award for his commitment to the Contact Center, the Cincinnati Welfare Rights Coalition, and the Ohio Empowerment Coalition."
In 2004 an article by Fr. Benjamin Urmston, S.J. "Human Rights" was printed in Keeping the Faith in Ohio, Words of Hope and Comfort from Our Spiritual Leaders edited by Kathleen M. Carroll. "This collection encompasses the cream of the crop of the messages of the region's spiritual leaders."
Fr. Ben has also taught at University of Detroit Jesuit High School and St.Xavier High School in Cincinnati.
A veteran of World War II, he was in General Patton's Third Army in Europe and participated in three major battles, The Rhine, the Ruhr, and Bavaria. He also served in the Philippine Islands.
Fair and Courageous Award 56th Annual NAACP Freedom Fund Dinner, Friday, October 21, 2011 at the Duke Energy Convention Center, Cincinnati, Ohio.
Cincinnati NAACP has awarded Fr. Benjamin J. Urmston, S.J., PhD "The Fair and Courageous Award", established in 2005, at the 56th Annual NAACP Freedom Fund Dinner, Friday, October 21, 2011 at the Duke Energy Convention Center, Cincinnati, Ohio. The Fair and Courageous Award is presented to a public servant who performs their duty fairly, impartially and courageously. This award publicly recognizes those professionals who demonstrate the qualities of Fairness and Courage. A very distinguished, diverse and outstanding group of community leaders were recognized and honored for their professional accomplishments, service to the community and commitment to the theme "Justice Triumphs Equality" Fr. Urmston shared the Fair and Courageous Award with Sister Alice Gerdeman of the Intercommunity Justice and Peace Center.
"I am grateful for this recognition and for all those who have supported me and my work. I think it can be an occasion to recognize all those who promote a better world, good race relations, and the work of Cincinnati NAACP."
Attorney Morris Dees, Founder and Chief Trial counsel of the Southern Poverty Law Center was the main speaker at the Freedom fund Dinner Oct. 21, 2011.
Acceptance of Fair and Courageous Award at Freedom Fund Banquet Oct. 21, 2011 God Bless you
"I thank God, I've had a good life, even a wonderful life. With God's help I may not be through yet. My Mother and Father are looking down from heaven, my brother Ken is here from New York. I thank my religious order, the Society of Jesus, the Jesuits, so many at Xavier University and St. X High School. I think we underestimate how much we need one another, depend on one another, our teachers, doctors, nurses, lawyers, public officials, police, firemen, the media, human rights groups like NAACP who speak for those who may not live on the top floor, perhaps even in the basement. I thank countless others I have never even met. At times we may think we're doing the most insignificant thing. I remembered today my Xavier football coach, Clem Crowe, a model leader. I thank each one of you. None of you in this room would be here if you did not want a better Cincinnati and a better world. I agree with Sr. Alice Gerdeman that each of you deserve an award.
I invite you in your imagination to take a trip with the astronauts and look down on our one earth and one human family, homo sapiens. We're all in this together. We will either learn to live with one another, or die together. We need to listen compassionately to one another, cooperate more, share more, emphasize our strengths, even challenge one another to make quantum leaps, reach higher levels, help one another to minimize our weaknesses. God bless each of you and everyone on our small planet."
In 2016 The Intercommunity Justice and Peace Center of Cincinnati interviewed Fr. Ben Urmston for their Stand on their Shoulders column. http://ijpccincinnati.org/news/stand-shoulders-fr-ben-urmston/
Army Experience, Nov. 1943, May, 1946 Thoughts on my experience and evaluation for today.
How did God love me? Away from family and home, my experience in the army was a kind of retreat, time for prayer and reflection. A friend at Xavier U. who entered the army with me suggested religious life as an option after the war, and I began considering it. In Army Specialized Training Program I was with college men from all over the U.S, from all religions and cultures (except blacks from whom we were segregated). I traveled to many parts of U.S.; by boat over the Atlantic and Pacific oceans; to Europe and Asia. I made lasting friends in the army which last to this day. The Army is organized, efficient, has community. After the war I wrote to a German family near Manheim where our platoon headquarters stayed after the peace was signed. My mother and brother visited their relatives in New York.
I faced death, poverty, war. It made me serious and world conscious. I got a sense of being a pilgrim, detached from any one place. The usual refrain was, "We're moving out!" I showed love for God, family, friends, my faith. I rebelled against the obsession of some soldiers with sex and stuck with my principles and morals.
Somehow I had made my peace with the possibility of death. I don't remember being afraid. In early 1945, as members of the 86th Infantry Division, we entered combat on the Rhine River near Cologne, Germany. We crossed the Rhine River on a pontoon bridge South of the Remagen Bridge. We formed part of an Allied cordon which encircled the 4,000 square mile Ruhr industrial region. 317,000 German troops surrendered, the largest mass surrender of the war. The 86th captured the major cities of Attendorn, Luderscheid and Hagen. We crossed the Danube later in rubber boats under fire. The German's offered resistance, but it was the beginning of the end, and we took many prisoners. Members of our 342nd Regiment were killed and injured, but we did not suffer heavy casualties. We cut the Ruhr pocket in half and then went with General Patton's Third Army south, ending in Austria when the truce was signed.
History of 86th Infantry Division
The 86th, spearheading Patton's 3rd Army, moved through Bavaria in a rapid sweep of 16 days, covering 110 miles, crossing six major rivers and taking the cities Ansback, Ingolstadt, Freising, and Oberdorf.
The Blackhawkers also took their share of casualties during this period; but, because of their rapid advance, they prevented the Germans from developing any effective defenses. Resistance was met in small pockets and many of these positions were simply by-passed by the lead units and mopped up by the trailing elements.
On May 8, 1945, the German nation surrendered. The 86th Infantry Division participated in three major battles: the Rhine, the Ruhr, and Bavaria. It captured 53,354 German prisoners, conquered 220 miles of German territory, and forded six major rivers. (including the Danube at Ingolstadt)
We were among the first troops to come back to the 86th Street Pier in New York City and made the front page of The New York Times with a banner on our ship "From ETO to Tokyo" We were on the Pacific Ocean when Japan surrendered. We landed in the Philippines and stayed there until the spring of 1946.
With God's help I was able to draw good from evil. I got my vocation to be a Jesuit. Despite many years of repression of my memories, instinctively I got my passion for peace and justice. I value freedom, good use of my time, prayer and reflection.
I have had a good life and I offer it all to God, my family, friends, religious order, my country, and my human family, my planet, all living things, all who have gone ahead. Father Benjamin J. Urmston, S.J., PhD See my web-site http://www.xavier.edu/frben for what I have become and for my vision since 1946. We didn't have the structures after World War I to deal with the world situation, but I think our policies after World War II were superior to the policies after World War I. However, in both cases, we should have formed a democratic world federation and moved more toward sharing and cooperation than competing for resources.
Today I see war as dangerous beyond belief; irrational; expensive, an obstacle to a fair, inclusive global economy; destructive of the environment; unnecessary; an enemy to democracy with decisions made by a few in secrecy; often riddled with deceit and rationalizations. As has been said, since World War II, everything has changed except our way of thinking. To glorify war today is to destroy ourselves, others, and the planet on which we live. Yes, I support our troops, but the best way to support our troops and everyone is to work toward a democratic world federation with the external and internal structures I describe on my web-site. If we change our attitude and way of thinking, we would at least go in the right direction.
Experiences in other Nations
The Society of Jesus is an international order that met in 1975 and affirmed as a priority the integration of faith and justice on a world-wide basis. I have been able to go on study trips with peace and justice groups to the former Soviet Union, the Mondragon worker cooperatives in Spain, Cuba, Nicaragua, El Salvador, South Africa, the Philippines, Japan, China, Rome, and the Holy Land. All of us can go on trips to other nations by reading and research, by thinking outside the box, by forming a vision of structures better than the structures we now experience.
#######
A recent indirect word of encouragement written to Fr. Walter Deye, S.J., President of St. Xavier High School from an alumnus:
Father, Thank you again. I corresponded by e-mail with Father Urmston within the last year after spending some time with the many peace resources on his web site. I even managed to listen to one or two of his radio shows. He is having an effect beyond Cincinnati. I have wished I could talk to him again in person, especially when the decision was made to invade Iraq. If it is not too presumptuous, please tell him that when I rediscovered him through the web a couple of years ago and compared him to the man who taught me in 1964 I realized how very much some people, even people who are already good men, can grow in a lifetime.
Peter Broeman, 11/11/11
On Rev. Martin Luther King, Jr. Day, January 21, 2013, Fr. Benjamin J. Urmston, S.J. was awarded the 13th Annual Keep the Dream Alive Award. The annual Keep the Dream Alive Awards are given to people from the Greater Cincinnati community who embody Rev. Dr. Martin Luther King's ideals and work for equality, justice, and Christian charity.
"A final problem that we must solve to survive in the world house that we have inherited is finding an alternative to war. . . Do we have the morality and courage to live together and not be afraid? President John F. Kennedy said: "We must put an end to war or war will put an end to us." War is obsolete. . . Every nation must develop an overriding loyalty to humankind as a whole in order to preserve the best in their individual societies. P. 221. This is a call for an all-embracing and unconditional love for all women and men.
When I speak of love, I am speaking of that force which all the great religions have seen as the supreme unifying principle of life. Love is the key that unlocks the door. This Hindu-Muslem-Christian-Jewish-Buddhist belief about ultimate reality is beautifully summed up in the First Epistle of St. John: 'Let us love one another: for love is of God: and every one that loves is born of God, and knows God. God is love. .If we love one another, God dwells in us, and his love is perfected in us.'
This may be our last chance to choose between chaos and community."
Rev. Martin Luther King, Jr.
Keeping the Dream Alive Award Jan. 21, 2013.
Keeping the Dream Alive Selection Committee
Attn: Br. Hugh Henderson, CPPS
Church of the Resurrection
1619 California Ave.
Cincinnati, Ohio 45237
Dear Br. Hugh,
It is my honor to nominate Fr. Benjamin Urmston, SJ for the 2013 Martin Luther King, Jr. "Keep the Dream Alive" Award. Fr. Ben's many years of sharing his vision for a more peaceful and just future are a testament to the life and legacy of Dr. King.
I first met Fr. Ben when I was a student at Xavier University in 1995. As a young Christian interested in learning more about social justice, I became active in the Dorothy Day House on Xavier's campus, the umbrella ministry, founded by Fr. Ben, for student organizations promoting peace and justice issues. Early on, Fr. Ben mentored me into understanding more fully the vision of the consistent ethic of life, which radiates at the heart of Catholic Social Teaching. During my time on campus, I had become active in a variety of clubs that fought against abortion, the death penalty, racism, poverty, and human rights abuses around the globe. Fr. Ben empowered me to understand that all of these concerns are bound together in a common vision that our Creator has for the life and dignity of all of God's children and all of His precious creation. By simply witnessing a person so passionately dedicating himself to building the Kingdom of God, I discovered a desire in myself to direct much of my own life to joining that same effort.
After my graduation, as I become more professionally involved in social justice work, it became more apparent to me just how much Fr. Ben had impacted the lives of so many in a similar way. Among the many examples, I recall the insightful "Faith and Justice Forum" series that Fr. Ben began on WVXU radio, which featured so many peace and justice advocates and eventually won the praise of Archbishop Daniel Pilarczyk on its 25th anniversary.
Today, he is active in promoting world peace through international law and order, a noble cause urged by Pope John XXIII in his Pacem in Terris (Peace on Earth) encyclical, which celebrates its 50th anniversary in 2013. His very involvement in this effort was the spark for the Archdiocese of Cincinnati to work with other organizations on an upcoming event to commemorate this encyclical and renew the Church's call for world peace.
I give thanks that Fr. Ben has not lost sight or hope in his vision for a more peaceful and just future. For me, it illustrates faith in Dr. Martin Luther King Jr.'s prediction that "the arc of the moral universe is long, but it bends towards justice." It is for these reasons that I feel Fr. Ben Urmston would be a wonderful recipient of the "Keep the Dream Alive" award.
In thanks for your consideration, Tony Stieritz Director, Catholic Social Action
Archdiocese of Cincinnati
100 East 8th St.
Cincinnati, Ohio 45202
The Center of Concern www.coc.org/calendar announces a new educational tool that provides both images and stories of twelve leaders of social justice. This year's prominent leaders emerge from a global community of social justice activists, including thought, executive, and pastoral leaders in religious, business, governmental, diplomatic, and other fields. The 2014 honorees include: The Hon. John Lewis; the Very Rev. Pedro Arrupe, S.J., co-founder of the Center of Concern; Pope Francis; Eleanor Roosevelt; Cardinal Joseph Bernardin, co-founder of the Center of Concern; the Madres de la Plaza De Mayo; The Hon. R. Sargent Shriver; the Rev. Daniel Berrigan, S.J.; Cesar Estrada Chávez; Nuns on the Bus; Dorothy Day; and Kim Phuc.
The Center's president, Dr. Lester A. Myers, says, "We are proud to share this celebration of the lives of heroic people whose courageous witness has inspired us at the Center of Concern." The Center's new educational tool offers schools, churches, and individuals access to trusted information on the powerful narratives of lives bravely lived for others. Myers says, "By their words and actions, these leaders of social justice serve as models to us all as we work to uphold basic human rights and human dignity." "I am humbled to be placed among these leaders on my birthday." BJU.
Director of the Center's Education for Justice Project Pat Finan and Associate Director Sr. Dianna Ortiz, O.S.U., shaped the calendar's content on a model of Catholic social tradition: remembering leaders' examples, reflecting upon their contributions, and responding to present needs. Finan says, "We share the Center's "Pastoral Circle" model to apply Catholic social thought to the signs of the times, and engage people in a daily rhythm of linking faith, reflection, and action."
Myers says, "The 2014 Signs of the Times Social Justice Calendar(TM) also prompts us to recall social justice leaders' birthdays and feast days as inspiration for the work needed to transform systems and institutions to make them more humane, fair, and respectful of the dignity of the human person." The print calendar is available as a gift to donors through the Center of Concern Web site <www.coc.org/donate>. The on-line companion to the calendar goes live January 1, 2014, and provides additional resources, references, and links to opportunities to take action and improve the quality of human life throughout.
Sustainability Hero
On Oct. 24, 2016 Xavier University named Fr. Ben Urmston, S.J. A "Sustainability Hero" for his work in caring for the environment. http://www.xavier.edu/green/2016.cfm
Standing on the Shoulders of Intercommunity Justice and Peace Center in Cincinnati on Aug 4, 2016
In our blog series, "We Stand on the Shoulders of those Who Come Before Us," IJPC honors area activists for their perseverance in the struggle to end injustice. Thank you, Father Ben Urmston, S.J., PhD, for graciously accepting our invitation for an interview and allowing us to share your story. Let us turn to him for inspiration and advice on how to respond to violence and inequality with peace.
Fr. Ben grew up on his father's farm in Cincinnati's North College Hill neighborhood and was a caddy, later the Caddy Master, for a local golf course. During World War II in 1943, he began his undergraduate education at Xavier University. He enrolled in the Army Specialized Training Program and at the end of the semester went to Ft. Benning Georgia, eventually joining Gen. Patton's 3rd Army in Europe. After the war in Europe, Urmston went to the Philippine Islands, where he engaged in deep reflection and prayer about his experience in combat. Having decided to become a person of peace, he joined the Society of Jesus in 1946 and officially became a Jesuit. His early days as a Jesuit were mostly spiritual and studious, but Fr.Ben soon shifted his work toward peace and justice. He worked with Christian Life Community while educating at the University of Detroit High School and St. Xavier High School in Cincinnati until his return to Xavier University in 1971. In Xavier's campus ministry, Fr. Ben challenged students, alumni, and faculty to work for a better world. He started the University's shift toward sustainability by bringing recycling to campus and hosting community meals called "veg outs" (Fr. Ben eats vegan).
On October 24th, Xavier announced that it will honor Fr. Ben's dedication to environmentalism by awarding him as a Sustainability Hero. He's also known around campus for organizing urban and rural plunges, during which students and alumni immersed themselves in the lives of those experiencing and working for justice around the Cincinnati area. Perhaps most importantly, Fr. Ben founded Xavier's Dorothy Day House (now the Dorothy Day Center for Faith and Justice), which oversaw the university's peace and justice programs. Fr. Ben started the first Peace and Justice Studies Committee which initiated the Peace Studies Minor.
Not only did WWII inspire Fr. Ben to work for peace, but people he has met throughout his life have kept him hopeful. Fr. John English, S.J,. from Canada enriched his spiritual perspective with the light and dark story method. Fr. Peter Henriot, S.J., from the Center of Concern in Washington, D.C. helped him create a more peace and justice focused student body. Dr. Gar Alperovitz serves as Urmston's source of inspiration for trying to create an inclusive economy; he promotes swapping a war culture for a peace culture. ( He will speak in October at "Peace 2016," a conference in Washington D.C.). Fr. Ben's experiences in Cuba; El Salvador; Nicaragua; Japan; China; Mondragon, Spain; Palestine; and the former USSR opened his eyes to the United States' important role in world affairs. "We are fighting a war in Afghanistan. We have military bases in about 130 countries, not all of which are welcomed. People say that we run the world. If so, I think we can improve our performance," Fr. Ben says. For 28 years, he hosted "Faith and Justice Forum" a weekly radio show on WVXU. IJPC's Sr. Louise Akers and Sr. Alice Gerdeman shared hosting of guest groups. He has always worked with IJPC, where he could discuss his vision for peace with like-minded people. Today, at nearly 91 years old, Fr. Ben comes to our Peace Committee meetings, participates in monthly peace lobby days, and organizes peace events around the city.
What does Fr. Ben's vision for peace include? His definition more closely aligns with Pope Francis' Laudato Si, which explains the idea of "one human family." Fr. Ben interprets this as acknowledging diversity with good will and respect. Peace comes from creating justice throughout the global community whether it be agricultural justice or racial justice. For a more thorough explanation of Fr. Ben's vision, please visit his website http://www.xavier.edu/frben/. There you will find the five pillars of "Vision of Hope": a global ethic, nonviolence, human rights, economic democracy, and a democratic world federation. Fr. Ben has received the most criticism and push back on his plan for a democratic world order. He details the difficulty in allowing people to look through an alternative lens. The Catholic Church's teachings parallel the principles of a global federation, yet many Catholics and peace activists hesitate to grapple with the idea. The mass media thrives on violence. Fr. Ben dreams of a day when it will center on peace and justice. The United States breeds its citizens to believe that America is the greatest country in the world. Fr. Ben finds that very few people are willing to question that opinion. "Shouldn't we join the world community as an equal?" He encourages anyone working for peace to create your own vision of hope and keep following it despite the apathy and indifference toward a change for peace.
After being a Jesuit for the past 70 years, Fr. Ben admits that he feels a little burned-out. Yet, his sense of humor helps him carry on with justice work. "My greatest weapon is my laugh," he shares. In Fr. Ben's opinion, anyone who wants to bring peace should celebrate the little victories and never walk alone. This concept stems from his favorite Jesuit value: the communal discernment of spirits (which includes spiritual freedom and spiritual consolation) Fr. Ben relies on Ignatian spirituality, working in communities with peace as their goal, to sustain his own spirit. He closed our time together with this insight, "Courage over fear; love over hate; emphasizing the positive; and friendship are the keys to reach peace."
On June 25, 2018 was honored with a resolution by Cincinnati City Council for
"for his lifelong contributions to the Catholic Church and 47 years of service at Xavier University, his tireless advocacy in these capacities for issues concerning peace and social justice, and his consistent encouragement to engage one another with compassion." In his remarks, Urmston, 93, said, "God's grace has brought me to this moment. Too many to name now have helped me on my graced story journey in the Society of Jesus the last 72 years. I think we underestimate how much we need one another. ... I hope for all that can be. An inclusive economy. A non-violent Greater Cincinnati. An end to war. God bless all of us."
Cincinnati City Council Resolution
March 2019 - Move from Xavier to Colombiere Center