Ben Urmston, S.J., Founder of Peace and Justice Programs, Retires after 48 Years
Mar 21, 2019
Benjamin J. Urmston, S.J., experienced the horrors of war, so he dedicated his life to working for peace. It was while serving in General George S. Patton's army in Europe and the Philippine Islands that Urmston decided to become a priest. He entered the Jesuits in 1946.
He has been a guiding force of peace and justice issues ever since, including at Xavier University, where he came as an undergraduate in 1943 before entering the Army, and where he's been working and teaching since 1971.
When Cincinnati City Council awarded him a proclamation in June 2018 recognizing his efforts for peace and justice, he said: "I thought becoming a priest was the best way to make this a better world. I instinctively wanted to rid our planet of wars and poverty."
Now 93, Urmston is officially retiring, but that does not mean he is quitting, even though he has certainly done his part—and stirred up his share of controversy along the way. At Xavier, where he taught theology, he impacted many students, focusing on international issues, human rights, and non-violent solutions to world problems. In 1977, he began the "Faith and Justice Forum," a weekly radio talk show on WVXU-FM, tackling controversial issues until 2005. Urmston also was active with the Interfaith Center on Corporate Responsibility and the Justice Across Campus Committee at Xavier.
He started the University's Peace Studies minor, and in 1981, he founded the University's Peace and Justice programs in his room in the Jesuit residence at Xavier. It soon outgrew that space and was housed for years in the Dorothy Day House on campus. Now it's called the Dorothy Day Center for Faith and Justice, where Urmston serves as director emeritus of Peace and Justice Programs.
Director Greg Carpinello said Urmston's impact at Xavier will last forever. "His vision for peace and justice has left a lasting impression on our campus, from establishing the Dorothy Day House, to his Faith and Justice radio show, to his 5 Pillars for a New World.  Fr. Ben's relentless dedication to social justice has threaded its way through many decades of Xavier's history."
Urmston was also active in community groups including Evanston Community Council, Cincinnati Archdiocesan Commission of Social Action and World Peace, the St. Francis-St. Joseph Catholic Worker House shelter for homeless men, St. Robert Bellarmine Chapel, and the Cincinnati NAACP. He also taught previously at the University of Detroit Jesuit High School and St. Xavier High School in Cincinnati.
Urmston has received numerous awards, including the Dorothy Day Medal and the Orchid Award from the Tri-State Environmental Committee, and for his work with the Archdiocese. In 2003, he was given the Religious Leader of the Year Award for his commitment to the Contact Center, the Cincinnati Welfare Rights Coalition and the Ohio Empowerment Coalition. And in 2013, the Church of the Resurrection awarded him its 12th "Keeping the Dream Alive" award in celebration of Dr. Martin Luther King, Jr.
But as he told Xavier magazine on the 25th anniversary of the Peace and Justice programs in 2006, the notion of peace and justice has its roots in Ignatian spirituality and applies to all people, even those whose political views prevent them from understanding its intentions. Even those who don't like his message.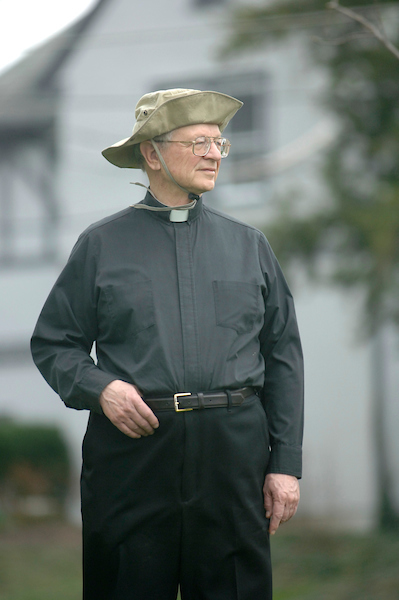 In his remarks to the city last year when he received his proclamation, he reflected about his approach to the world and its problems:
"In 1945 I was in the Philippine Islands in the 86th Infantry Division of the US Army. God's grace has brought me to this moment. Too many to name now have helped me on my graced story journey in the Society of Jesus the last 72 years. I think we underestimate how much we need one another. I thank all of you and each of you. I give thanks for all that has been. I hope for all that can be. An inclusive economy. A non-violent Greater Cincinnati. An end to war. God bless all of us."
At his farewell party at Xavier on Wednesday, March 20, Urmston asked for God's blessing as he makes his transition to the Colombiere Center Jesuit retirement community in Clarkston, Mich., where he'll undoubtedly continue his work for peace and justice—only from a different location.