Exploratory
---
Undergraduate
|
Bachelor of Arts
Program Details
More than a third of the students in a typical first-year class at Xavier have not chosen a major, and many more switch majors during their first or second year. As a student in the exploratory program, you'll work with professors, academic advisors and mentors to discover how your passions and interests relate to majors, careers and industries.
Your first year will include opportunities to register for intro-level and core curriculum courses in majors and subjects that interest you. You'll also have access to a wide-range of career exploration resources, including staff at Xavier's Career Development Office, career assessments and self-guided courses. By your sophomore year, you'll have all the information and support needed to declare one or more of Xavier's 90 academic majors and minors.
Xavier University, located in Cincinnati, Ohio, is nationally recognized as a top university by U.S. News & World Report, The Princeton Review and Forbes. 99 percent of our students are working, volunteering or in graduate school within six months of graduation (Class of 2022).
Curriculum
First Year
Participate in the First-Year Seminar program. Staff and students work closely together during the first year, and all along the way, to help students discover their paths.
Talk to an academic advisor to learn more about the range of majors available at Xavier and/or career opportunities.
Visit the Career Development office to discuss interests, abilities and goals.
Sophomore
Declare a major.
Request a professional mentor.
Start to develop a résumé.
Junior
Enhance career and leadership skills.
Get involved in internships, volunteer work and study abroad programs.
Senior
Launch steps toward post-graduation goals.
Finalize a resume.
Start interviewing for a job or completing plans for graduate school.
Student Clubs
Part of the college experience is reading, writing and studying for exams. The other part? Whatever students want it to be. Xavier has more than 160 clubs: everything from fencing to football, theater to community service.
Career Outcomes
99% of Xavier students are working, volunteering or in graduate school within six months of graduation (Class of 2022).
Top Jobs for Xavier Graduates: Business Analyst, Consultant, Graphic Designer, Lead Teacher, Public Relations and Content Manager, Registered Nurse, Software Engineer
Top Employers for Xavier Graduates: Cincinnati Art Museum, GE Aviation, Cincinnati Reds, Ernst & Young, Deloitte & Touche, LLP, Sycamore City School District, 84.51
More: Xavier's Career Development Office assists students in their search for employment by offering individual career counseling sessions, conducting workshop series on interviewing and resume writing techniques and maintaining an educational, vocational and employer information resource center. More than 100 nationally known companies visit the campus annually to interview graduating seniors for positions in business and industry.
Take the Next Step
Loading...
---
Core Exploration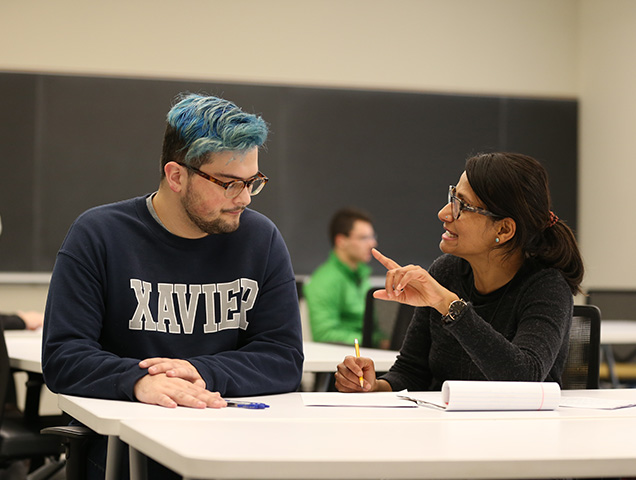 Xavier's core curriculum opens multiple fields of studies in a challenging and fun environment. Sample core classes include Socrates Meets Jesus, Bicycling our Bioregion and Pop Culture and Civil Rights.
---
---
Academic Options
Xavier offers more than 90 academic majors and minors. Popular majors include Business, Psychology, Biomedical Sciences and Education.
---
---
Support for Success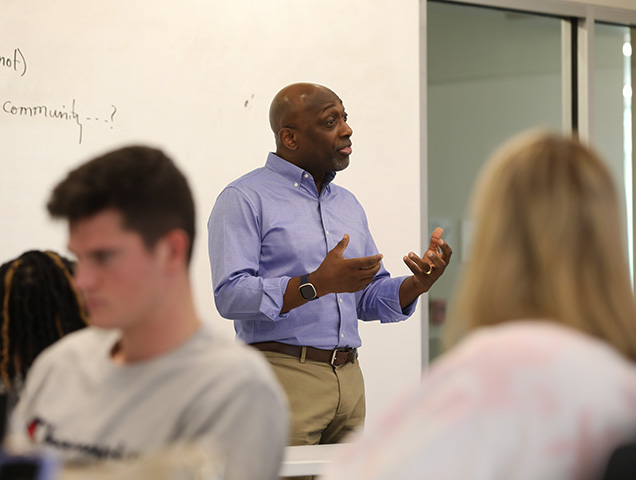 Xavier graduates succeed because of a quality education and solid support outside the classroom. Explore campus resources that nurture and prepare students for success in college and beyond.
---
11 Uncommon Courses to Take Your First Year
From expeditions in the Grand Canyon to social activism in our hometown, here are 11 popular First-Year Seminar courses.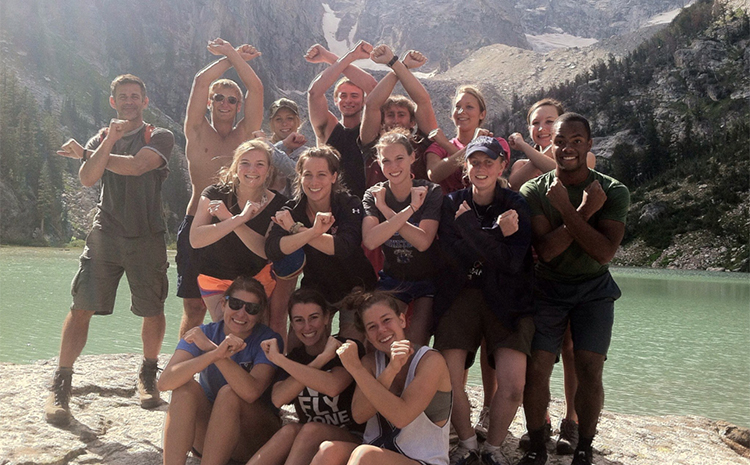 Graduate With Honors
Are you looking for an academic challenge? The University Scholars Honors Program offers incoming students a more challenging curriculum and close support from professors while completing their undergraduate degree. Acceptance into the program is highly selective and includes a $2000 travel grant.
Exploratory Major at Xavier University
Xavier's Exploratory program is designed to help students in their major and career journey. The program exposes students to majors, occupations and careers, while helping them identify their interests, skills, values and personalities as they relate to the professional world. Students in the program are introduced to former Exploratory students for mentoring and sharing experiences.They also have access to campus resources in order to gather information towards making a decision, and help from academic advisors and success coaches, who initiate goals to move students forward in the career development process.
Xavier University's College of Arts and Sciences challenges students to develop an integrated understanding of humanity, the world, and God by pursuing the questions raised in Xavier's core and departmental curricula. The College of Arts and Sciences is the oldest and largest college at Xavier University. The college provides an excellent liberal arts education in the Jesuit tradition that prepares students for careers, professional or graduate school, and life in a global society.
Xavier University is a private university located in Cincinnati, Ohio, providing a liberal arts education in the Jesuit Catholic tradition. Founded in 1831, the University is the sixth-oldest Catholic university in the nation. It has been ranked among the top 10 master's-level universities in the Midwest by U.S. News & World Report for the past two decades. The Princeton Review names it one of the "Best 385 Colleges in America."
Additional Resources