Environmental Science
---
Undergraduate
|
Bachelor of Science
Program Details
Whether it's examining global climate change or researching tropical deforestation, environmental scientists take steps to help make the world a more sustainable place. As a student in the environmental science major, you'll explore conservation topics while studying how humans interact with the natural environment.
The environmental science curriculum is interdisciplinary, so you'll be taking courses in a variety of fields including biology, chemistry, geography, economics, physics, political science, philosophy and ethics. You'll also gain real-world experience through interning at places like the National Park Service, the Environmental Protection Agency, the National Science Foundation or private companies and nonprofits focused on environmental issues.
Xavier University, located in Cincinnati, Ohio, is nationally recognized as a top university by U.S. News & World Report, The Princeton Review and Forbes. 99 percent of our students are working, volunteering or in graduate school within six months of graduation (Class of 2022).
Program Options
Students can obtain a Bachelor of Science in Environmental Science in two ways from Xavier University. The first is a traditional undergraduate four-year degree at Xavier. The second is through Xavier's Environmental Science with a concentration in Environmental Management Program, where students attend Xavier and Duke University to obtain both their Bachelor of Science and graduate degree in a 5-year period. 
Degree Awarded
Bachelor of Science in Environmental Science
Curriculum
The sample course sequence below illustrates class offerings for the Environmental Science major. Consult the official Xavier University course catalog for detailed registration and advising information.
Fall
Biology 160: General Biology I............ 3cr.
Biology 161: General Biology I Lab............ 1cr.
Chemistry 160: General Chemistry I............ 3cr.
Chemistry 161: General Chemistry I Lab............ 1cr.
Core 100: First-Year Seminar or Theology 111............ 3cr.
English101 or 115: Composition or Rhetoric............ 3cr.
Core 101: GOA............ 0cr.
Spring
Biology 162: General Biology II............ 3cr.
Biology 163: General Biology II Lab............ 1cr.
Chemistry 162: General Chemistry II............ 3cr.
Chemistry 163: General Chemistry II Lab............ 1cr.
Core 100: First-Year Seminar or Theology 111............ 3cr.
Philosophy 100: Ethics as Intro............ 3cr.
Core 102: GOA............ 0cr.
Fall
Biology 250: Ecology............ 3cr.
Biology 251: Ecology Lab............ 1cr.
Mathematics 140/150 or Mathematics 156............ 3cr.
Historical Perspectives Elective............ 3cr.
English 205: Lit & the Moral Imagination............ 3cr.
Second Language I............ 3cr.
Spring
Biology 260: Intro Environmental Science (DCR)............ 3cr.
Biology 261: Intro Environmental Science Lab............ 1cr.
ENVS - Non Science Elective............ 3cr.
Economics 200: Microeconomics............ 3cr.
Theological Perspectives Elective............ 3cr.
Second Language II............ 3cr.
Fall
Physics 160: College Physics............ 3cr.
Physics 161: Introductory Physics Lab I............ 1cr.
Math or Science Elective............ 3cr.
Philosophy 200: Philosophical Perspectives Elective............ 3cr.
ENVS - None Science Elective*............ 3cr.
Math 140/150 or Math 156............ 3cr.
Spring
Physics 162: College Physics............ 3cr.
Physics 163: Introductory Physics Lab I............ 1cr.
Humanities Elective............ 3cr.
Social Science or General Elective............ 3cr.
General Elective............ 3cr.
Fall
Biology 495, 497 or 498: Internship/Methods BR I............ 2cr.
Science or Math Elective............ 5cr.
Economics 320: Natural Resource Economics E/RS............ 3cr.
General Elective (DCR)............ 3cr.
General Elective............ 3cr.
Spring
Biology 495, 496 or 499: Internship/Methods BR II............ 2cr.
Biology 398: Environmental Studies Seminar............ 3cr.
Science or Math Elective............ 3cr.
E/RS Course............ 3cr.
General Elective............ 3cr.
Sample Courses
Xavier is known for providing an education that's both challenging and personal. Here are some courses that are part of the Environmental Science major at Xavier:
Ecology (BIOL 250) - The relationships between organisms and their living and non-living environments.
Intro to Environmental Science (BIOL 260) - In this introductory course, students will examine how natural and human activities alter natural ecosystems resulting in environmental problems at both local and global scales. Students will be introduced to concepts of sustainability and solutions for current and future environmental problems that humanity will encounter.
Methods of Biol Research I (BIOL 498) - Development of a research project emphasizing experimental design, controls, gathering and interpreting experimental data from living organisms. Projects vary depending on faculty advisor. Intended for Seniors.
Natural Resource Economics (ECON 320) - Economic analysis of managing the environment and allocating natural resources. Historical roots and ethical consequences of existing problems and policies are explored.
Career Outcomes
99% of Xavier students are working, volunteering or in graduate school within six months of graduating (Class of 2022).
Top Jobs: Account Executive, Chemical Safety & Regulatory Specialist, Earthlinks Program Assistant, Independent Care Provider, Operations Manager, Solar Sales Supervisor
Top Companies: U.S. Army, Monroe County Environmental Health Department, Urban Servant Corps, Crossroad Health Center, Indianapolis Zoo, Visionworks of America, Boy Scouts of America
Student Clubs
Xavier Student Sustainability Club
Xavier Student Sustainability (XSS) provides students with opportunities to actively promote environmental initiatives on Xavier's campus and in the surrounding communities. Ongoing projects include move-in day recycling, office composting and educational events.
Animals, People & The Environment at Xavier
Animal lovers in this club host monthly events that advocate for animal rights. They also educate the wider Xavier community about animal rights and its impact on people and the environment.
Take the Next Step
Loading...
Frequently Asked Questions: Environmental Science
It is the study of environmental processes, humans' relationship to the environment and solutions to environmental issues.
It is an interdisciplinary academic field that integrates biology, botany, chemistry, ecology, engineering, geography, geology, information systems, physics and social sciences.
At the undergraduate level, programs usually focus on:
Creating awareness for environmental problems at the local, national and global level
Understanding the impacts of human activity and development on the environment
Discovering sustainable ways of living
Using natural resources effectively
At the graduate level, curriculums allow students to study and research chosen areas of interest.
Because the subject illuminates the relationship between human actions and environmental consequences. It focuses on finding solutions to environmental issues like climate change, pollution, natural resources and more. The environment is part of everyday life. It affects the weather, biodiversity, health, economies, policies and more. The increasing complexity of environmental issues creates a need for scientists to study them and find solutions.
While some students pursue post-graduate work, others enter the work force after earning their undergraduate degree. Here are a few popular job possibilities and industries:
Job Possibilities:
Sustainability consultant
Sustainability coordinator
Environmental researcher
Environmental scientist
Environment-focused policy maker
Environmental educator
Field researcher
Field guide
Communications professional
Sales coordinator
Activities program coordinator
Industries:
Non-profit
Corporate
Communications
Governmental agencies
Renewable resource technologies
Sales
Graduate and doctoral studies
98% of students from Xavier's undergraduate programs are working, volunteering or in graduate school within six months of graduating. Find more information about our career placement rates on our Student Outcomes Page.
Average salaries vary widely because there are many career paths available. Careers span from administrative work to lab research, field work, non-profit work and work in the private sector.
According to the Bureau of Labor Statistics, the median annual wage for U.S. environmental scientists and specialists in 2018 was $71,180. The Bureau estimates an increase for job openings in this field in the future as well.
Environmental science is a broad field that incorporates many different academic subjects, including ecology, social sciences, geography and economics. Ecology is a narrower academic field that focuses specifically on the interaction between organisms and their surroundings. Here are a few of the key differences:
Environmental Science:
Focus on conservation
Is an interdisciplinary academic field, incorporating many academic subjects (including ecology)
Takes knowledge gained from ecology and applies it to things like waste management, conservation, renewable energies, etc.
Ecology:
Focus on interactions between living and non-living organisms in an environment
Is a narrow academic field

Is a component of environmental science
Yes. Nearly all incoming Xavier students receive financial assistance each year through grants, loans, work study opportunities and scholarships or a combination of these. The average incoming first-year student receives $22,210 in merit scholarships and grants. Find out more about financial aid opportunities, scholarships and grants on our Undergraduate Tuition and Aid website.
Yes. Students should look into taking as many science and math classes as possible, including chemistry, physics, biology, algebra, geometry, trigonometry and calculus. Courses in English, communications and computer programming can also be useful.
---
Campus Sustainability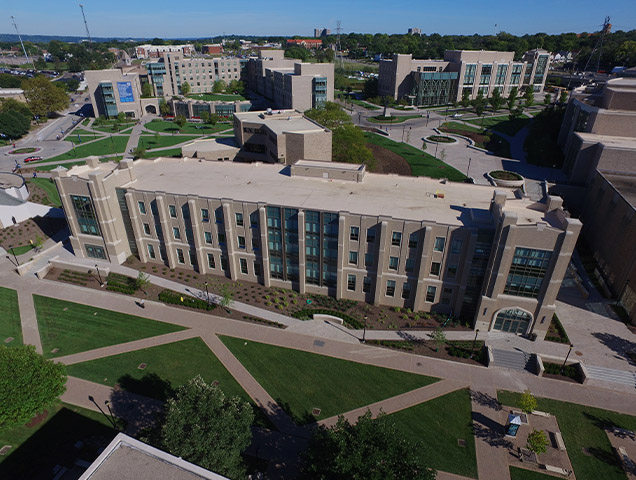 Integrating sustainability into campus operations aligns with Xavier's Jesuit tradition and promotes the ongoing welfare our students, institution, community and world. With a physical infrastructure that's less costly to run and more resilient, the lower our carbon footprint, the more interdisciplinary and problem-focused our educational efforts.
---
---
Cincinnati: A City of Opportunity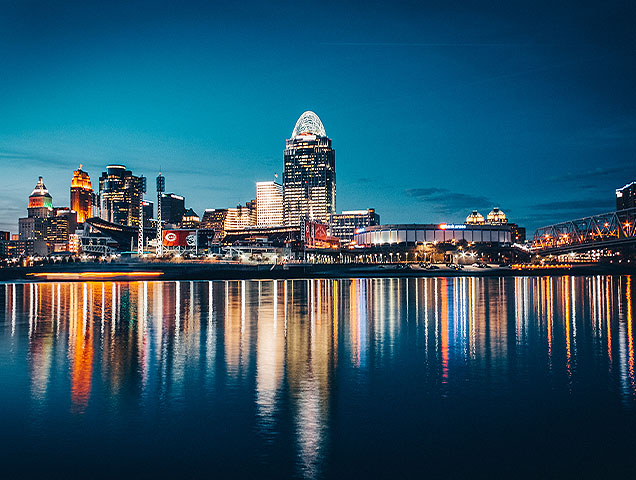 Cincinnati, Ohio is ranked the #1 Best City for College Graduates (smartasset.com) and the #15 Best Place to Start a Career (WalletHub). Students gain real-world experience working with sustainability directors from places like Procter and Gamble, city-level organizations like the EPA, political coalitions and cause-focused groups.
---
---
What is Jesuit Education?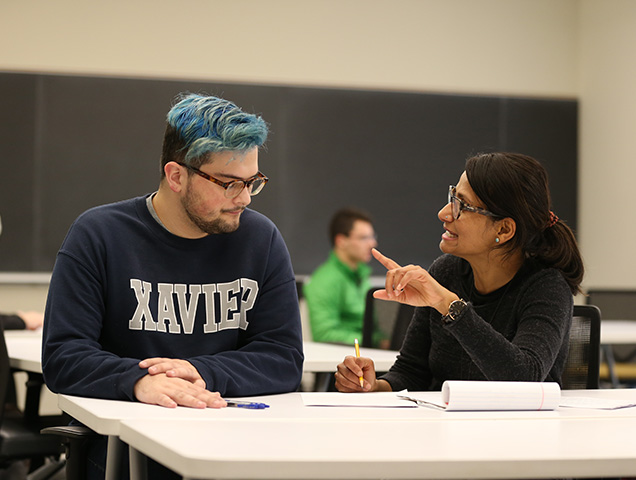 A Xavier education is more than your typical college experience. Drawing on a Jesuit Catholic educational model 400 years in the making, students in the environmental science major get the personal attention and support they need to succeed. The result is an education that's as encouraging as it is challenging, and as enriching as it is demanding.
---
NASA awards Xavier professor $150k grant to research effects of spaceflight on muscles
Astronauts are facing a big problem — and NASA is funding one Xavier University faculty member to research a potential solution. Xavier Biology Assistant Professor Kelly Crowe, Ph.D., is one of only eight faculty members in the country to receive a one-year, $150,000 NASA Human Research Program grant to explore how spaceflight affects the human body.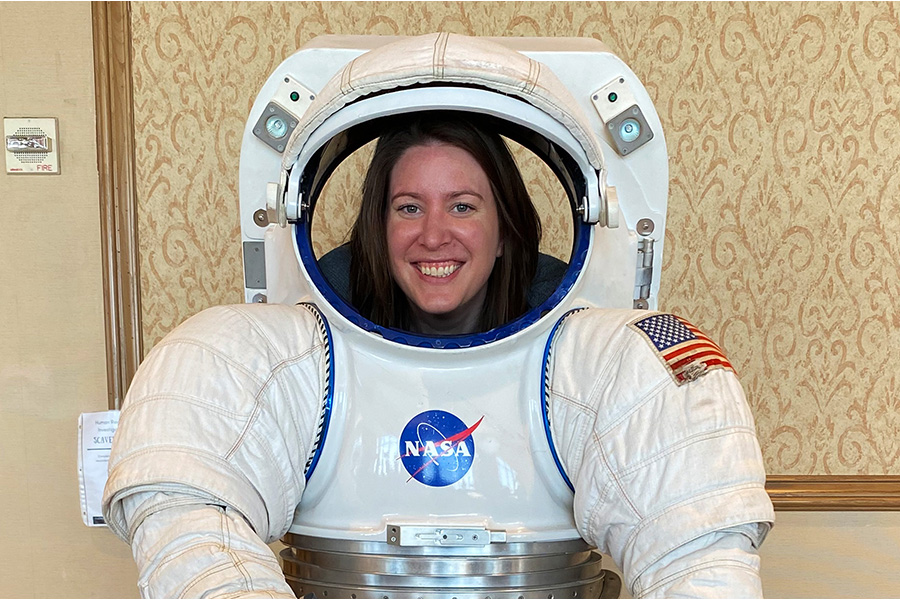 Graduate With Honors
Are you looking for an academic challenge? The University Scholars Honors Program offers incoming students a more challenging curriculum and close support from professors while completing their undergraduate degree. Acceptance into the program is highly selective and includes a $2000 travel grant.
Environmental Science Major at Xavier University
Whether the issue is global climate change, tropical deforestation, or invasive plant species, public concern over environmental issues is on the rise. With this understanding comes the need for informed and educated individuals to play key leadership roles to find solutions to these and many other environmental problems. Xavier University recognizes its responsibility in training the next generation of environmental professionals and is proud to offer an interdisciplinary environmental science major.
Xavier University's College of Arts and Sciences challenges students to develop an integrated understanding of humanity, the world, and God by pursuing the questions raised in Xavier's core and departmental curricula. The College of Arts and Sciences is the oldest and largest college at Xavier University. The college provides an excellent liberal arts education in the Jesuit tradition that prepares students for careers, professional or graduate school, and life in a global society.
Xavier University is a private university located in Cincinnati, Ohio, providing a liberal arts education in the Jesuit Catholic tradition. Founded in 1831, the University is the sixth-oldest Catholic university in the nation. It has been ranked among the top 10 master's-level universities in the Midwest by U.S. News & World Report for the past two decades. The Princeton Review names it one of the "Best 385 Colleges in America."
Additional Resources