About Us
CTE Mission
The CTE supports Xavier faculty in creating inclusive, collaborative learning environments that challenge our students intellectually, morally, and spiritually to become engaged scholars and citizens. The Center promotes effective teaching that is reflective, engaging, creative, and informed by both pedagogical and disciplinary knowledge.
In supporting this mission, the CTE:
reinforces the culture of teaching and learning as central to Xavier's mission;
cultivates environments and relationships to build networks and communities of learning and scholarship;
provides programs and resources designed to promote pedagogical methods informed by research on teaching and learning;
inspires faculty to reflect on their work as well as to share and learn from the experience, diversity, and expertise of their colleagues.
Updated February 2019
---
Contact Us
The CTE Faculty Lounge and staff offices are located in Conaton Learning Commons, 317-318.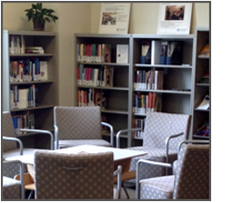 Conaton Learning Commons 317-318
Mail Location 1110
1001 Francis Xavier Way
Cincinnati, OH 45207-1110
Phone: (513) 745-4279
cte@xavier.edu
For general questions about our programming and events, please email or call (513) 745-3475
Or contact our staff directly: