Majors, Minors, and Certification
Criminal Justice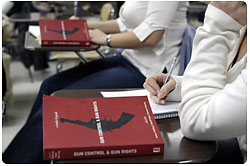 Criminal justice majors may graduate with either a Bachelor of Science (B.S.) degree in criminal justice or an Associate (A.S.) degree in criminal justice. Upon graduation, students in criminal justice and/or corrections will be equipped with knowledge of basic criminal justice and corrections, its current and specific areas and problems within the system.
Students majoring in criminal justice must complete 39 hours in the major of which 30 hours are in required courses. These courses include Introduction to Criminal Justice, Introduction to Law Enforcement, Introduction to Corrections, Constitutional Law, and Criminology.
In addition, students must complete a three hour practicum consisting of supervised placement in criminal justice agencies, and Methods of Criminal JusticeResearch, providing exposure to applied research in the subject area. Practicum areas include police agencies, courts and corrections environments at local, state and federal levels. Practica also exist in the areas of counseling treatment and casework at halfway houses and runaway shelters.
In addition to the 30 required hours in criminal justice, students select an additional nine hours from elective courses such as Women in Criminal Justice, Legal Aspects of Corrections, and Terrorism and Homeland Security.
Criminalistics
A criminalistics concentration was recently added to the curriculum. Courses include areas of forensic science/criminalistics. Areas of study are: fingerprinting, crime scene investigation, DNA testing, drug testing procedures, etc. 15 hours are required for the concentration.
Required courses for the concentration in criminalistics includes Introduction to Criminal Justice, Introduction to Law Enforcement, Criminalistics I, Criminalistics II and Criminalistics III.
Criminal Justice Minor
A minor in criminal justice is earned by completing 15 credit hours of required criminal justice courses. Students should consult the department chair concerning specific requirements for the minor.