Capital Past Projects
Bellarmine Chapel Sacristy
Replace casework.
Gallagher Food Court
New food services in the Gallagher Food Court.
Our Lady of Peace Chapel
Click webcam to see current progress as it happens:
Construction of Our Lady of Peace Chapel is set to begin the week of October 30, 2017. The chapel will be located at the end of the academic mall on the last remaining section of the former Herald Ave. The 22-seat stone chapel is being relocated from the Williams family property in Anderson Township. The project will include extensive site work extending the academic mall to Dana Ave. Pedestrian access will be maintained throughout the construction process. The project is slated to be complete in June, 2018.
Cintas-Student Athlete Academic Support Services
Student Athlete Academic Support Services will be moving from the 5th floor of Conaton Learning Commons to the 2nd level of the Cintas Center, adjacent to classrooms 201-204.
Cintas Center Bowl
The scope of this project includes:
Bridge Seating - adding additional seating at the north end of the arena above the student section.

Joseph Club - Removing the glass wall, lowering the counter to loge height, and adding loge seats. 

Retractable Seating - 

Replacing retractable seating for the first five rows around the east, south and west sides of the arena.  The north side will have its first nine rows replaced.

a
Training Room - F

ollowing the completion of the Strength & Conditioning Addition, the Training Room will be expanded.

Upper Concourse Spectator Platforms - 

Removing seats to construct a platform for group sales to watch games and events.
Cintas Center - Courtside Club 
The scope of this project entails the construction of an exclusive food and beverage area for floor seat ticket holders which is located between the court and the players' locker room. 
Cintas Center - Lounge 
New space for teams to view game films and conduct post-game interviews. 
Cintas Center - Strength & Conditioning Addition
A building addition to the north side of the Cintas Center which will double the size of the current strength and conditioning facilities and expanded sports medicine area.
Cintas Center - D'Artagnan's Deck
Adding a deck for bar area on a level-5 south end.
Cintas Center - Strength & Conditioning Addition
A building addition to the north side of the Cintas Center which will double the size of the current strength and conditioning facilities and expanded sports medicine area.
Gallagher Student Center - Bookstore
Renovate bookstore area to create a student meeting space.
Gallagher Student Center - Miscellaneous
Office of Student Involvement area:  Construct enclosed office.
First Floor Print & TV Lounge:  Swap and refresh.
Joseph Hall Montessori
Expand the 3rd floor, demolish walls to form a large classroom, and install fire proofing.
Past Capital Projects
Hoff Academic Quad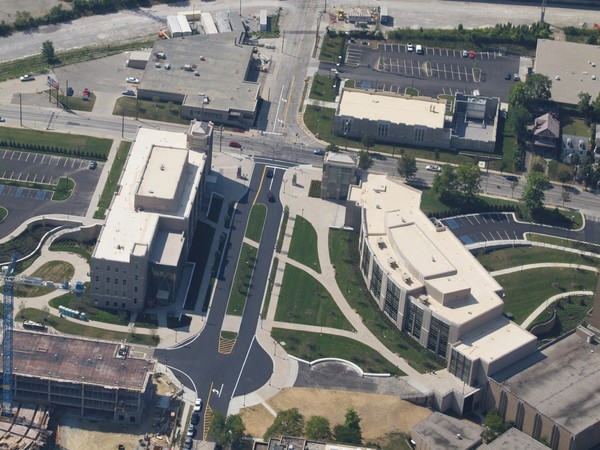 Completed in August 2010, the Hoff Academic Quad features 170,000 square feet of new academic facilities that will dramatically enhance Xavier's learning environment. The Hoff Academic Quad is built around two new facilities; the Conaton Learning Commons and Smith Hall (a new building for the Williams College of Business) and supported by a new central utility plant. Taken together, these new structures will serve as a model of excellence in American higher education.
The new facility for the Williams College of Business is a world-class, technologically advanced resource. It is designed to bring together students, faculty, staff, alumni and business executives to collaborate and create innovative programming.
The Conaton Learning Commons is the heart of the Hoff Academic Quad. The Commons provides Xavier students with a full range of facilities, technologies and services that help them master a broad set of essential skills and thus gain a competitive advantage in their respective disciplines and careers.
Photo information:
Central Utility Plant (upper right), Conaton Learning Commons (lower right) and Smith Hall (left side).
Central Utility Plant
The Central Utility Plant (CUP) is approximately 20,000 sf building that provides hot and chilled water and electrical power for the Hoff Academic Quad (HAQ). The CUP will ultimately provide the same utilities to serve approximately 2.5 million square feet of academic, office, housing, recreation, dining, religious and convocation facilities on the campus.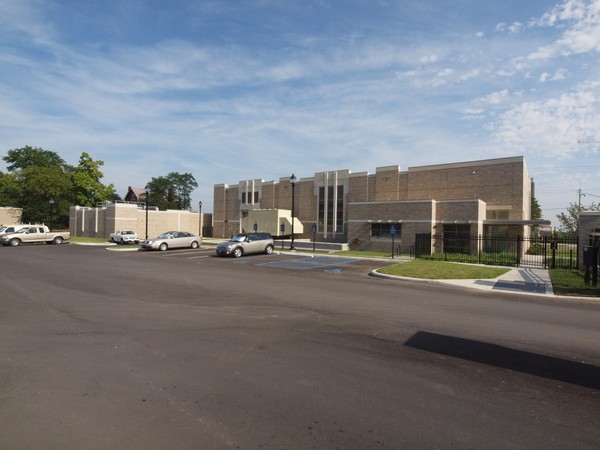 Michael J. Conaton Learning Commons
The Michael J. Conaton Learning Commons is at the heart of the James E. Hoff, S.J., Academic Quad. The Commons provides students with the facilities, technologies and services to help them master essential skills and gain a competitive advantage in their respective disciplines and careers. As a result, Xavier graduates are better prepared to enjoy successful lives and careers that are the graduates of other institutions.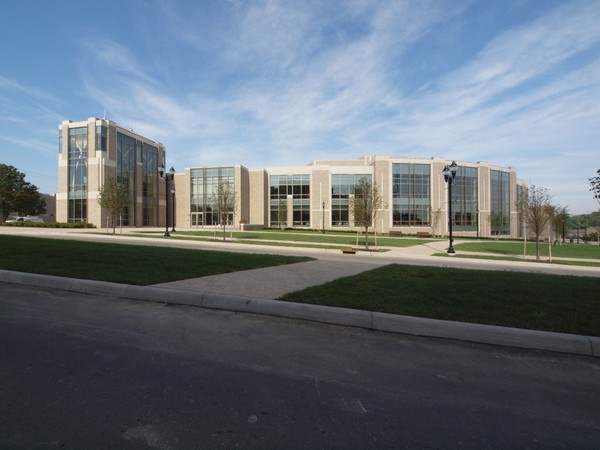 Stephen and Dolores Smith Hall
Without a doubt, the Williams College of Business has taken its place among the nation?s most dynamic business schools. A series of innovative and successful initiatives have contributed to dramatic increases in corporate interaction, national visibility and prominence, and enrollment. This new, state-of-the art facility will better serve the college?s expanding needs and help sustain this momentum. Highlights:
5/3 Trading room
Center for Applied Finance
Technology-driven classrooms
Professional Development Center
Project workrooms
Multimedia room
Study rooms
Academic advising suite
Computer lab
Faculty and staff offices
Executive conference rooms
Cintas Institute for Business Ethics
Sedler Family Center for Entrepreneurship and Innovation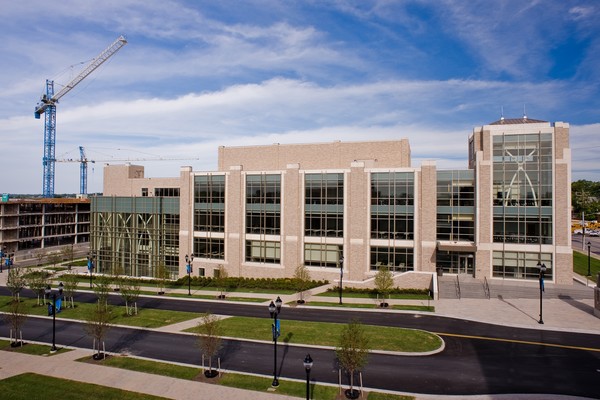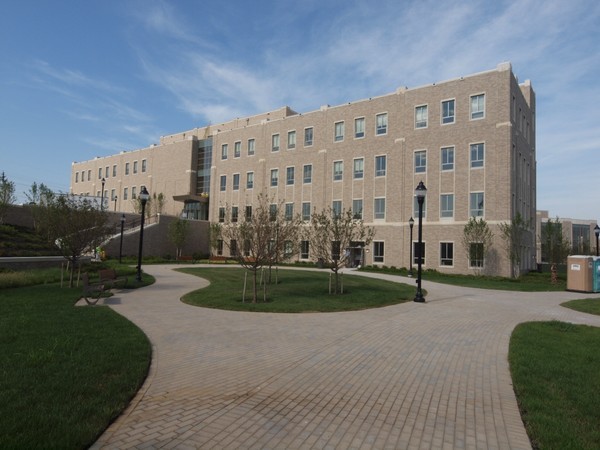 New Residence Hall and Dining Commons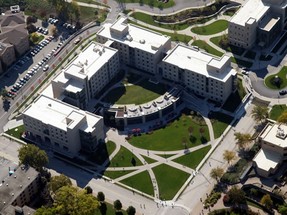 Excitement built as Xavier's new eco friendly residence and dining complex took shape.
Located in the heart of campus across from Bellarmine Chapel, the complex opened in August, 2011 and features multi-bedroom suites and all-you-can-eat dining. It also includes a rooftop recreation space above the dining center and green space in front of the complex.  In the future, it will include street-level retail outlets.
Xavier's rising national profile is bringing increased interest from students across the country. The University is meeting the academic side of this opportunity by creating new educational facilities second to none in the nation. But another challenge exists: student housing.
Currently, the University?s residence halls house about 52 percent of full-time undergraduate students and are inadequate in meeting Xavier?s goal that all freshman and sophomore students live on campus.
Limited student housing is considered a constraint to enrollment, including recruiting and retention. The New Residence Hall is a key component of Xavier?s long-term vision and strategy.
Key Figures
Completed by August 2011.
Features four residence halls and a dining center.
Is located in the core of campus, providing easy access to all classroom facilities as well as the Gallagher Student Center and Bellarmine Chapel.
Features 535 beds to help meet student demand.
Is designed around comfortably sized multi-bedroom suites.
Uses existing campus property at the corner of Herald Avenue and Francis Xavier Way.
Alleviates expanded occupancy?the current practice of housing additional students in rooms intended for less.
Includes roof-top recreation space above the dining hall.
The Residence Halls
House 535 students in four connected towers that create one residential community.
Includes two, three and four-bedroom suites with common areas, one or two full baths, tile floors and walk-in showers.
Has first-floor laundry open 24 hours a day, with TV monitors and vending machines.
The Dining Center
Seats approximately 725, up from 400 in existing cafeteria.
Features various food stations, including hot and vegan delis, grill and salad bar, plus stone hearth pizza oven, full-service bakery and cereal station.
Includes digital menu monitors at all stations and monitors throughout with continuous updates on campus news and events.
Dana Avenue Lighting
The Dana Avenue Lighting project consists of installing pedestrian lighting along Dana Avenue from Victory Parkway to Montgomery Road.
This project is being designed to extend the campus lighting to the edge of campus and will be installed in conjunction with the widening of Dana Avenue being constructed by the City of Cincinnati.
The project will be done in phases with the first phase, consisting of the underground conduits, scheduled for completion by the Spring of 2012.
The second phase includes the installation of the light poles and bases and will be completed in the future
Safety and Security
The Safety Matters Team was formed in February 2010 at the request of Xavier?s Vice President for Financial Administration. The Safety Team was requested to focus on identifying strategies to improve safety performance and identify methods to accurately communicate Xavier?s positive campus safety record.
Three of those strategies involve Physical Plant:
Electronic Door Access: A phased project over the next 5 years that will expand the electronic door access control program to eventually include electronic access on all exterior entrances to campus buildings and all interior doors in Residence Halls.
 
Emergency Phone Systems: This project will upgrade/replace current emergency phone equipment; expand emergency phone system coverage and include mass notification ability. Physical Plant will install new or reuse existing conduits where needed.
Upgrade Campus Lighting at Selected Locations: This is intended to increase exterior lighting levels at selected areas in and around campus to enhance safety. This will require the installation of new light poles at strategic locations around campus. One of these locations is along Dana Avenue, where the infrastructure will be installed for future placement of lighting standards.
 
 Wayfinding 
Proposed campus wayfinding signage.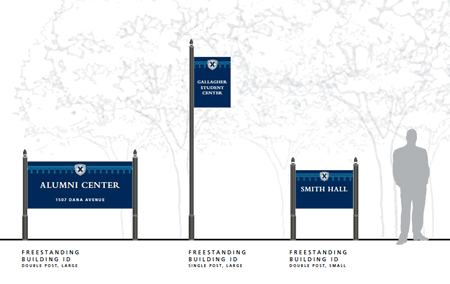 Dana Houses Demo
Demolition of eight houses on the south side of Dana Avenue across from Schott Hall between 1511 to 1525 Dana Avenue. The houses and their foundations will be removed and backfilled with suitable fill material and the lot planted with grass as green space.