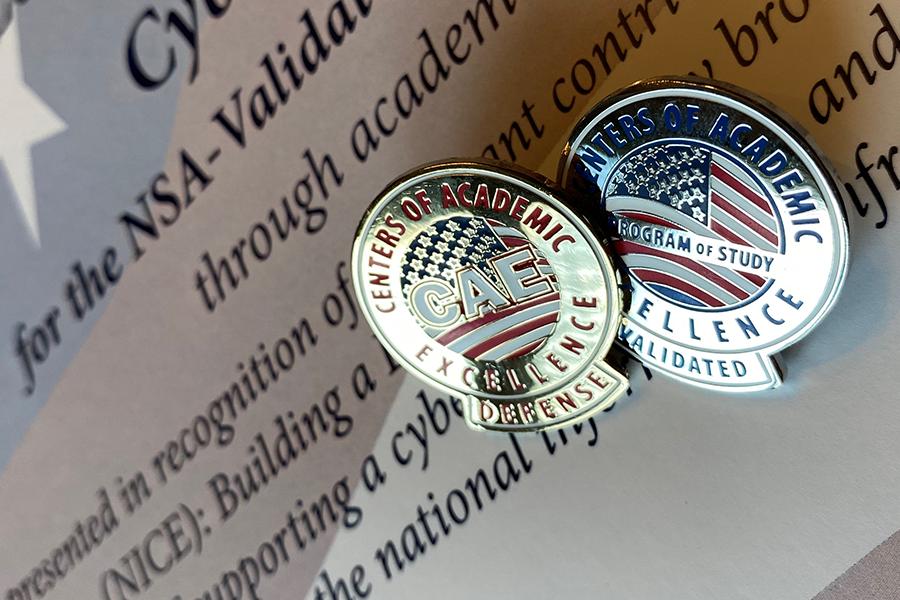 Xavier University's cybersecurity program receives national recognition
Jun 13, 2022
As demand for skilled cybersecurity professionals continues to rise, Xavier University has been recognized as a leader in promoting cyber defense in higher education.
For the first time, the National Security Agency (NSA) designated Xavier as a National Center of Academic Excellence in Cyber Defense (CAE-CD) for the University's Bachelor of Science in Computer Science Cybersecurity Concentration. Xavier officially received the designation on May 24 as part of an honorary ceremony and reception.
The CAE-CD recognizes universities that help reduce threats to our national infrastructure through cyber defense education and those that provide the nation with a pipeline of qualified cybersecurity professionals.
The designation, which lasts through 2027, gives Xavier access to special federal grants, student scholarships and internship opportunities, and it will help the University continue attracting talented students interested in cybersecurity-related fields.
Xavier helps students gain the skills necessary to land cybersecurity jobs, including two Musketeer cybersecurity program alums currently working for the NSA.
"Our courses connect directly to some of the cyber defense industry's biggest needs," said Deep Ramanayake, Teaching Professor of Cybersecurity at Xavier. "For example, our students take a course in penetration testing, a process companies use to protect their assets from attacks. These students learn the entire process of conducting pen testing for a given company, complete reconnaissance networking scanning to gather information, analyze the vulnerabilities, and write a report to the company for how to remediate these issues."
As part of Xavier's computer science program, the cybersecurity curriculum follows the University's mission to promote the common good and develop responsible and productive citizenship with informed action.
The University also features a
Cyber Defense Team
, comprising students who collaborate to learn the new technologies and problem-solving required in today's computing careers. The team also competes regularly in cyber defense competitions, including the
National Cyber League
.
"Xavier cybersecurity's focus was the perfect program to learn real-world skills and in an environment that is conducive to learning and growing," said a recent program graduate now working at the NSA who must remain anonymous. "The program helps push yourself with a staff that truly wants to see you succeed, and the Cyber Defense Team is a great way to help utilize skills you learn in the classroom with other students who are passionate about the field as well."
The program earned its CAE-CD designation by meeting rigorous NSA standards to ensure that students receive a high-quality education and become reliable professionals in the cybersecurity industry.
Learn more about Xavier's computer science program
.
Visit the
Centers for Academic Excellence in Cybersecurity website
for more information on the designation.