College of Arts and Sciences Recent Retirees Spring 2021
Apr 11, 2021
Over the last year, the College of Arts and Sciences has honored a number of faculty and staff who recently retired. Although their daily presence is missed, the College of Arts and Sciences is deeply grateful for the time they chose to spend at Xavier. Some of our most recent retirees agreed to share some reflections of their time teaching.
Norman Finkelstein
Professor of English, 1980-2020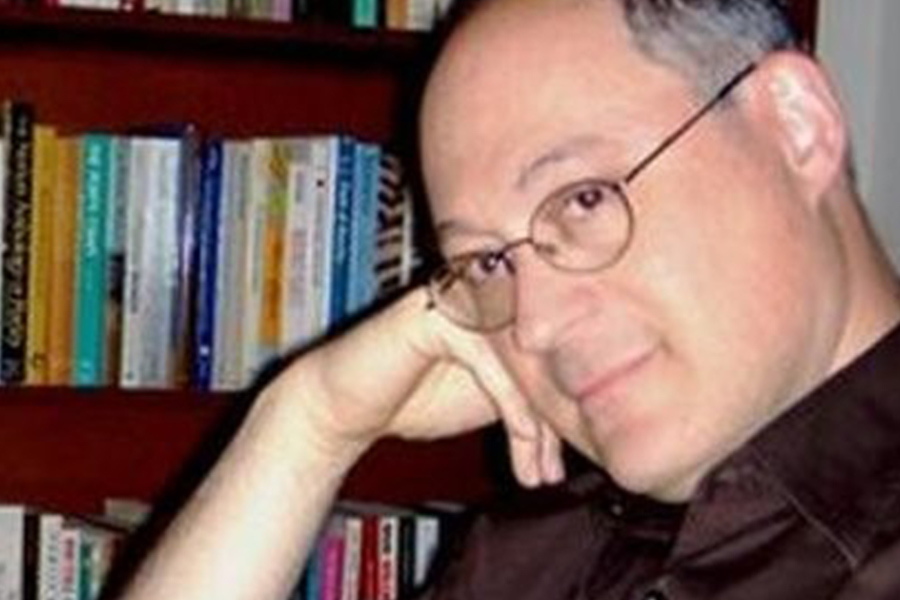 "I regard myself as very fortunate to have been able to stand in front of a class and speak about my passions."
After earning his Ph.D. from Emory University, Norman Finkelstein and his family moved to Cincinnati to begin his career as a faculty member in the Department of English.
During his 40-year career at Xavier, Finkelstein taught many courses. He specialized in modern poetry and over time developed an interest in Modern Jewish Literature. He explained, "I really enjoyed teaching Jewish American Literature. I was able to present work that wasn't so often taught at Xavier."
Finkelstein also found other ways to support literary culture at Xavier. "I found immensely rewarding over the years to often be in charge of bringing visiting writers to campus – mainly poets – and giving students the opportunity to meet writers who were in the midst of their careers."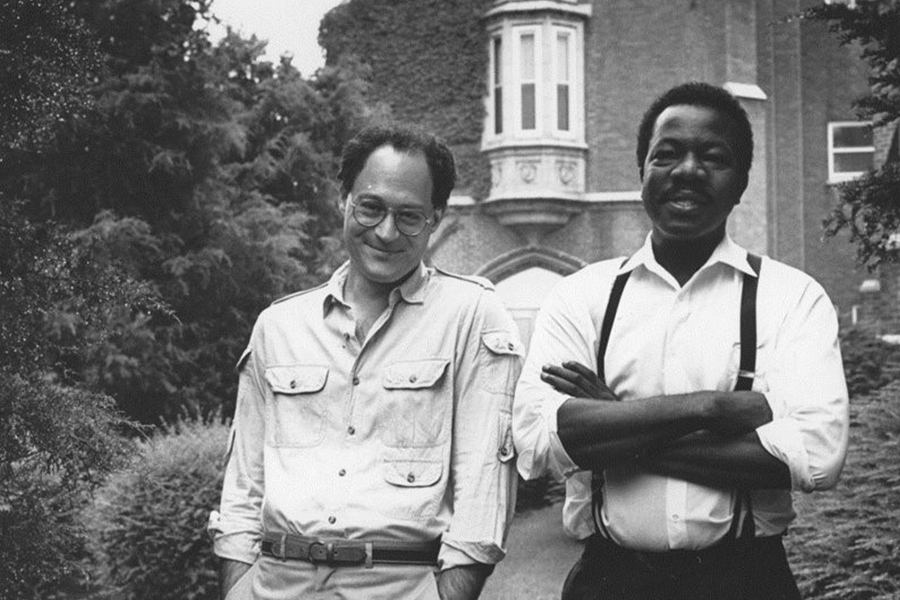 University Archives and Special Collections, Xavier University Library
In addition to teaching, Finkelstein's career at Xavier reflected his deep love of writing. "I always knew I wanted to be a writer and therefore I understood, by the time I was in high school, that I would be an English major." He continued to foster that love of writing throughout a busy teaching schedule over forty years at Xavier. Every few years, Finkelstein remembers having the opportunity to take a leave to focus on one of the many books he has published during his lifetime.
Most importantly, though, Finkelstein values his impact on his many students:
"Most of the time, the most important thing I felt I was doing as a teacher was standing up there and modeling, not conveying info or learning, but modeling someone, an image of someone, who was genuinely in love with literature. Because of that love I had gone very deeply into the material. I wanted students to see what it was like to be swept up in a literary or poetic passion. A passion that was also grounded in knowledge."
Since retiring in May 2020, Finkelstein has stayed busy. He's focused fully on his writing, and hopes to travel in the future once it is safe to do so. Those interested in following Finkelstein's work can follow his new poetry review blog. 
Vimala Majeti
Senior Teaching Professor of Chemistry, 1982-2020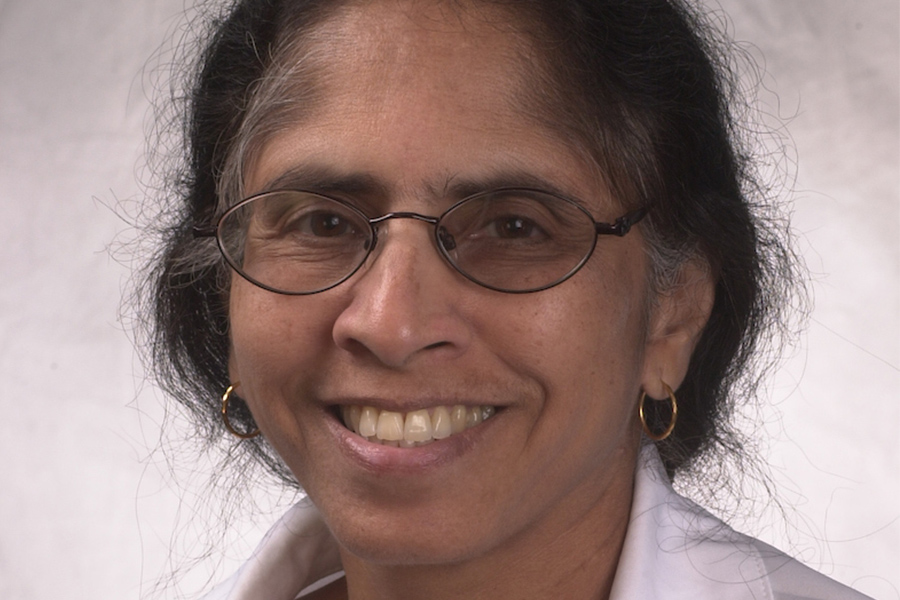 In 1970, Vimala A Majeti and her husband and classmate, Satya Majeti, left UCLA in Southern California for Cincinnati, Ohio. Satya was then just hired by The Proctor and Gamble Company. By the fall of 1982, Majeti was set to begin her career in the Department of Chemistry.
Although Organic Chemistry is widely regarded by the students as one of the more difficult Chemistry courses, Majeti always looked forward to teaching it—because it was the focus of her own study.  She explains, "When I entered my Ph.D. program, I needed to decide on a branch of chemistry. The choices were Organic Chemistry, Inorganic Chemistry, Physical Chemistry, AnalyticaI Chemistry, and Biochemistry. I chose Organic Chemistry." Although Organic Chemistry is perceived to be difficult by many students, Majeti found teaching Organic Chemistry incredibly rewarding. Over the course of her time at Xavier, Majeti wrote multiple books, including an Organic Lab Manual specifically designed to help her students better understand the material and succeed.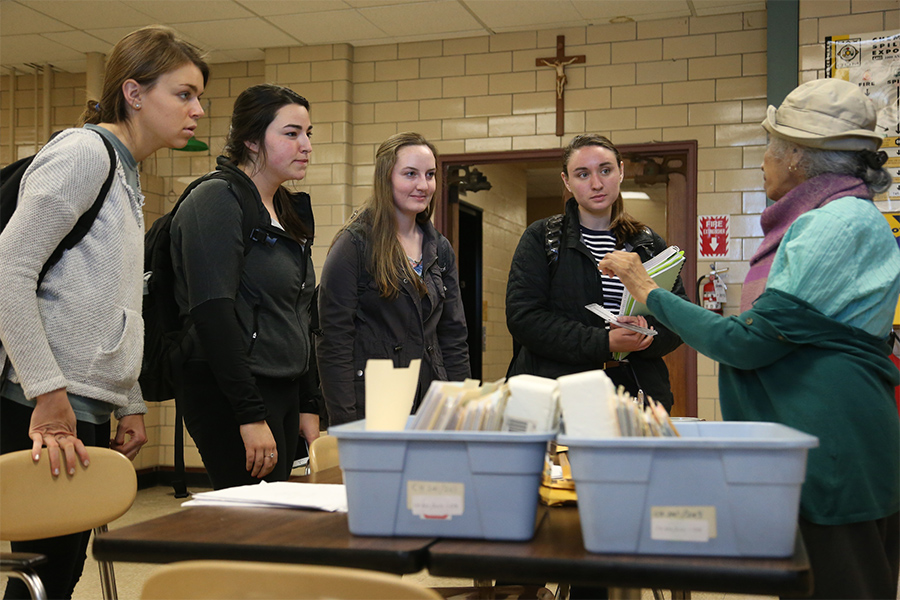 University Archives and Special Collections, Xavier University Library
During her Xavier career as a Laboratory Instructor and later Senior Teaching Professor, Majeti also taught General Chemistry to first-year students and another chemistry course tailored to students in the nursing program. For each course, she wrote books and manuals to help her students succeed.
Her hope was always that premed students would love Organic Chemistry, rather than viewing it simply as preparation for the MCAT and admission to medical school.
Majeti reflected on the most meaningful aspect of her time teaching: hearing from her students. "Students might not have liked Organic Chemistry initially, but after they finished the course, they would tell me how much they learned. It would make my day to run into students on the academic mall and hear them say that they appreciated my teaching style and learned so much."
Majeti's dedication to her students is reflected not only in the books she wrote for them, but also in the Joan G. McDonald Award for Outstanding Teaching in the Sciences, which she was awarded halfway through her time at Xavier. And together with her husband Satya Majeti—who like her earned a Ph.D. in Chemistry, also from UCLA—Vimala A Majeti has established an endowment and for years generously supported Chemistry students to participate in national American Society conferences through the Majeti Chemistry Education Fund.
Although she misses her students and teaching, Majeti is looking forward to filling her time during retirement with books, plants and, when it becomes safe to do so, lots of time visiting with her sons and grandchildren.
Gillian Ahlgren
Professor of Theology, 1990-2020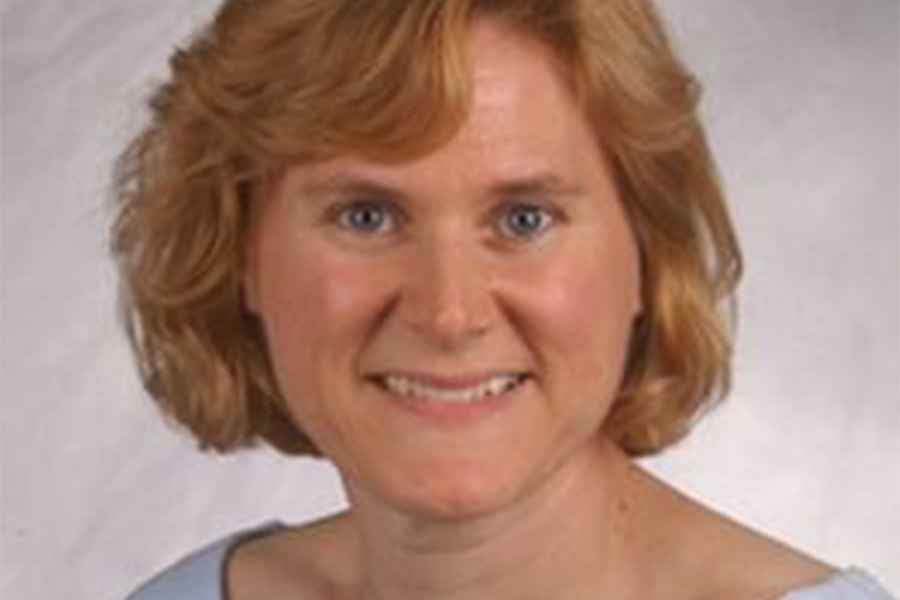 While home for the 1989 Christmas holidays from Spain where she had been writing her dissertation on Teresa of Ávila, Gillian Ahlgren received a follow-up call from Fr. Kenneth Overberg, the chair of Xavier's Department of Theology at that time.
A position had opened in the Department of Theology, and Xavier was interested in learning more about Ahlgren's work. With limited time before Ahlgren was expected to return to Spain, the Department of Theology was able to fast-track an on-campus interview.
In the fall of 1990, Ahlgren began her first semester as a faculty member in the Department of Theology. Although she had not imagined herself at a Catholic university, everything changed when she arrived at Xavier. The fall of Ahlgren's first year teaching was the first anniversary of the death of the UCA Martyrs. She remembers being strongly drawn to the notion of what it means to teach and learn at the service of a just society. This moment, she says, informed the progression of her career. Her teaching became "more clearly directed at the service of the next generation of people who would become the future's social justice prophets."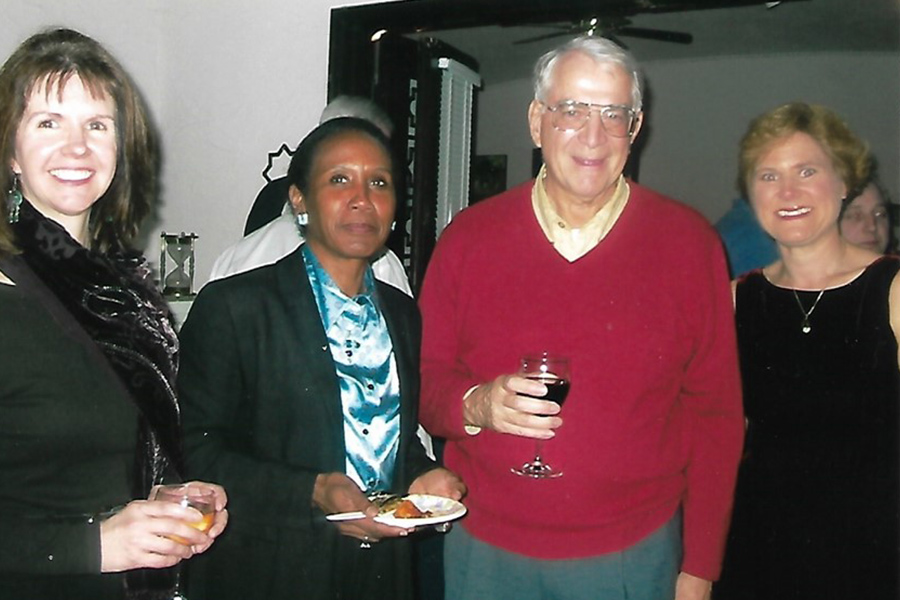 Over the next thirty years, Ahlgren developed a plethora of unique courses in topics ranging from Theological Foundations to Christian Mysticism to the Spanish Inquisition. She especially enjoyed teaching about women who wrote and reformed despite resistance, including that of the Spanish Inquisition. "I wanted to ensure that the contributions of women were understood and their voices deeply intertwined in church history," she explained.
Ahlgren focused deeply on what it means to live "for and with others." In 2005, she took a leave of absence to earn a post-graduate certificate in Pastoral Theology. "I wanted to teach people how to sustain life in the trenches, and to professionalize what I was doing as I expanded my community engagement." Less than a decade later, Ahlgren spearheaded the newly updated Theology Graduate program in her role as the founding Director of the Institute for Spirituality and Social Justice (ISSJ). The ISSJ fosters a learning community for people seeking both a rich academic environment and a socially engaged atmosphere.
When asked about what she hoped her impact on students has been, Ahlgren was clear:
"I hoped that I could make my students intensely curious and then encourage them to make best use of that curiosity to ask the questions that would identify what wasn't working or ways of behaving that were intrinsically dehumanizing (either externally or internally) and dulling action toward the common good. I have always wanted to make it easier for others to be good. This can be hard, because we don't always know what we're doing that isn't good or unknowingly contributing to bad. Life would not be complete unless my students could ask those questions in order to know what was wrong… to ask the questions the world needs to be asking. Because if not them, then who?"
Since retiring, Ahlgren has joined an MFA program at Lesley University in Cambridge, Massachusetts.  She plans to continue writing, asserting, "Contemplative writing feeds my soul. It is my deepest act of fidelity."