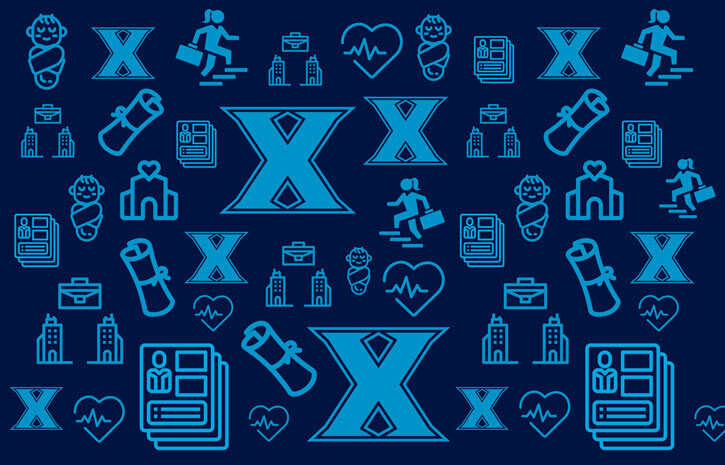 Alumni events and resources
Sep 21, 2020
As your Xavier journey continues as a member of our alumni family, there are many ways each year that you can network with other Musketeers — even in a virtual environment.
And you can find even more opportunities on our Alumni website, like:
NAVIGATING THE FINANCIAL IMPACTS OF COVID-19
When: Oct 8, 2020
Where: Zoom, OH
Event Details
Join us to learn more about the impacts of Covid-19 on Xavier's campus community currently and learn about plans moving forward. You'll get an understanding on the impact this pandemic is having on applications, admissions, finances including the endowment, and how the nature of fundraising could impact the future.
Panelists Include:
Aaron Meis – Vice President, Chief Enrollment and Student Success Officer
Phil Chick – Vice President, Financial Administration and Chief Business Officer
Gary Massa – Vice President, University Relations
Thursday, Oct. 8
10:30-11:30 a.m. EST
Hosted via Zoom
REGISTER TODAY
OTHER RESOURCES:
Career Development
The Career Development Office continues to offer resources and services to all Xavier alumni, including access to career coaching appointments, career fairs, and Handshake, Xavier's online job board, as well as COVID-19 updates and remote career resources.
Just graduated? You are encouraged to schedule a career consultation via Handshake to speak directly with a career coach.
Remote Career Resources: This site is continually being updated with new resources and links.  A few for alumni include:
Short videos on a variety of topics, including job searching during COVID-19, LinkedIn, resumes, and more.
The Xavier Career Guide, which is especially helpful for an alum who hasn't worked on their resume or interviewed in a while.
Xavier Leadership Center
Offers Xavier alumni a 10 percent discount on all of our programs. XLC provides experiential learning to our participants and allows them to develop skills for an ongoing and successful career, as well as invaluable advisory and coaching services.
As part of the Xavier family, XLC wants to see our alumni continue to grow and challenge themselves as they take on additional responsibility throughout their careers, which is what XLC's programs provide.


Leading From Within: This 6-series live, virtual program is focused on transforming managers into leaders who achieve their goals through the expertise, potential and passion of others. In this highly interactive learning experience, we will explore the characteristics of great leaders to help you establish your influential leadership presence.
New Title IX Rules
In compliance with the new Title IX rules issued by U.S. Secretary of Education Betsy DeVos on May 6, Xavier has updated its policies addressing sex discrimination impacting students and employees. The new policies are effective Aug. 14 and may be found in Xavier's Student Handbook and Harassment Code and Accountability Procedures at that time. A summary of the new rules and Xavier's response is here. Please contact Title IX & Interpersonal Violence Response Coordinator Kate Lawson at extension 3046 with any questions.
You are Your Child's Lead Teacher Workshop Series
Join us for a series of virtual workshops sponsored by the Xavier School of Education, Women of Excellence and Xavier Alumni Association.  Workshops will be presented by Renee Mattson M.Ed. (XU 1995), Founder of Child In Bloom and will focus on supporting parents, grandparents, step parents, teachers, child care professionals, ministers, and anyone who manages children through the transition back to school.  Learn to incorporate best practices for parenting your child across developmental age levels. Workshops will discuss Teaching, Modeling and Practicing Go Behaviors that help your child and family function at their best.
Please note that you do not have to attend all workshops to register. Feel free to choose workshops that fit your schedule and/or interest.
Session Topics and Dates: