National and Regional Mission Programs
In conjunction with both regional and national consortiums, the Center for Mission and Identity facilitates participation in the following programs for Xavier faculty, staff, and administrators.
AJCU Seminar on Leadership in Higher Education
With the support of the presidents of the 28 Jesuit colleges and universities, the AJCU offers a program designed to address the many issues facing current academic and administrative leaders and the developing leaders who will guide Jesuit institutions deep into the 21st century.
Collegium
Collegium is a joint effort by 65 Catholic colleges and universities to recruit and develop faculty who can articulate and enrich the spiritual and intellectual life of their institutions. Collegium sponsors annual, week-long summer colloquies for faculty from its member institutions from universities throughout the United States and Canada. The colloquies provide a collegial environment in which participants from diverse backgrounds, faiths, and disciplines can discuss the sources and implications of a Christian academic vision.
Click here for program information
Click here to see a list of Xavier Delegates
Ignatian Colleagues Program
AJCU's Ignatian Colleagues Program (ICP) is designed for (academic) administrators who are capable ofr and committed to assuming leadership within the Ignatian spiritual and educational heritage and who will sustain their school's Jesuit, Catholic character into the future. The Program consists of cohort gatherings, online learning opportunities, an Ignatian retreat, and international immersion experience, and a capstone project.
Click here for program information
Click for participants and their capstone projects
Lilly Fellow's Administrators' Workshop
In conjunction with the National Conference, the Workship is for senior administrators from each member university or college of the Network of Christian universities.
Click here for workshop information
Lilly Fellow's National Conference
Representatives from the Network colleges and universities meet to consider a significant issue of faith and learning, exchange ideas and practices regarding their mission, and foster the whole range of Network programs and activities.
AJCU/Heartland-Delta Faculty Conversations Conference
Each February, this gathering addresses themes relevant to faculty in Jesuit higher education.
Click here to see a list of Xavier delegates
For information on conferences hosted at Xavier:
2014 Celebrating 200 years of Restoration
2018 Enhancing Jesuit Education Through Multicultural, Feminist and Ignatian Pedagogies
Heartland-Delta Triennial Conference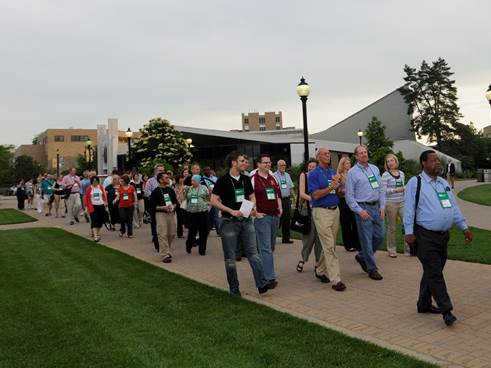 Delegates from the 12 AJCU Heartland-Delta institutions assemble every 3-5 years to critically examine issues in Jesuit education.
Click for the May 2010 conference
Click for the May 28, 2015 Conference
Ignatian Pilgrimage
Coordinated through Holy Cross University, this 10-day trip to Spain and Rome follows in the footsteps of Ignatius Loyola.
For more information on the Ignatian Pilgrimage,
National Magis Retreat
A week-long Ignatian retreat for faculty to reflect upon Ignatian spirituality within their personal and professional lives.
AJCU Justice in Jesuit Higher Education Conference
The AJCU Justice in Higher Education Conference is held every 4 years to coordinate, convene, communicate and connect persons and instututions devoted to justice in Jesuit Higher Education.
Province Ignatian Educators of Distinction 
Faculty and staff of the universities in the Upper Midwest Province of the Society of Jesus are being recognized for their dedication to the Jesuit Catholic educational mission. Designation as an "Ignatian Educator of Distinction" is a campus and public recognition of a person's commitment and competence in animating the Jesuit tradition of academic excellence. See Xavier's List of Honorees.
Midwest Province Ignatian Leadership Institute
The Institute, facilitated by university chief mission officers and Province officials, supports advancing leaders within the 6 Jesuit universities in the region. The inaugural gathering in 2022 included Xavier delegates- Drs. Jen Gibson and Ann Ray.