Ignatian Faculty Research and Writing Retreat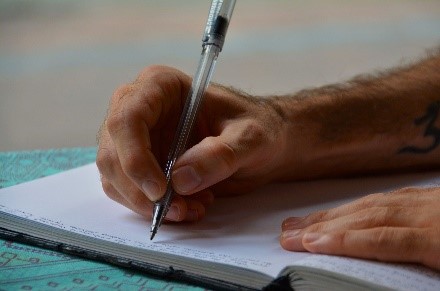 This pilot program is for Xavier tenured and tenure track faculty, teaching professors and senior teaching professors to have a concentrated time of doing research and writing on a topic of their choice. Participants are welcome to work on a current project, begin researching a new topic of interest, or develop a new course that will be offered.
An optional morning contemplative practice and evening Daily Examen will be available for reflection. Otherwise, the day and evening will be unstructured to allow faculty to research and write at their own pace.
Dates: May 15 - 18, 2023
Location: Bergamo Center, 4400 Shakertown Rd, Beavercreek, OH 45430
How to Register
30 faculty members have already registered. We are now full and have begun a waitlist. Faculty are encouraged to register to be on the waitlist in case another faculty member cancels their reservation.
Feel free to email questions to Teresa Young or Joe Shadle.
---
Accommodations and Meals:
Individual accommodations will include a bedroom with a private bath, desk, and chair. Sheets, towels, meals and WiFi access will be provided. Bring any other items that will make your stay more comfortable.
Please note that no printers or tech support will be available. So please bring your own printer, ink, and paper if you would like to print.
Appointments with Xavier Librarians Onsite Available:
Xavier Librarians, Megan Kickbush and Leslie Whitford, will be onsite on Tuesday and Wednesday during the retreat for research support and assistance. Appointments will be available closer to the retreat dates. We are grateful to the University Library team for supporting this pilot project.
What to Bring:
Anything you need to do research and write. Feel free to bring your computer, printer, research materials, etc. Please also bring any personal and toiletry items you might need.
Information Session for Participants:
Teresa Young and Joe Shadle will provide an overview of this pilot project on Wednesday, April 12 at 12:00 Noon through Zoom for those who have registered for the retreat. If you have questions prior to the registration deadline of March 31, please email Teresa or Joe.
---
Frequently Asked Questions:
Will we be able to allowed to leave the retreat center if we need to?
The retreat is intended to provide Xavier faculty an opportunity to have a concentrated time to work on research and writing projects. While participants will likely have their cars, we encourage participants to use this time to stay focused on their projects. If something comes up that requires you to leave at some point during the retreat, you are, of course, welcome to do what needs to be done and return to the retreat.
Can my research/writing partner come with me?
Research and writing partners who are members of the Xavier faculty are welcome to participate in the retreat.
Are the morning contemplative practice and evening Daily Examen required?
These opportunities are optional. All are welcome to take advantage of these brief moments to reflect on how the day is going and to refresh for the time remaining.
Is free WiFi available?
Yes.
Will printers be available?
No. If you would like to print, we encourage you to bring a printer, ink, and paper.
Will tech support be available?
No. Unfortunately we do not have the resources to provide tech support.
Is transportation available?
To limit the expenses of the program, participants are asked to provide their own transportation to and from the program.
What's the cost? Who is paying for this?
There is no cost to participants. The program is being funded by the endowed Conway Institute for Jesuit Education.
What about meals? Will there be time to socialize?
Meals will be provided. A continental breakfast will be available each morning. Lunch and dinner will be done buffet style in a common gathering area. There will be an optional social time each evening after dinner. Faculty are welcome to socialize or talk together whenever they would like so long as it doesn't interrupt the work of others.
What about food allergies?
We are able to provide vegetarian, vegan, and gluten-free meals upon request. We are not able to provide for dietary concerns or food allergies beyond that. If you have specific dietary needs beyond vegetarian or vegan, you are welcome to bring food that works for you. A refrigerator and microwave will be available for public use.
Will there be access to refrigerator or ice?
Yes, both.
I like to do research and write at 2:00 a.m. Is that o.k.?
Each participant will have a private room where they are welcome to do research and write whenever it is comfortable for them to do so. Please keep rooms quiet so that it does not interrupt the work or sleep of others. Our goal is to make this a space and time that is as comfortable and free of interruption as possible.
I like to listen to music while I research/write. Is that o.k.?
We encourage you to bring earbuds or headphones if you would like to listen to music, even in your room, so that it does not interrupt the work of others. Again, our goal is to make this a space and time that is as comfortable and free of interruption as possible.
What's the catch?
There is no catch. The Center for Mission and Identity is providing this pilot program through the endowed Conway Institute for Jesuit Education to support the research and writing of Xavier faculty who advance the mission through their research, teaching, and service. We hope to co-create this opportunity with you and ask for feedback at the end of the retreat.
What's "Ignatian" about this writing retreat?
We will provide opening meditation and closing Daily Examen each day in the Ignatian spirit. While the retreat's main purpose is to provide concentrated, uninterrupted time for faculty to write and do research, it is done in a spirit of restorative rest and reflection within the context of the Xavier community. In his encyclical, Laudato Si, Pope Francis writes that, "[Ignatian] Christian spirituality incorporates the value of relaxation and festivity. We tend to demean contemplative rest as something unproductive and unnecessary, but this is to do away with the very thing which is most important about work: its meaning. We are called to include in our work a dimension of receptivity and gratuity, which is quite different from mere inactivity. Rather, it is another way of working, which forms part of our very essence. It protects human action from becoming empty activism; it also prevents that unfettered greed and sense of isolation which make us seek personal gain to the detriment of all else…. Rest opens our eyes to the larger picture and gives us renewed sensitivity to the rights of others…..and motivates us to greater concern for nature and the poor" (para. 237).