Discernment Group Retreat Information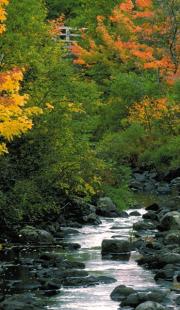 Discernment Group Retreat
Ignatian Communal Discernment
October 14 and 15, 2010

Retreat Director
Michael J. Sheeran, S.J., Former President of Regis University
Retreat Resource: "A Tradition in Common"
Retreat Objectives
1. To gain a better sense of what we mean by "discernment"
2. To reflect individually and together about our charge
3. To get to know one another better
View two 2-minute clips of his presentation on discernment.
Key Points from Fr Mike Sheeran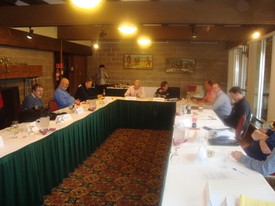 1. Create a vision of who you are
- what did our founder call us to be?
- what drew me here?
- what am I most proud of in my work?
- who epitomizes us at our best
2. Determine how best to express that vision
- our charge, mission statement, etc.
- what is timeless about Xavier?
- what is it that characterizes Xavier right now?
- this will help us to see if our decision advances that vision
3. Focus on preferences for group, not just me.
Questions and Discussion Points
1. Why did you come to Xavier?
2. Why do you stay at Xavier?
3. What do you hope to achieve?
4. What will satisfy your need for meaning?
5. Who epitomizes who we are at our best?
6. Where do we want Xavier to be in 10 years and how best to include people across campus?

Descriptions of the retreat, Ignatian communal discernment, and other impressions:
"The retreat was informative, very inspirational and absorbing. I was able to reflect on a number of choices I have made in life and promised myself that I would make suitable changes for a more balanced approach to life. You cannot teach an old dog new tricks, but I intend to try my best!
Communal discernment can result in excellent choices for the community as long as the clerk/[facilitator] is honest, fair and transparent and the group is bold and unafraid to speak up.
Michael Sheeran was outstanding. I learned so much from the material he presented, his insights on life, and his style of communication. The location was a huge surprise! I was unaware that such a beautiful place existed one hour from where I live."
-Hema Krishnan
"The retreat was excellent from two perspectives: The content was relevant, inspiring and practical. As importantly, it was a great opportunity to for relationship-building among and between the groups.
Communal discernment offers several ways to impact and guide decision-making, and in ways that really support and complement the mission.
Mike Sheeran did a great job with the topic. He knows his stuff, can present it clearly, can provide examples of how it can impact life in a real way, and he adds a nice sense of humor."
-Bob Hill
"The retreat gave me a chance to reflect on the role I play for Xavier and why working at Xavier is such a special opportunity. Being with folks that share the same sense of pride and opportunity was enriching.I really enjoyed learning about the influence the Quakers had on contemporary Ignatian practices and how the discernment principles are based on this influence. Eliminating the rhetoric is quite refreshing.Holding the retreat at Hueston Woods was a great idea, especially during this time of the year. The setting was very peaceful and appropriate for the work that the team was doing."
-Bob Sheeran
"The Discernment Retreat offered a welcome chance to step away from busy schedules to reflect together on the process by which groups and institutions can make important decisions together. It's always hard to get away for a couple of days, but this retreat reminded me (yet again) of the importance of quiet reflection, for myself and for our university. In addition to the gorgeous Fall setting on the lake at Hueston Woods, there were two highlights for me. First were Father Michael Sheeran's presentations about Quaker and Jesuit communal discernment, which brought together his political science research, his long experience as a Jesuit facilitator of communal decision-making, and his reflections on leading a Jesuit university-he is now the president of Regis University in Denver. Second, but no less important, were the informal opportunities to spend time with other faculty and administrative staff members, people who together help to guide Xavier. Respect and trust are critical elements of communal decision making; this retreat provided the chance to build both within and among the two discernment groups. Thanks for that."
-David Mengel
"The retreat provided great insight into the foundations of individual discernment and how it plays into communal discernment. Particularly, pitfalls in the discernment process were identified and tools were given to overcome them to provide a truly successful communal discernment experience. Ignatian communal discernment appears to be successful process to overcome the hindrances which often is associated with group decision making. The facilitator was very knowledgeable about the subject and the location at Hueston Woods was excellent!"
-David Burns
"The retreat was a time for learning and reflection. The model presented for combining Ignatian discernment with "Friends" decision-making provides solid outcomes. Time away from the hectic pace of daily routines at Xavier providing a time for interaction, community-building, reflection.
My "take-away" was: Trust, comradeship, and skill-set development.
The time spent with Fr. Michael Sheeran provided a broadened approach and understanding of discernment that augmented Ignatian programs in which I have participated. The setting at Hueston Woods provided an ambiance conducive to self and group reflection."
-Luther Smith
"Fr. Michael Sheeran, SJ, president of Regis University, in Denver, gave a series of presentations and reflection periods on voteless communal discernment to Discernment Groups II and III at Hueston Woods, during the Fall Break.
Communal discernment as practiced by American Quakers (The Religious Society of Friends) has a lot of lived wisdom to give us with our too-little-practiced Ignatian communal discernment/decision-making."
-George Traub, S.J.
"The retreat was a great opportunity to step away from the craziness of work on campus and of regular life to pause for a moment and reflect on what we're trying to do as a group. I keep thinking of Father Graham's statement to us when we first sat down as a group. I'm paraphrasing here but he basically said, "When Jesuits like George and I are gone, how will we maintain our Jesuit tradition? What will it mean for Xavier to be a Jesuit school with no Jesuits around?". The time we spent learning about discernment, reflecting on it and discussing it really helped me to think about what habits we might develop as an institution that would keep us Jesuit even if and when there are few Jesuits around.
I really valued the time spent with DG II. I sincerely hope that this group is one that forms a bond with one another. That will take a certain amount of trust, but I believe that the establishment of that trust is possible with this group of individuals. I think that the product of that trust - friendship, reflection, a comfort level, etc. is what will help us flesh out our charge and really determine how to maintain the Jesuit tradition that we all see as so important us and to Xavier."
-Aaron Meis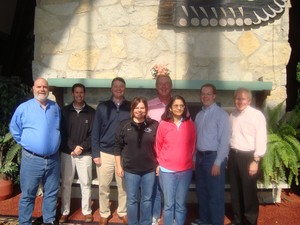 "The retreat provided us with a great balance of private reflection and group learning. Consistent with our Ignatian tradition, Fr. Sheeran outlined an excellent discernment model for both individual and communal decisions.
I thought that the Ignatian emphasis on valuing both rational thought and being our connections to our emotions was particularly interesting. Fr. Sheeran stated, 'If you cannot get in touch with your emotions, do not make any decisions because you are not in touch with the wholeness of yourself or the world.'
Fr. Sheeran's gentle teaching style was excellent. Hueston Woods was a perfect setting for our individual and group reflection."
-Joe Shadle