Clubs
The All For One Battalion
Xavier Army ROTC sponsors a number of extracurricular activities for our Cadets. With these programs, it's easy to get involved, and there's something to meet every Cadet's interests.
Pershing Rifles / Color Guard

Color Guard is one of the most high-profile ROTC groups on campus. This group gives cadets the chance to demonstrate their abilities to perform more advanced facing and marching movements, as well as display our nation's colors in an honorable and dignified manner. Color Guard members demonstrate their new-found talents at home games, several memorials and special ceremonies around the Cincinnati metropolitan area.
The Pershing Rifles' season runs from October through the spring. As one of the most visible components of the All For One Battalion, the club is required to maintain an exceptional level of appearance and conduct. Despite the added responsibility, those in Pershing Rifles all agree that their experience is well worth it and can be very enjoyable.
Ranger Challenge Team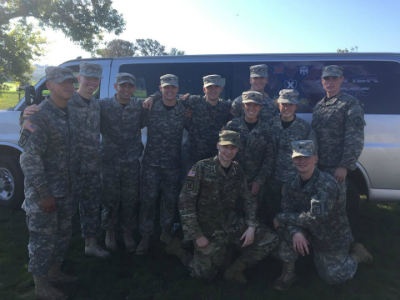 The Ranger Challenge team works to enhance the technical, tactical, and physical skills of its members and accelerate the development of their leadership skills, enabling cadets to become better leaders on campus and off campus.
Each Fall, the Ranger team participates in the ROTC's Ranger Challenge, which is open to all XU Battalion ROTC cadets. Each Spring, the team conducts extra training for those interested in joining the group.
The Ranger Challenge, known as the varsity sport of Army ROTC, is a competition designed to challenge cadets both physically and mentally as well as enhance leader development and team cohesion. The Ranger Challenge Team trains intensely from May through Mid-October for the annual Brigade Ranger Challenge Competition held at Fort Knox, Kentucky and February through early April for the Best Ranger Competition hosted by the All For One Battalion including teams from all over the region. Both competition events include a 20-kilometer road march, weapons assembly, rifle marksmanship, land navigation, hand grenade assault course, and the Army physical fitness test. The team stresses physical readiness and camaraderie.