Xavier Library Departments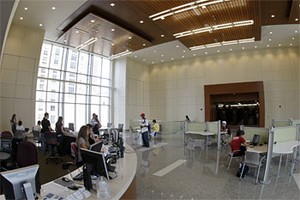 Acquisitions is responsible for the ordering, receiving, payment, claiming, promoting and preservation of library materials in all formats, overseeing materials budget expenditures, and generating monthly and annual reports on order and budget activities. Acquisitions also manages an approval plan program as well as gifts and donations.
Xavier University Archives and Special Collections serves as the chief historical resource for materials about the University, its people, programs, and culture. University Archives collects, arranges, describes, preserves, and provides access to records documenting the decisions, events, and people that shape the University's history. Special Collections contains rare books, works of art, manuscripts, and other valuable materials dating from 1250 to the present.
Circulation services provides the check out and return of physical library materials, such as books, videos, laptops, etc. It also manages and checks out the library's traditional reserves.
The goal of collection development services is to maintain a collection of library materials that supports the needs of the university community. The collection consists of a wide range of resources which include print and electronic books and journals, audiovisual and multimedia materials, and online databases. For more information see the collection development policy.
In-person and telephone research help provides assistance at the Connection Center Desk in the Conaton Learning Commons.
Resource Sharing services support scholarly research by obtaining books and journal articles not owned at Xavier University Library through Interlibrary loan, OhioLINK, and SearchOhio. Resource Sharing scans materials requested by faculty to make them available for student use in Canvas.