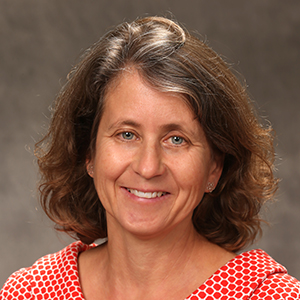 Kathleen Smythe
Professor, History Department
I love teaching and writing. Particularly, I enjoy the challenge of addressing questions of contemporary relevance through historical investigation both in the classroom and through my writing and research. I also incorporate community- and bodily-engaged learning in many of my classes, seeking to re-connect intellectual, social, and kinesthetic learning for me and my students. One class that does both is my First Year Seminar, Bicycling Our Bioregion. Each fall students In this eight-week course spend seven days on bicycling history and ecology excursions around Cincinnati and end with a three-day trip up the Little Miami River valley over Fall Break.
I am an African historian with years of fieldwork experience in Tanzania, East Africa. My first book, Fipa Families (2006), and a series of related articles examined the ways in which Fipa integrated and made sense of European Catholic missionaries and their values during the colonial period. This research was based on more than two hundred oral history interviews in Kifipa and Kiswahili as well as extensive archival research in Rome and Dar es Salaam, Tanzania.
For almost two decades, I have been interested in globalization and economic development, both the histories of these ideas and their deployment in various ways at various times as well as the question of how well such hegemonic ideas and investments mask the much more complex challenges facing us as members of human societies, such as the viability of the planet's ecosystems, the viability of the current and projected human populations, and the viability of economic systems focused primarily on production and consumption with little grounding in either biophysical or social and cultural realities.
Much of my writing and teaching currently focuses on these questions. A second book, Africa's Past, Our Future, came out in 2015 with Indiana University Press and highlights ideas and institutions in African history and culture that broaden our imagination about what is possible socially, politically, and economically. A third book, Whole Earth Living: Reconnecting Earth, History, Body and Mind (Dixi Books, 2020) proposes a new sustainability framework based on long-term human interdependencies on earth and its ecosystems. The framework is built on an understanding of the losses that have occurred to human well-being with more recent historical developments in agriculture and technology.
I have been actively engaged with sustainability efforts on campus since 2007. I currently co-facilitate Xavier's Climate Change Action Workshop with political science colleague, Anas Malik. This practical work has fed my scholarship and teaching as I am eager to learn from students about their concerns, their views of the world, and how we as teacher-scholars might best facilitate their intellectual, spiritual and ethical journeys.
One way in which I have responded to my students' concerns and outlooks is by co-facilitating with my colleague at Creighton, Jay Leighter, the Ignatian Pedagogy for Sustainability (IPS) project within the AJCU (American Jesuit Colleges and Universities). We promote the IPS through annual workshops and invited presentations and workshops and in writing.
Another way I engage with students is to invite them to work with me on my research. For the past two summers, I have worked with a double History and Spanish major to begin work on a book of historical bicycling tours in Dayton, Ohio.
I enjoy walking, biking, hiking, backpacking, gardening, cooking, writing for self-expression, and spending time with my family and friends.
Expertise
African history, colonial history
First Year at Xavier
1997
Degrees
BA (The College of Wooster), MA, PhD (University of Wisconsin-Madison)