Careers in History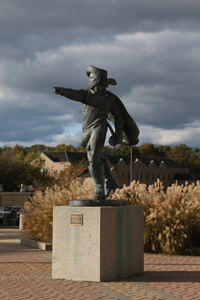 History majors develop deep understanding of societies, economies, cultures, and political structures across time periods and geographies. In doing this, they develop skills—such as written communication, oral communication, critical analysis, teamwork, and problem solving—that are applicable to the classroom, corporate world, government office, courtroom, media, and many other careers.
While students often worry about employment prospects with a history degree, evidence shows that graduates in the humanities are just as successful as their peers in other fields. The National Humanities Alliance demonstrates the following three points with clear data: 
Humanities majors are employed at rates comparable to other majors and in a variety of fields.
Humanities majors earn salaries comparable to other majors.
Humanities majors do increasingly well over the course of their careers.
We also know that graduates in the humanities enjoy benefits that go beyond monetary measurements of success. The National Humanities Alliance demonstrates how the humanities produce "benefits for life":
The humanities prepare students to be engaged citizens.
The humanities build empathy.
The humanities help students lead fulfilling lives.
Our department firmly believes that history majors can pursue a wide variety of meaningful careers, and we are eager to help students determine what steps they need to take to achieve their goals.
The employment of our recent graduates demonstrates the many paths for which a history major can prepare you:
Boy Scouts of America, District Executive
Center for Holocaust and Humanities Education, Collections Associate
Equity Office Properties, Financial Analyst
Lakota Local School District, Teacher
Loyalty 360, PR Coordinator
Reynolds and Reynolds, Software Implementation Specialist
St. Vincent de Paul, Service Learning Coordinator
University of Cincinnati College of Law, Student
University of Pennsylvania, PhD Candidate