Careers and Internships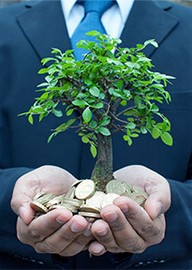 At least 3.1 million Americans are employed in green jobs, a sector that now accounts for about 2.4 percent of the nation's total employment. A 2008 report for the U.S. Conference of Mayors and the Mayors Climate Protection Center projected 2.5 million new green jobs in the energy sector of the U.S. economy alone by 2018 (330% more than estimated to exist at the time the report was issued).
Total projected new jobs by 2028 was 3.5 million (+466% vs. 2008) with an additional 4.2 million new jobs by 2038 (+560%). For the metropolitan areas of Ohio, the projected growth was higher than the national average, an increase of 780% in new green jobs by 2038, and the Cincinnati metro region had almost 800% projected growth.
Economic sustainability involves the integration of economic goals with environmental and social goals. As a CEO of a global company recently put it, "Sustainability is a business model that respects that nothing is free."1 This degree will allow students to holistically investigate the complex sustainability challenges of our era, where the economy is seen as a component of the ecosystem, not vice versa. Examples of potential careers are:
Economic consultant
Energy economist
International project manager
Environmental policy analyst
Supply chain analyst
Community organizer
Purchasing and materials manager
Click these state-specific links to learn about Green Jobs in these states: Ohio, Kentucky, Indiana.
Click on any of the logos in the collage below to explore more career opportunities in sustainability and economics:

1 A New Era of Sustainability, UN Global Compact-Accenture CEO Study, 2010