Support the College of Arts and Sciences
Thank you for your interest in the College of Arts and Sciences
The College of Arts and Sciences aspires to liberate students by enabling them to broaden their minds, to seek the truth, and to meet the challenges of their time. Your support helps students in the College to explore humanity's enduring questions and prepare for meaningful careers. Thank you for considering a gift to support our programs and our students.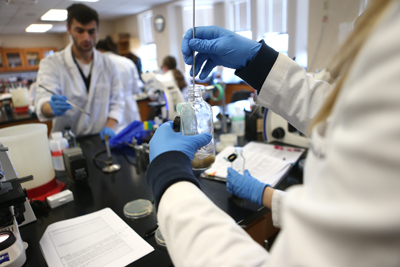 To speak to someone about specific College fundraising efforts, please contact Shannon Cassidy-Cox at cassidycoxs@xavier.edu or make your gift now.
Your support of the CAS General Fund supports student research, travel and internships, campus lectures and workshops by visiting experts, faculty research, and professional development to improve teaching and learning.
Our undergraduates in STEM are researchers and medical professionals. Your support allows more students to research in the summer, present at conferences, and publish their work in the Xavier Journal of Undergraduate Research. Read more about student research experiences at Xavier.
You can direct your gift to a specific department or program in the College. If the area that you wish to support is not listed, then choose "Other" and indicate the department or program name in the Gift Notes.