Student Veterans of Xavier (SVX)
The Student Veterans of Xavier are dedicated to helping Veterans and dependents transition from the military lifestyle into the college lifestyle. The club is open to veterans, those currently serving in the armed forces, veteran dependents, and any student who wants to support veterans. SVX aims to create a fellowship of like-minded individuals, to promote a network of students and successful alumni, and to provide professional and leadership development for all of its members.
"Our mission is to assist our fellow veterans and dependents during transition, support them in their academics, and provide a veterans organization continuing our tradition of service to each other and our community."
Peer2Peer
The Peer2Peer Mentor Program at Xavier University is a peer outreach program designed to help incoming student Veterans make a smooth transition from the military to student life on campus. A Peer "Mentor" is an experienced, energetic Student Veteran who provides regular outreach with new undergraduate Student Veterans on Xavier's campus via face-to-face meetings, telephone and email. Peers Mentors communicate information about campus resources, provide encouragement and support, develop trust, provide appropriate referrals and are a point of contact within the Student Veterans Center regarding all sorts of topics that include but are not limited to: housing, academic advising, VA education benefits, tutoring, mental health counseling, career and major exploration and so much more!
Peer Mentors for the 2017-2018 school year:
Brian Georg, georgb@xavier.edu

Office Hours:

Monday 2-5pm
Tuesday 11:30am-2pm
Friday 2-5pm

Samantha Estes, greeningers@xavier.edu

Office Hours:

Monday 3-5pm
Tuesday 9-11am and 3-5pm
Wednesday 3-5pm
More about Samantha:
"I served in the Army as a Combat Medic for 6 years both on active duty and as a reservist. I cared about soldiers then and I care about veterans now. It is my goal to facilitate a smooth transition from military life to civilian life for student veterans at Xavier. This is a fantastic university that truly cares about the success of every student. With the guidance of the knowledgeable staff, I hope to effectively advocate for each new veteran enrollee. I understand what it means to be a non-traditional student and I have a family to care for at home, but I believe that my fellow veterans are my family, too. As such, I am proud and honored to have the opportunity to help connect student veterans with the resources they need to achieve their personal goals."
- Samantha
Student Veteran Advocate
The Student Veteran Advocate is a student employee who works in another campus office, in order to develop and improve programming on behalf of that office for the Student Veteran community at Xavier. This includes but is not limited to workshops, events and marketing/communication that advocate for and support fellow Student Veterans. The Student Veteran Advocates work with both the leadership in the Student Veterans Center and the various campus offices that they are assigned to. The Advocates promote awareness of the Student Veterans Center and issues that Veterans face on campus and in the community.
Student Veteran Advocates for the 2017-2018 school year:
Mario

León

, Athletics
Bobby Light, Career Development

Office Hours (Located in the Student Veterans Center)

Monday, Wednesday and Friday 10am-12pm
Tuesday and Thursday 11:15am-12:30pm

Ralph Banchstubbs, Library

Office Hours (Located in the Library)

Wednesday and Friday 8am-10am
Thursday 9am-12pm
More about Ralph:
Ralph Banchstubbs is the Student-Veteran Advocate for the Xavier University Library. He is a veteran, having served 5 years as a Hospital Corpsman in the United States Navy from 2009 - 2014. Ralph completed two deployments during his tour, first serving with the 1st Battalion, 5th Marine Regiment on the 31st Marine Expeditionary Unit to Korea, Thailand, and Okinawa, Japan from 2012 - 2013. He then deployed to Afghanistan with Marine Corps unit 1st Combat Engineers in 2013.
Ralph received his Bachelors of Liberal Arts from Xavier in 2017and is currently working towards his Master in Theology from Xavier University. In addition to completing his Undergraduate degree, Ralph has also completed all prerequisites needed for the medical school application and intends to apply once his Master's program has concluded. Ralph currently works as a Student-Veteran Advocate in the Library assisting students with any and all questions they might have about the Xavier Library or the Conaton Learning Commons. Part of Ralph's position is to not only provide student-veterans with knowledge and assistance for all resources in the library, but to implement programs that will further student-veteran success in the Xavier community.
Student Veteran of the Month
The Student Veterans Center has launched a monthly initiative to select a Student Veteran of the Month. Staff, faculty, and fellow students are eligible nominate a Student Veteran. Nominations for the month of December will be accepted through Wednesday, December 6th at 5pm. Any Student Veteran is eligible for nomination. At the end of each month, the Student Veterans Center staff will review nominations and announce the winner, with a photograph and biography of the individual on the Student Veterans Center website. We know that each of our Veterans has a unique story and are a valuable asset to Xavier University. We look forward to honoring and celebrating them throughout the 2017-2018 school year.
September 2017- Mario León
October 2017- Mason Rick
November 2017- Michael Mather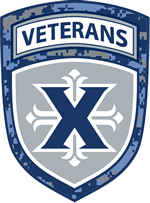 Contact Us
Call: (513) 745-3688
Location:

1001 Francis Xavier Way

Hours:
Monday-Friday
9:00 a.m.-5:00 p.m.
Fax: (513) 745-3055