Nursing at a Distance: Taking Health Care to the People
Nov 1, 2018
By France Griggs Sloat
At 5:30 on a Monday evening, Renea Ball drops her bag and notebooks on a long table in a conference room at a hospital in Marietta on Ohio's westernmost border. It's been a long day of teaching at the local community college, but the 25-minute ride from home gave her time to think about her nursing career in hospital emergency rooms and area schools-and what lies ahead for her.
She'd confronted the challenges of rural health care in both situations, but the school experience was, in some ways, more gut-wrenching. Take, for example, the third-grade boy who was labeled learning-disabled. As the school nurse, she discovered the real problem was medical-he had such serious ear problems that he was functionally deaf.
The mother would not cooperate to help her son, so Ball took him to a doctor, who performed surgery to restore his hearing. The experience made Ball realize she wanted to do more to help struggling rural families like his.
It's why she's in this conference room on a cold night in January, settling in for a two-hour class on pediatric dermatology. She reaches across the table to make sure the mic and video camera are working and turns on the two monitors.
On the screen flashes a live picture of a Xavier classroom, brimming with nursing students arriving for their Pediatrics and Family Care class. Though the classroom is over 200 miles away on the east side of the state, Ball feels just as much a part of the graduate class as if she was sitting with her peers on the campus in Cincinnati.
Through the marvels of video-conference technology-and multiple grants procured by Xavier's School of Nursing-students like Ball who live and work in remote areas of Ohio can earn a Master of Science in Nursing from Xavier.
The long-term goal, says director Sue Schmidt, PhD, is to improve the quality of life for people living in rural areas by providing highly skilled nurses who can bring health care to them.
"This program gives opportunities for these folks to advance their degrees in a high quality program and help make their communities healthier," Schmidt says. "We as a state are wanting to move to primary care in rural areas, so my grants are also to support developing primary care in these areas."
For Ball, who earned her undergraduate nursing degrees from Ohio State University, the opportunity to get an advanced degree from Xavier was too good to pass up. It will increase her skills and employability, and she'll be able to provide better health care for people in the rural communities where she's lived and worked her whole life.
"I'm studying to help make a difference in someone's life," she says. "I just feel that the more we as nurses expand our knowledge, the better we can serve our patients and educate our communities."
Ball is one of 14 graduate nursing students currently enrolled through one of six distance-learning partner sites scattered across the state. Funded initially in 2009 by a $1.2 million grant, the distance-learning program offers a master's degree to students who could not otherwise attend Xavier because they live and work in some of the state's most remote and economically deprived regions.
Sweetening the pot this year is a new federal health grant that pays the entire tuition and books plus an $11,000 stipend each year for students who choose the Family Nurse Practitioner track and agree to work in medically underserved urban or rural communities for one year.
The Advanced Nursing Education Workforce (ANEW) grant emphasizes the Family Nurse Practitioner role because it prepares nurses to focus on families and individuals across the lifespan, much like a family physician. Like doctors, nurse practitioners are qualified to assess patients, diagnose conditions, order tests and labs, and write prescriptions. In short, they can provide medical care in communities where primary care physicians are in short supply.
Having that ability is a game-changer for Ball. "Being able to diagnose and treat are important aspects I want to give my patients," she says. "That is important especially in a rural community."
Ball settles into the class discussion on skin diseases with fellow student Sara Baillargeon, while two other students, Justin Laudick and Scott Batterson, watch the lecture from their conference room at St. Rita's Medical Center in Lima, Ohio, about two hours north of Cincinnati. All four are ANEW grant recipients in the distance-learning program, and they support each other, often working on group projects together.
In the classroom, Assistant Professor Kim Toole makes sure the mics and screens for the distance students are working before starting the lecture. The 26 students in the classroom see their far-off classmates on one large TV monitor, while class displays and Power Points appear on a second large monitor. Toole periodically asks if they can hear or if they have questions.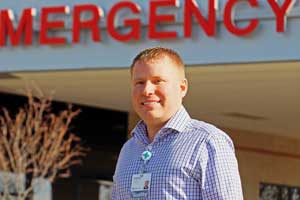 In Lima, Justin Laudick, right, gives a thumbs-up sign. And for good reason. For him, the Family Nurse Practitioner program expands his career opportunities well beyond his current job as a trauma nurse manager at St. Rita's.
Laudick wants to return with his wife and children to Ottoville, a small farming community northwest of Lima where he grew up. His family is still there, and he knows practically everyone. And more important, with his new nursing skills, he will be able to help his community be healthier.
"There are not a whole lot of providers available in smaller towns, so since I already know the area, it would be beneficial to go back and help out there," Laudick says. "The nearest hospital, St. Rita's, is still 25-30 minutes from home. People hesitate to go and a lot of patients are afraid of getting admitted and being there forever."
It's the same story in Marietta, where long distances are a way of life. Ball grew up in Waterford-a no-stoplight town an hour north. When she worked at Marietta Memorial Hospital, it was normal to see patients who came to the ER for basic care because they had no doctor where they lived.
But her 10 years as a school nurse really opened her eyes to the need.
"People didn't even know they should have their children's teeth cleaned or their eyes checked or be treated for infections or immunizations," she says. "They truly did not know what they should be doing for their children."
The case of the little boy who needed surgery to restore his hearing struck a nerve with Ball. She eventually had to call Children's Services when the boy did not return to school, and when his mother disappeared, he went into foster care. She never saw him again, but, she says, "he could hear," which was a start for him to have a better life.
Ball stopped nursing to teach at Washington State Community College and enroll in the Xavier program. She wants to use her new skills as a nurse practitioner in a physician office or in a hospital group, treating and educating families in the rural communities around Marietta.
Such skilled nurses are sorely needed, says Toole. "In rural areas they are valued because of the need for primary care, and so few doctors are going into primary care. I like that we're reaching out to rural populations. It's population health focused and taking care of people in the surrounding areas."
VIDEO CONFERENCE GRADUATE NURSING PROGRAM
• Founded in 2009
• 52 graduates of the program
• 14 students currently enrolled
PARTNER SITES IN OHIO
• Fairfield Medical Center, Lancaster, Ohio
• Joint Township Memorial Hospital, St. Mary's, Ohio
• Mercy Regional Medical Center, Lorain, Ohio
• St. Rita's Medical Center, Lima, Ohio
• Marietta Memorial Hospital, Marietta, Ohio
• Mercy Memorial Hospital, Urbana, Ohio

Feature Image: Renea Ball, a student in the MSN video-conference program, teaches nursing at Washington State Community College in Marietta, Ohio.
Learn more about Xavier's graduate nursing and Family Nurse Practitioner programs.