Montessori: From Child Care to Dementia Care
Nov 5, 2018
A Montessori Approach
Kathleen Farfsing could not believe what she was hearing. The workshop on how Montessori techniques open windows in the minds of people with dementia made so much sense, but it brought her so much pain as she recalled how her father declined rapidly in his failing state and then was gone forever.
Who knew Montessori was the key? She recalled his last words 20 years earlier when they were in the car that he once spent hours tinkering with. He'd rubbed his hand across the dashboard and murmured, "Boy, I miss this." It was the last time his words made any sense to her.
"I just sat in the back and cried," she says about the Chicago workshop she attended in 2011. "I thought, oh my gosh, it makes so much sense, and I felt so bad about what my father went through. I came out thinking, we can do this so much better as a society."
Farfsing, a 1983 and 2000 graduate of the Montessori bachelor's and master's degree programs and former Xavier Lab School staff member, was so inspired that she helped establish a Montessori Dementia Program at Xavier, funded by a $150,000 grant from the Harold Schott Foundation.
As the program coordinator, she trains Montessori teachers, social workers, nurses and caregivers about how to use Montessori methods to benefit people with dementia, like her dad, so their last years can be lived in a way that includes dignity and choice.
Since March 2016, she's been at Twin Towers, part of the Life Enriching Communities retirement centers in Cincinnati. It was the first of three facilities to contract with Xavier for training in using Montessori methods for people with dementia.
But she soon discovered she was up against a long-entrenched culture of caring and doing for people who, it's been thought, can't care or do for themselves. Montessori turns that concept around, so that people with dementia are encouraged to care for themselves within a framework of safety and support.
"The focus is to maintain the activity of daily living, to maintain the skills they have for independence and do things for themselves, like fold their own laundry," Farfsing says. "It's a culture change to allow people to do for themselves."
The value of the Montessori approach was highlighted at the Dementia Care Summit at Xavier in March. A workshop by Montessori authority Cameron Camp emphasized letting older people with dementia create their own communities and, in doing so, engage in activities that allow them to still be contributing members of society.
Community is one of the major elements of the Montessori philosophy of education. So is the importance of work, routine and repetition, independence, individuality, choice and meeting a person's individual needs-no matter the age.
Camp showed examples of retirement communities where people with dementia were creating their own groups-like a beer-brewing club in Oregon-proving that people with dementia can still learn new things. Other clubs make jams and jellies, roast their own coffee, train dogs, save kittens, make cheese, take photos and raise their own funds.
"This is about giving control to the residents," Camp said. "We need to look with new eyes and not see only the disability."
Since Farfsing introduced Montessori training at Twin Towers' Memory Support Unit, director Marcia Wessels, RN, says change is evident. The TV is off and residents are participating more, staying out of their rooms longer and doing things like setting the table, cleaning up, arranging flower vases for the tables, and marking the days on the calendar.
"They want to be the person to call bingo instead of the activity leader," Wessels says. "They're more involved in their daily life, so they're not waiting for life and activities to happen for them."
One upside is there are fewer injuries because people aren't wandering into each other's rooms and falling. They're busy doing other things, like reading.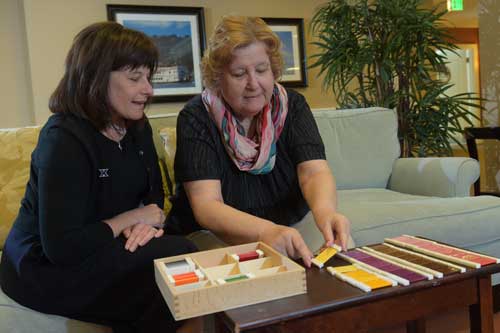 Every day there is a reading circle, either in the living room or, on good days, on the patio outside. On a recent weekday, about 15 residents and a staff member took turns reading from large print books on topics familiar to folks in their 70s, 80s and 90s-Mickey Rooney, Gene Kelly, the Statue of Liberty.
Maria, her leg shaking but her voice strong, reads the loudest and longest, and even directs the others. "Now we go to page 6," she says, then reads: "Money was raised in many different ways." One woman protests, "I'm too old for all this." Another says, "I'm not hearing what page."
It's not easy-but it's not mindless television either. And it's working. "I love to read any place, any time," Maria says.
It's a big change, Wessels says. "It used to be the activity leader reading to the residents. Now the residents are actively engaged in reading and having a discussion about what they're reading. Some people who were not talking before are talking now because they have to read."
Eventually, Wessels says, she wants to see residents choosing their own clothes and dressing and grooming themselves.
A study by Miami University's Scripps Gerontology Center shows encouraging early results of Xavier's Montessori Dementia program: increased activity for residents, more reminiscing about their lives, and less passivity.
Farfsing knows it would have been good for her dad. "I saw my father slip quickly and accelerate at lighting speed as soon as he was kept from doing things," she says. "We need to not create a hospital or hotel for these people-but a home structure instead."
TENETS OF MONTESSORI DEMENTIA CARE
The goals of the Montessori method are to maximize a person's independence and engagement while decreasing isolation in people experiencing memory loss. The Montessori Dementia approach:
• Is person-centered, meeting the individual's unique needs in the moment.
• Honors the individual by letting people do for themselves with or without support and recognizing each person's abilities and preferences when creating activities.
• Allows choice, which gives a person a sense of control.
• Establishes routine, which provides consistency and predictability.
• Values work by providing meaningful activities, which helps improve skills and reduce negative behaviors.
• Creates community, and being part of a community gives purpose to a person's life.