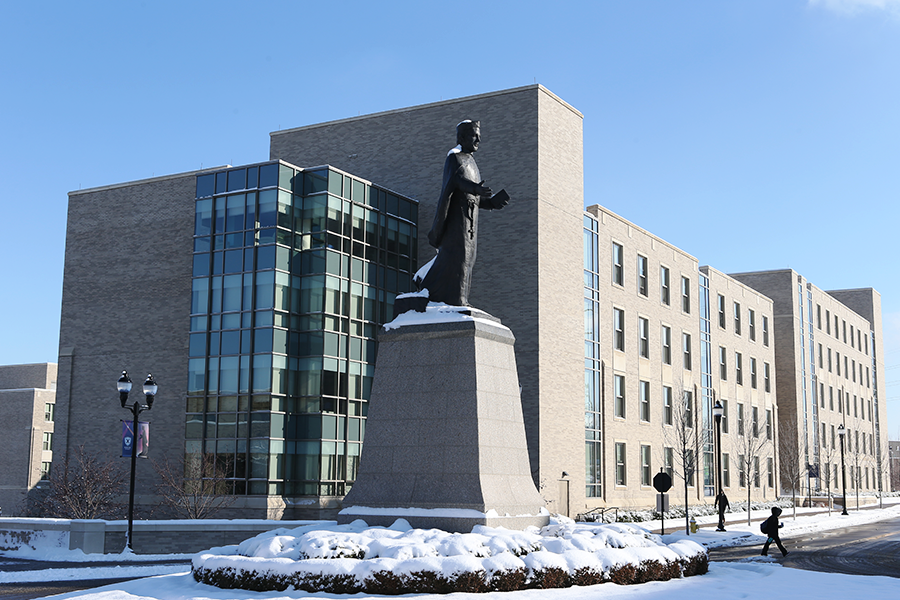 Xavier Online MBA Program Ranks No. 1 in Ohio, Climbs to No. 51 Nationally
Jan 24, 2023
For a second consecutive year, Xavier University's Online MBA program ranked as the best in Ohio and one of the top programs of its kind in the nation in U.S. News & World Report's 'Best Online Program' rankings.
Released Tuesday, the 2023 rankings ranked Xavier's Williams College of Business (WCB) No. 51 nationally for its Online MBA program, a five-spot rise compared to last year's list. Xavier rated considerably higher than any other Ohio institution, outperforming schools such as Ohio University (No. 99), Kent State University (No. 102), and the University of Cincinnati (No. 124) in the category.
"Being recognized as the highest-ranked Online MBA program in the state of Ohio reflects the high quality of education Xavier students gain from their business professors," said Russell Lacey, PhD, Associate Provost and Dean of the Graduate School at Xavier University. "Compared to the cost of tuition among other nationally ranked universities, Xavier's MBA program provides outstanding value, with a high return on investment."
The rankings also evidenced the University's commitment to veterans, as Xavier once again ranked as having the best Online MBA program for veterans in Ohio. WCB climbed to No. 31 nationally in that category, seven spots higher than last year's ranking. 
"These rankings reflect the commitment and personal attention our faculty bring to every class, whether online or in person," said Tom Hayes, PhD, Dean of Xavier's Williams College of Business. "The Jesuit educational philosophy of Cura Personalis – care for the whole person – is an integral part of our culture and a significant factor in achieving this recognition."
Accredited by the Association to Advance Collegiate Schools of Business, Xavier's Online MBA program offers working professionals the flexibility to balance family, career and school obligations while earning their degree. Xavier master's program graduates enjoy access to a professional network of 17,000+ alumni, including national business leaders and global innovators.
Overall, Xavier is nationally recognized for its academic excellence. In 2022, for the first time in its nearly 40-year history, U.S. News & World Report's 'Best Colleges' list recognized Xavier as a "National University," ranking it among the largest and most influential universities in the country. Xavier prepares its students for success, as 98% of graduates are employed, attending graduate school, or working in service positions within six months of graduation.
Learn more about Xavier's Online MBA and the University's extensive list of other top-tier, fully online programs.
View U.S. News and World Report's full 2023 'Best Online Program' Rankings.
---
Xavier University is a private university located in Cincinnati, Ohio, providing a liberal arts education in the Jesuit Catholic tradition. Founded in 1831, the University is the sixth-longest-running Catholic university in the nation. U.S. News & World Report ranks Xavier as one of the best universities in the country, while The Princeton Review names it one of the "Best 388 Colleges in America." Follow Xavier on Facebook, Twitter, Instagram, LinkedIn, YouTube and TikTok.