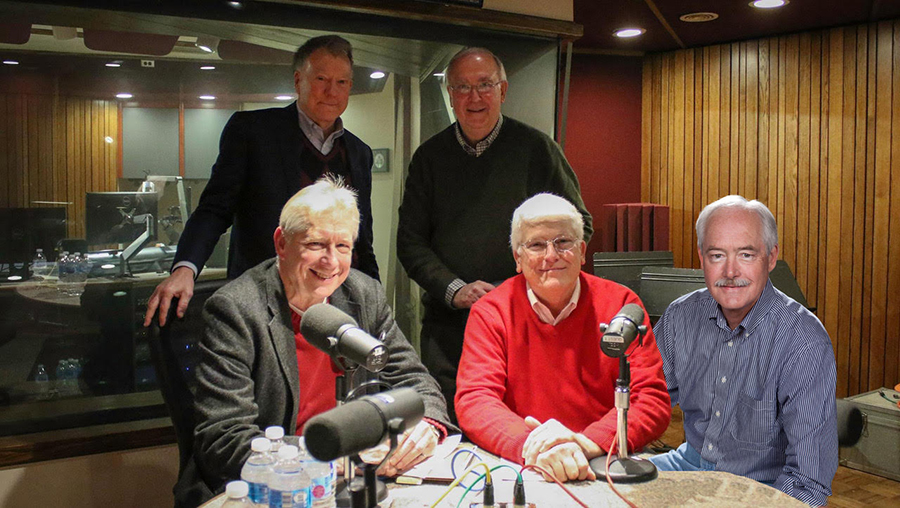 Xavier Alumni Support DIFT Program with Endowed Award
Jan 26, 2023
Alumni who attended Xavier during the early 1970s can tie many of their fondest college memories to a certain milestone for the University.
That milestone occurred on Oct. 1, 1970, the day Xavier received permission from the FCC to launch the first-ever FM radio station on campus – WVXU.
Known as 'The Voice of Xavier University' through its call letters, the student-run radio station started from humble beginnings, broadcasting exclusively to Xavier's campus five days each week from noon to 2 p.m. The station would grow considerably over the years, expanding its signal throughout Cincinnati and becoming the radio broadcast home for Xavier Men's Basketball.
Tom Stevens ('74) was among the first students to work at WVXU. Stevens' first year at Xavier coincided with the launch of the radio station. He began working for the station immediately, eventually rising to station manager and sports director during his senior year.
"It was a great way to learn the business from the ground floor," Stevens recalled. "What I learned there and the advantages it gave me were instrumental for my career."
Since those early days, WVXU held true to its moniker by serving as the voice of generations of Xavier students. 2020 marked the 50-year anniversary of the station's launch, which inspired Stevens and former WVXU alumni Jay Adrick ('69), Larry Holt ('73), Russ Read ('75) and Mike Cutler ('75) to organize a reunion to celebrate the station's past while looking ahead to its future.
That reunion included a tour of Xavier's Digital Innovation, Film and Television (DIFT) spaces and a meeting with the director of Xavier's DIFT program, Bliss DeVault. Stevens said the five WVXU alumni were impressed by the current state of the communications program. Out of gratitude for WVXU and in support of future programming, they felt compelled to give back to Xavier.
"Mike made the first donation to the program and challenged others to do the same," Stevens said. "We thought about how we could memorialize (our gift) and get a little more usage out of it for a long-term basis instead of a one-time shot."
Together, the five created The Endowment for Digital Innovation (TEDI). This endowed award gives DIFT educators access to funds earmarked for student recognition, emerging technologies, financial support of student management and student recruitment.
Stevens said organizers set out with a goal to raise $100,000 for the endowed fund. Through planned gifts and contributions from others, Stevens said the five are well on their way toward reaching and eventually surpassing their goal.
"Estate planning is a great way to carve out your legacy, especially if you feel as committed and grateful as I do to our alma mater," Stevens said.
---
Learn more about estate planning and planned giving options on Xavier's Planned Giving website.