'Incredibly surreal': Xavier students recount experience as Presidential guests at White House
Aug 10, 2022
"The President requests the pleasure of your company …"

Xavier sophomores Ethan Nichols and Shontelle Johnson could hardly believe their eyes as they read those words, which sat atop an invitation personally welcoming the two students as White House guests for an event on July 11, 2022.


I really don't know what to say. This is incredibly surreal. pic.twitter.com/5xIjHkFGxb

— Ethan Nichols ☮️ (@EthanNichols02) July 2, 2022

Their invitation came on the heels of the Bipartisan Safer Communities Act, a new law passed in the weeks following mass shootings in Uvalde, Texas, and Buffalo, New York, that revolves around preventing gun violence, improving school safety and enhancing mental health services.

Nichols and Johnson have both lent their voices to the movement against gun violence, earning them the opportunity to participate in a White House celebration of the law's passage.

"It was pretty surreal," said Nichols, a Cincinnati native who founded the nonprofit Ohio Students for Gun Legislation in 2018 while he was still in high school and is involved with the student-led gun reform demonstration March for Our Lives. "I've done virtual advocacy on [Capitol Hill] and have been to the statehouse a number of times to testify on legislation, but I'd never been to D.C. before, so this was a pretty unique opportunity."



Despite double-majoring in English and Philosophy, Politics, and the Public (PPP), a rigorous, interdisciplinary four-year honors program, Nichols still dedicates plenty of time to his advocacy efforts.

In fact, he said his time at Xavier so far has helped connect him with even more opportunities to exercise his passions.

"PPP is very tied into the kind of work I was already doing, but I think it's helped enhance my passion for these issues and given me more opportunities to advocate and work around these causes," Nichols said.

The experience of visiting the White House was as much a whirlwind for Johnson, also a PPP major, who just weeks prior attended and spoke at a protest for the first time. She addressed the crowd at March for our Lives Cincinnati, which both she and Nichols organized as part of MFOL's National Day of Action.

"I pretty much spoke about how gun violence shouldn't be our normal and that we shouldn't let this sift into the background, that we have to fight for a better future," Johnson said.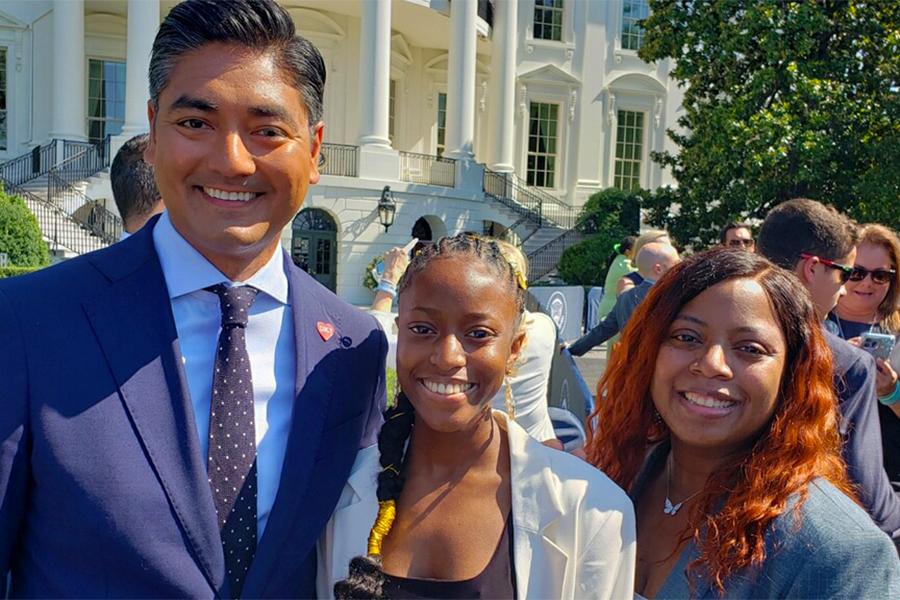 In the weeks following the march, Johnson received a message from Nichols on Instagram letting her know about the possibility of an invitation to the White House, as political organizers were looking for students to attend the event celebrating the new gun legislation. Nichols said he had passed on Johnson's name and email address, and all they had to do at that point was wait.

That part was difficult for Johnson.

"I was checking my email ridiculously often, like every second of the day," Johnson said. "I'm glad I did, because I literally checked it the second I got the email. I was like, "Is this real?'"

But her skepticism quickly waned and turned to exhilaration. Johnson immediately shared the news with her mother, Tarshell Howard, who would accompany Johnson to Washington.

"I was screaming," Johnson said. "I emailed [the invitation] to my mom, and I was like, 'I did it!'"

Johnson's and Nichols' excitement only grew from that day until the moment they stepped foot on White House grounds, where they met a host of heavy hitters. Between the two of them, that list included political leaders like House of Representatives Speaker Nancy Pelosi, U.S. Senator Bernie Sanders, and Cincinnati Mayor Aftab Pureval, plus activists such as Martin Luther King III, the Rev. Jesse Jackson and Moms Demand Action Founder Shannon Watts, to name a few.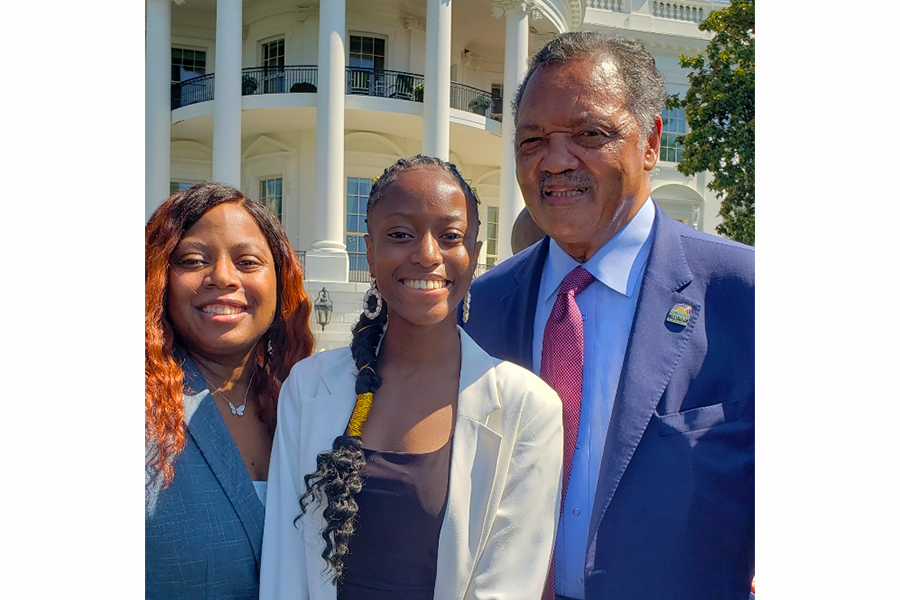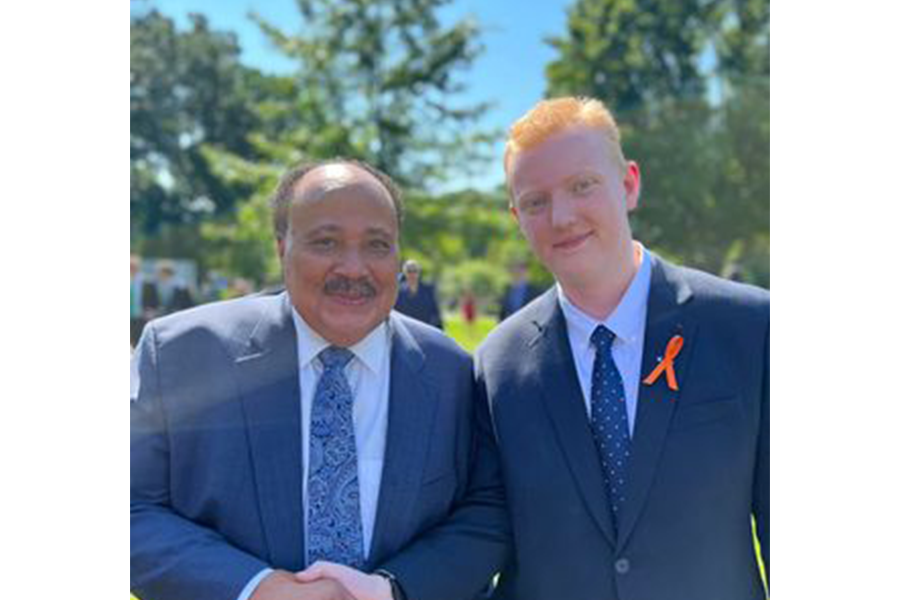 While they didn't get the opportunity to shake President Biden's hand, they got plenty of up-close looks at the commander in chief. Johnson recalled one moment when she stood a mere arm's length away from the president.

But perhaps the most impactful group the pair encountered during their time in Washington was gun violence survivors, including former congresswoman Gabby Giffords, whom Nichols met that night along with her husband, U.S. Sen. Mark Kelly, at the premiere of the documentary, "Gabby Giffords Won't Back Down." Giffords was shot in the head during a mass shooting in Tucson, Arizona, in 2011.

Nichols was wowed by Giffords' resiliency, as she continues advocating despite her aphasia, a language disorder that resulted from the injuries she sustained in the shooting.

"I think it was really impactful to talk with her and Sen. Kelly about why they're in this fight and how it's so personal to them because she experienced that trauma," Nichols said.

Though he said much more work needs to be done to curb gun violence, Nichols felt more optimistic following his visit to the White House that more legislation will be passed in his lifetime to prevent mass shootings.

Johnson shared that optimism and said she felt hopeful that shootings would not, as she urged against, become "our normal."

Johnson, who chairs the Student Rights and Identity Committee of Xavier's Student Government Association, credited Nichols first and foremost for her invitation to Washington, but also reflected on the unique opportunities afforded to her through Xavier.

"I genuinely think it would have taken me a lot longer to get to the place where I am now if I didn't go to Xavier," Johnson said. "By having the opportunities in student government, learning about all these different leaders in our community and their styles of leadership, meeting with student leaders … there's just a world of opportunities here.

"I feel like Xavier always encourages students to go after opportunities and says, 'If you want to do something, tell us, and we'll get you there.'"