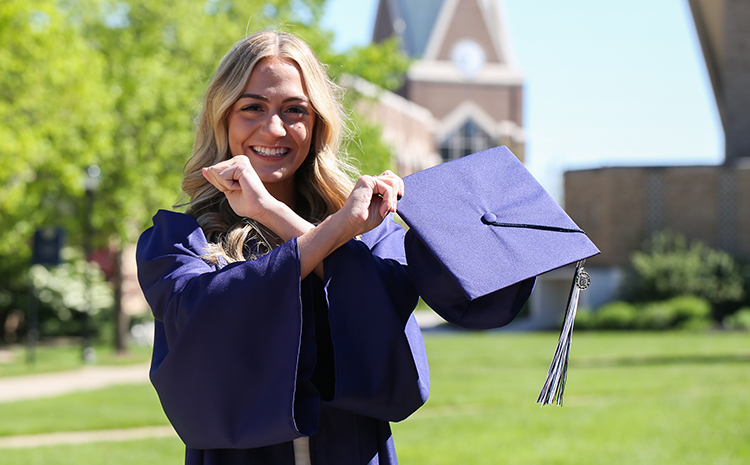 Xavier's 183rd Commencement Ceremonies Celebrate Class of 2021
May 6, 2021
Xavier University's
183rd Commencement Ceremonies
will be held on Saturday, May 8, and Sunday, May 9 at the University's Cintas Center.
Xavier will confer 1,417 undergraduate degrees, 846 graduate degrees and 52 doctoral degrees during four individual college commencement ceremonies.
The University continues to follow CDC and state and local guidelines regarding the size of large gatherings. Xavier team members are preparing the Cintas Center in pods of four seats to allow guests to remain socially distanced during the ceremonies. All ceremonies will be
live-streamed online
.
"We are thrilled that our graduates have the opportunity to attend in-person and to bring four guests with them," shared Dr. Melissa Baumann, Provost and Chief Academic Officer. "With this year being Fr. Graham's final Commencement as President of Xavier University, I know he will be excited to celebrate as each graduate crosses the stage during this important milestone moment."
Graduates will join the network of more than 80,000 Xavier alumni from across the globe.
Countries represented by graduates include Antigua, Barbuda, Canada, China, Colombia, Congo, Kinshasa, Czech Republic, Haiti, India, Kenya, Mexico, Nicaragua, Nigeria, Papua New Guinea, Saudi Arabia, South Africa, Sri Lanka, United Kingdom, United States, Venezuela and Vietnam.
Commencement Ceremony details
College of Arts and Sciences: Saturday, May 8, 2021 at 9:00 a.m.
College of Nursing: Saturday, May 8, 2021 at 2:00 p.m.
College of Professional Sciences: Sunday, May 9, 2021 at 9:00 a.m.
Williams College of Business: Sunday, May 9, 2021 at 2:00 p.m.
Undergraduate Ceremony Speaker
Daniel F. Meyer, CEO at Nehemiah Manufacturing
Graduate Ceremony Speaker
Rose Ann Fleming, SND de N, Athlete Academic Adviser & Special Assistant to Xavier President Michael Graham, S.J.
---
Xavier University is a private university located in Cincinnati, Ohio, providing a liberal arts education in the Jesuit Catholic tradition. Founded in 1831, the University is the sixth-oldest Catholic university in the nation. It has been ranked among the top 10 master's-level universities in the Midwest by
U.S. News & World Report
for the past two decades. The Princeton Review names it one of the "Best 385 Colleges in America."