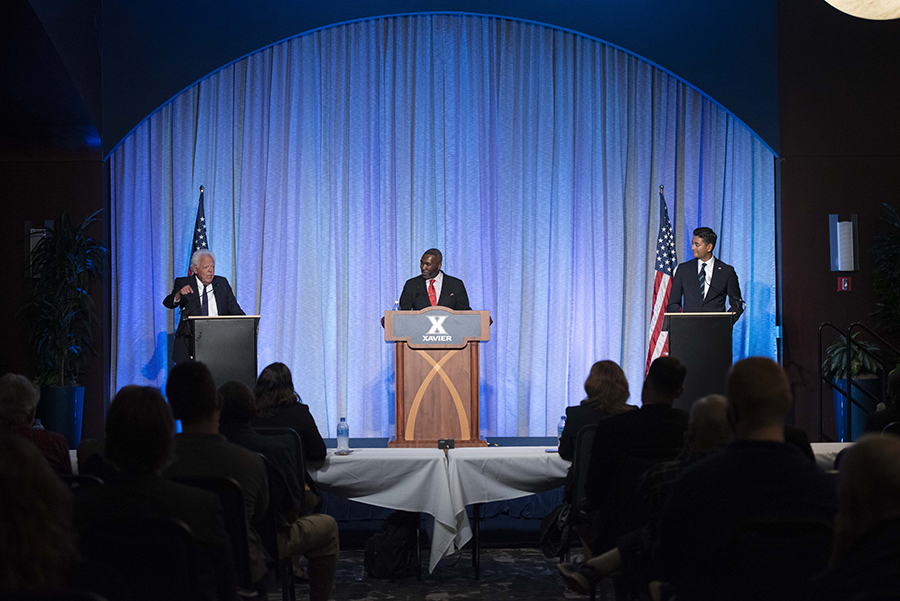 Mayoral Debate Provides Experiential Learning Opportunity for Xavier Students
Sep 27, 2021
Tuesday's mayoral debate between Cincinnati Councilman David Mann and Hamilton County Clerk of Courts Aftab Pureval held in Xavier's Cintas Center generated a civil yet lively discussion on a wide range of issues affecting Cincinnati. The two Democratic candidates spent more than an hour debating economic development, candidate qualifications, police reform and the recent city corruption scandal in front of hundreds in attendance and even more watching at home.
To those unfamiliar with Xavier, the heavy political discourse may seem out of place on the grounds of the Jesuit Catholic university. But according to Xavier Government Relations Director Sean Comer, that could not be further from the case.
"Jesuit Catholic institutions care for their communities and to me, this (debate) is an extension of that," Comer said. "We want to be a space where important conversations happen. Who the next mayor of Cincinnati is will be an important issue that matters to our students, our faculty, our staff, our city and our region. We're thrilled to play that host role as a civic leader in our community."
Xavier partnered with the Cincinnati Enquirer and Cincinnati Public Radio Station 91.7 WVXU to host and organize the debate, which was held two weeks priors to the start of early voting.
Fostering open and honest dialogue on controversial topics is nothing new to Xavier. Xavier students and staff are challenged to practice reflection and discernment – two core university values centered around critical thinking and discussion of new and sometimes conflicting ideas in a thoughtful and respectful manner.
As a means of encouraging healthy dialogue on hotly-contested political issues, Xavier launched a non-partisan, University-wide initiative in 2020 called Take It On, which seeks to promote better civil discourse and peaceful political engagement in the community.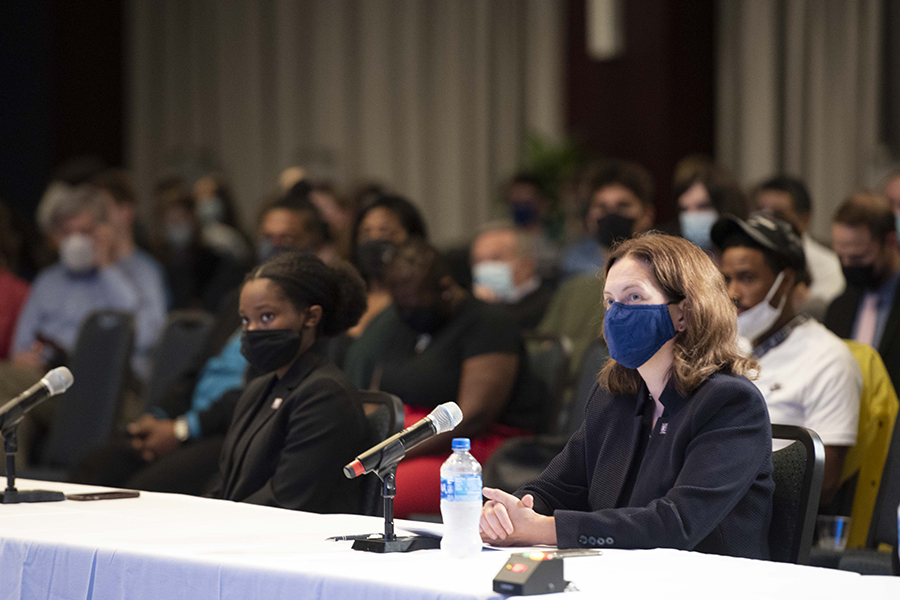 History professor Dr. Rachel Chrastil leads Xavier's Take It On initiative and served as one of Xavier's representative panelist for the mayoral debate. Chrastil said that Xavier students – many of whom major in political science or Philosophy, Politics and the Public – worked collaboratively with representatives from the Cincinnati Enquirer to develop questions for the candidates in advance of the debate. Xavier Student Government Association President Michaele Townsend served as a panelist for the debate and posed her question on local environmental infrastructure planning directly to both candidates. Chrastil said that opportunities for direct involvement in the political scene are important for students as they prepare for a transition into the workforce.
"We strive to give our students as many real-world experiences as possible," Chrastil said. "Our students work on campaigns. They get into rooms and help strategize. Many work with local prosecutors and defenders. Cincinnati really is a great place to study politics."
Through Xavier's Philosophy, Politics and the Public program, students take on real-world issues through internships in political offices, both downtown at City Hall and in Columbus. Program sophomores travel to Washington DC each year to meet with senators and lawmakers. 
The invaluable experiences gained from those opportunities have helped students launch successful careers in the political realm. Chrastil said Xavier Philosophy Politics and the Public graduates have gone on to work on campaigns for Sen. Mitt Romney (R-UT), Sen. Rob Portman (R-OH) and Former President Barack Obama among others.
"We are developing students who will shape the future," Chrastil said. "We have them study the history of the United States in great detail so they understand the country they will be serving. They're doing all kinds of great hands-on work. We're so proud of our students and the people they go on to become."
Learn More About Xavier's Take It On Initiative
Chike Erokwu
Content Producer
Xavier University Office of Marketing and Communications