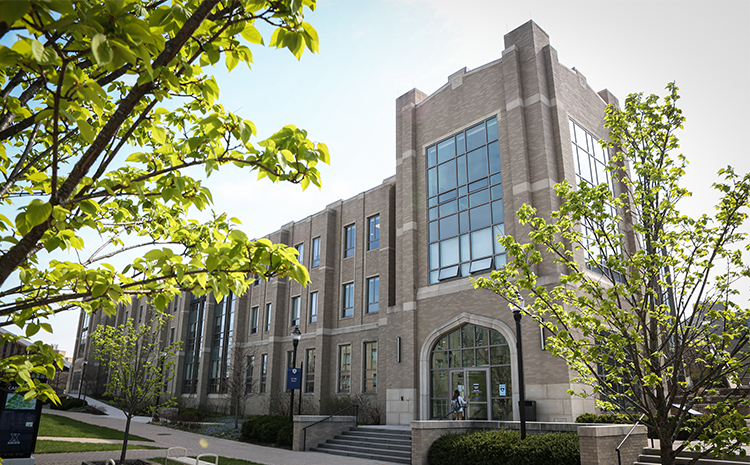 Message from the Dean of the College of Arts and Sciences
Apr 18, 2021
Spring has returned to campus, occasioning reflections on the pandemic that has so powerfully shaped life at Xavier over the past year. Taking time to draw upon the Ignatian tradition of reflection is more important now than ever.
So in this edition of the CAS Alumni Newsletter, we've included some of those reflections: of first-year students navigating COVID and campus life; of members of the college's Student Advisory Board; and of beloved faculty members who have retired over the past year. I encourage you to read their stories.
You will notice, I am sure, that their reflections look forward as well as backward. Here and there, they point to hopes and plans for the post-pandemic future.
That matches the hopeful mood that has arisen across the college — as March gave way to April, tulips and trees came into bloom on campus, and the Easter holiday once more called to mind the death-defeating mystery that is central to Christianity and Xavier's Jesuit Catholic tradition.
This year Easter was followed closely by mass vaccination events for Xavier students at the Cintas Center, made possible by Ohio's Governor DeWine and administered in partnership with the State of Ohio, Kroger, and TriHealth. On other days, we've welcomed the public to campus for vaccines. It feels great.
We of course continue to wear masks and take appropriate precautions, while cheerfully planning for a more normal fall semester.
I also take hope from the recent formation of a new academic department – RIGS – whose faculty apply rigorous research to some of our society's most pressing and contested issues, as you can also read in this issue. In doing so, our faculty and students support the distinctive commitments that are informed by Xavier's mission and tradition: to seek out difference, explore common ground, and stand for justice—as our university community has done throughout the past year. 
This spring you too have remained a source of strength and hope for me and the college, not least through your outpouring of support for the college's students during March Gladness. Together our supporters made more than 650 donations to the college and its programs, amounting to more than $35,000. Thank you!
Together. For others.
David Mengel, Ph.D.
Dean of the College of Arts and Sciences
Xavier University