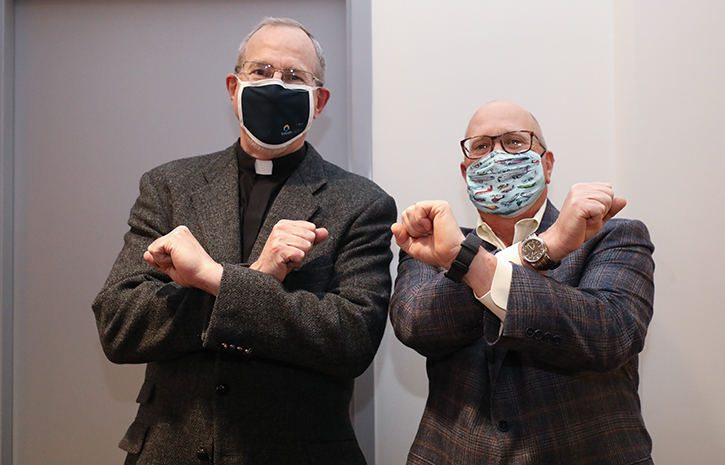 Xavier, GE Aviation Celebrate an Amazing Partnership
Nov 9, 2020
For more than a decade, Xavier and GE Aviation have helped Veteran and military-connected students.
It began in 2010, when GE Aviation, which is headquartered in Cincinnati, conducted Voice of the Customer sessions with student veterans at Xavier to assess their needs.
This led to internships at GE, several new campus programs and a $100,000 donation in 2015 to convert an empty space on campus into a state-of-the-art Veteran and Military Family Center.
"Our goal is to make Xavier the destination of choice for veterans who want an exceptional education experience," President and CEO David Joyce said at the time. "We're proud to be supporting the University's expanding program for attracting veterans and supporting veteran students."
In 2016, GE donated another $1.5 million, which resulted in new hires and more support. Suddenly, Xavier became a destination for military-connected students, and GE Aviation developed a good hiring relationship for interns and employees. The company provides internships to Xavier students in IT, human resources and finance – an effort that led to six student veterans getting hired full-time.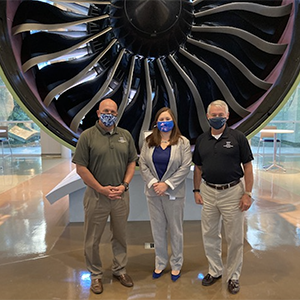 Xavier student veterans can also participate in a professional mentoring program that includes GE Aviation and volunteers from other companies in the Cincinnati area.
Wayman Brown, a U.S. Air Force veteran and GE Global Operations sourcing specialist, holds both a bachelor's degree and MBA from Xavier, and was able to find his current position with GE after meeting a veteran working at GE in class.
"Had it not been for my experience with Xavier and the Veteran and Military Family Center, I can say, without a doubt, I wouldn't be where I am today," Brown said. "I'm just really grateful for that experience, and whenever they ask for anything in return, they know I've got them."
"We all have shared an amazing journey to form this partnership, where we continue to help our veterans and strengthen our community," said Nikki Foster, Senior Business Communications Leader at GE Aviation.
For current students, the partnership continues to make a life-changing difference.
"The Veteran and Military Family Center at Xavier has helped me more than I could possibly explain," said John Aho, a Veteran who is majoring in Finance at Xavier. "They helped me change my major. They helped me with a plethora of networking opportunities. They even helped me most recently find an internship. I was able to use my network and the connections I made through Xavier to reach out to someone at GE. I interviewed for an internship this summer in the financial management program and that went great."


GE Aviation's Support to the Veteran and Military Family Center
In 2018, GE Aviation pledged and additional $1.5 million to the Veteran and Military Family Center, bringing the total gift amount to $3 million in support of veteran and military-connected students at Xavier. As a result of this support Xavier has seen:
The dedication of a 2,200-square-foot space for use by student veterans.
Military-connected enrollment grow from 160 in 2015 to 310 in 2020. It is on a trajectory to reach 500 by 2025.
Retention rates continue to rise — most recently to 84 percent — the highest in the history of the Veteran and Military Family Center.
Graduating military-connected students average a GPA of 3.49 in 2019 — up from 3.1 in 2015.
The University earn a ranking of No. 3 in the Midwest for veteran-friendly schools from U.S. News and World Report, up from No. 7 in 2018.
Military-connected students achieve a 100 percent outcomes rate, meaning our graduates are working, volunteering or continuing their education within six months of graduation.


The David Joyce Scholarship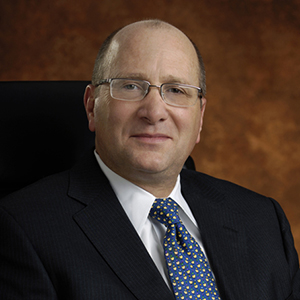 In the summer of 2020, GE Aviation President and CEO David Joyce announced his retirement.
Joyce, who graduated from Xavier with his MBA in 1996, will transition to non-executive chair of GE Aviation through Dec. 31, 2020 and will continue as GE vice chair and advisor to GE Research through Dec. 31, 2020. Subsequently, he will serve as strategic advisor to GE Aviation into 2021.
While Joyce's 12-year tenure as President and CEO is known for leadership and innovation, his contribution to military-connected students at Xavier University will live on forever (see above).
To honor Joyce's vision, an annual scholarship has been created in his name.
Xavier will offer 24 scholarships of $2,000 per semester for any GE employee and GE employee dependent with preference for veteran or military-affiliated status. The first scholarships will be distributed in fall 2021.
"I'm a proud graduate of Xavier," Joyce said. "I do believe GE Aviation has benefitted through my learnings through Xavier University. [GE Aviation and Xavier] both care deeply for our military veterans. It just became an honor to be a part of. It was very simple."
For more information on the David Joyce Scholarship, visit https://www.xavier.edu/veterans/benefits/david-joyce-scholarship.