OPIDEMIC: A STORY OF ADDICTION (Part 1 of 2)
Jan 14, 2020
Xavier students raise awareness, host speaker on opioid epidemic Jan. 23
Kendall King and Michael Mercado know exactly where they were when they became aware of the area's opioid crisis.
Kendall, a senior from Toledo who is majoring in Health Services Administration, was sitting in a public health class last year when the opioid topic came up. It was not something he'd heard a lot about, but he was fascinated to know more.
"I was really interested, because it seemed like we were trying to respond to this issue in a different way," he said. "Thirty years ago, when we were trying to fight the drug war, we just told people to say no. Now, this has become a health concern, because addiction is a disease. Education, awareness and safety are the ways to try and handle it properly."
He met with his adviser, Eileen Alexander, who is an assistant professor in Health Services Administration and also the faculty advisor for Xavier's chapter of the Institute for Healthcare Improvement Club.
Kendall, a Community Engaged Fellow who also serves as a senator in the Student Government Association, was encouraged to sponsor an SGA event during the course of the year. He knew education and awareness would have to be the first part of the opioid solution. He and Alexander, along with representatives from the Department Criminal Justice, decided to bring someone to campus who could tell the story of the deadly disease.
That's how Hamilton County Coroner, Dr. Lakshmi Kode Sammarco, agreed to visit Xavier to speak at 6:00 p.m. on Thursday, Jan. 23, in Kennedy Auditorium. The title of her presentation is "The Opidemic," and the public is invited to attend.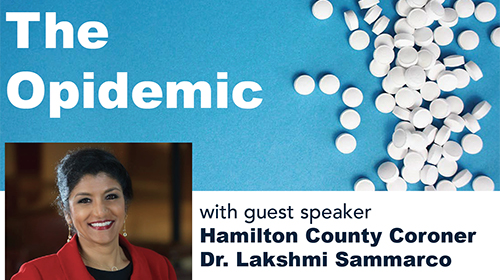 "This is a start to getting the conversation going," 21-year-old Kendall said. "You can't simplify the problem. It's not enough just to talk about it, you have to have the right people talking about it, and that's what we're doing."
Michael Mercado shares the same opinion as Kendall. The two are friends, and Michael has the same major. But Michael has seen the opioid crisis from a different angle.
As part of an undergraduate research project, he's spent the last 18 months poring over data that illustrate the opioid crisis in the region. He said that in 2017, thousands of Cincinnatians were admitted to hospitals for substance abuse.
"I've taken in an enormous amount of information," Michael said. "And now, I just hope we can make an impact. If you told me as a high school senior that I was going to be doing important work like this, I would've never believed you."
"We have to spread education," Kendall said. "To me, that's a no-brainer. And anyone can do that. A professor. A student. Anyone."


Want to see more about Michael and Xavier Assistant Professor Peter Mallow's research? And, more importantly, what they plan to do about it?


Read part two of the story.
By Ryan Clark, Xavier Marketing and Communications