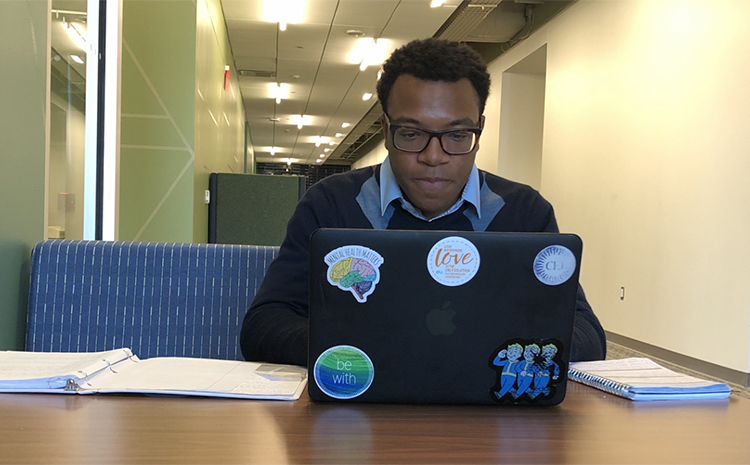 OPIDEMIC: A STORY OF ADDICTION (Part 2 of 2)
Jan 14, 2020
Xavier students work with professors to combat opioid epidemic
Michael Mercado remembers the exact time his college career changed forever. It happened to be the same time he heard about the crisis. 
He was a sophomore at Xavier, majoring in Health Services Administration, and he'd heard how the Stephen S. Smith Center in the Williams College of Business was giving out free books to promote a speaker who was coming to campus.
"I really didn't think much about it," says the 21-year-old senior from Chicago. "I just thought I'd grab a free book. I didn't even really know what it was about."
The book was Dreamland by journalist Sam Quinones, and it detailed the ways in which addiction is destroying America's heartland. The book describes opioids—a class of drugs that includes illegal substances like heroin, but also includes synthetic forms, such as legal, prescription painkillers. Oxycodone, hydrocodone, morphine and codeine are just examples of some of the drugs that fall under this umbrella, and people are becoming dangerously addicted to them.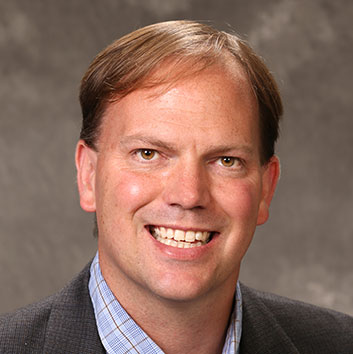 In fact, Americans' addiction to these types of drugs is becoming so pervasive that overdosing is now the leading cause of accidental death in the country, according to government statistics. In 2016, more than
42,000 deaths were blamed on opioid overdoses alone. And by 2017, the U.S. Department of Health and Human Services had declared a public health emergency.
Quinones' book covered the story in such great detail that he won the 2015 National Book Critics Circle Award for General Nonfiction, and Slate said it was one of the best 50 nonfiction books of the past 25 years.
It made an equal impression on Michael Mercado.
"It was super impactful and interesting," he said. "I had no idea the extent of the drug problem, and how much of it is centered here in Ohio. It's frightening. It made you feel like you wanted to do something to help."
At Xavier, where students and faculty have a built-in sense of helping their communities, it seemed natural for them to wonder what could be done. Luckily for Michael, his professors were wondering the same thing.
"Later on that year, I was sitting in Dr. Peter Mallow's population health class, and he asked if anyone would be interested in serving as an assistant to record data and help do some good," Michael said.
Mallow, director of Health Economics and Clinical Outcomes Research and an assistant professor at Xavier, was also investigating the opioid problem—specifically how the region was responding to and helping those with addiction problems.
"We have performed quite a bit of research into the opioid crisis at Xavier," Mallow said. "Michael Mercado has been a tremendous research assistant. The study is examining disparities in opioid treatment in and within the region. Through Michael's help we have received funding support from the Hamilton County Prosecutor's Office. We have two presentations submitted for an upcoming conference and are currently working on a manuscript to submit to a journal.
"The second project is a three-year evaluation of the opioid quick response teams," he continued. "This project is a collaboration with Interact for Health and the University of Cincinnati Institute for Policy Research. We are beginning our second year of this study."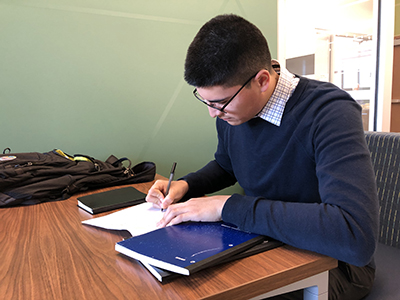 Mallow said that past research included quantifying the number of people suffering from opioid use disorder in the region, identifying priority areas nationally for opioid treatment, examining the costs of opioid-related hospital visits and exploring the effectiveness of prescription drug-monitoring programs.
Michael explained that during the last 18 months, he's pored over data that illustrate the opioid crisis in the region. He said that in 2017, thousands of Cincinnatians were admitted to hospitals for substance abuse. So what did he and Mallow find?
"Those suffering from addiction in Cincinnati have to wait longer to be treated than people in other areas of the country," Michael said. "And sometimes, there isn't enough treatment for everyone who needs it."
It's an important, and revelatory fact that helps explain how this problem is not going away. While Michael's friend Kendall King was doing his best to bring speakers to campus to raise awareness, Michael was working to provide the statistics to show how dangerous this epidemic has become.
"Our hope is that we can present this information at a conference, where more people will see it, and we can publish it in a journal, and we can use that awareness to get help for the region," Michael said. "When I looked at all of these numbers, it just struck me—each of these numbers is a person who is struggling with opioid use disorder. Everyone has a story about how they got the drug, and how they became addicted. It gives you a whole new appreciation for how important the opioid epidemic is to our region."


By Ryan Clark, Xavier Marketing and Communications