Xavier University's New Recreation Center Completes HUB as Center of Collegiate Health
Jan 10, 2020
On Monday, Jan. 13, a new chapter unfolded for Xavier University with the opening of the new Recreation Center in the Health United Building. Students, staff and rec center members are now welcome to use the exercise machines and fitness studios for their workouts, swim laps in the four-lane pool, jog around the elevated track and shoot hoops on one of three courts on the second floor.
The new rec center has all the exercise equipment of a modern facility, but it offers so much more. As the fitness component of the new Health United Building, known as the HUB, it completes the purpose of Xavier's affiliation with TriHealth to create a center for collegiate health by providing a unique combination of health-related academics, recreational offerings and medical services for students all under one roof. 
Atypical health-related elements are embedded throughout the four floors of the rec center. For example, alongside a bank of workout machines are clinical spaces and labs that include a whirlpool, treatment tables and video equipment to tape Sport Studies students as they practice their skills under professional supervision. In addition to faculty, Athletic Training students will work with a full-time athletic trainer provided by TriHealth, who will also act as a clinical preceptor for graduate students in practicum for their master's degree. The trainer will also treat Xavier students who play on club or rec sports teams and develop injuries.
A large space set aside as a "wet classroom" on the deck beside the pool allows for CPR instruction. There is also a new Student Wellbeing Services office and an office for Xavier's Center for Population Health, which conducts research on ways to improve health care nationwide.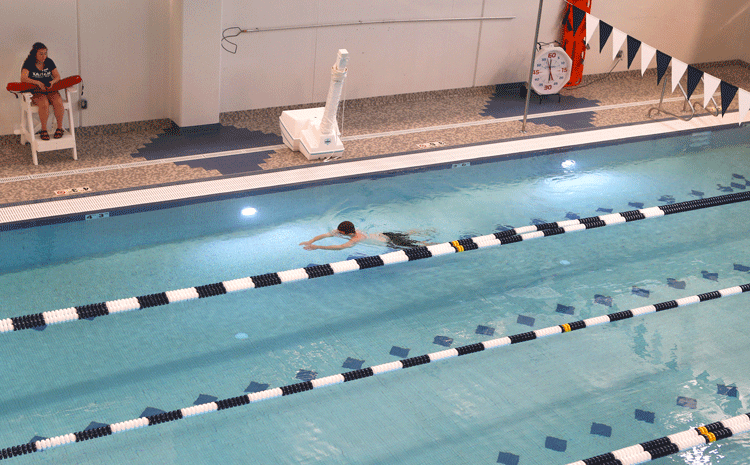 "The new rec center is a such a game changer for Xavier," said Director Leslie Dulle. "Rec centers are often where students find that familiar feeling that contributes to their sense of belonging, and this facility puts Xavier University on the forefront of collegiate health and will make a lasting impact on our students. I am looking forward to the collaborations and improvements this phenomenal affiliation with TriHealth will have for the Xavier community. I have been waiting for this facility for a very long time and am literally realizing a dream come true." 
With the closing of the O'Connor Sports Center on Dec. 13, the Department of Recreational Sports is now based in the HUB on the opposite side of campus in a space that, at 100,000 square feet, is more than twice as large as what was available at O'Connor.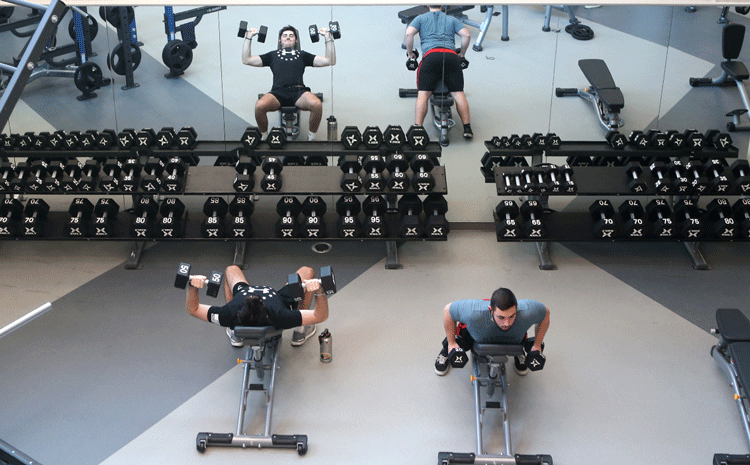 The improvements take Xavier to a new level of recreational offerings, which include 75 different kinds of cardio equipment such as bikes, ellipticals, stair mills, treadmills, rowers and lateral trainers. The space dedicated to weight lifting is three times larger and includes a Torque Rack, Hammer Strength and Selectorized equipment as well as Olympic lifting platforms. There are three group exercise studios instead of just one, offering space for personal training workouts and yoga and dance classes. The cycling studio alone has 20 bikes, with space to offer cycling classes as part of a group exercise schedule.
Suspended above the basketball courts, a running track on the third floor offers three lanes stretching one tenth of a mile around the upper walls. It is the highest point on campus. There are all-gender and family restrooms throughout the center, and handicap-accessible locker rooms on the lower level. There, a four-lane pool is dedicated to lap swimming and other water-based programming, and the deck leads to a multi-sport court that opens in May.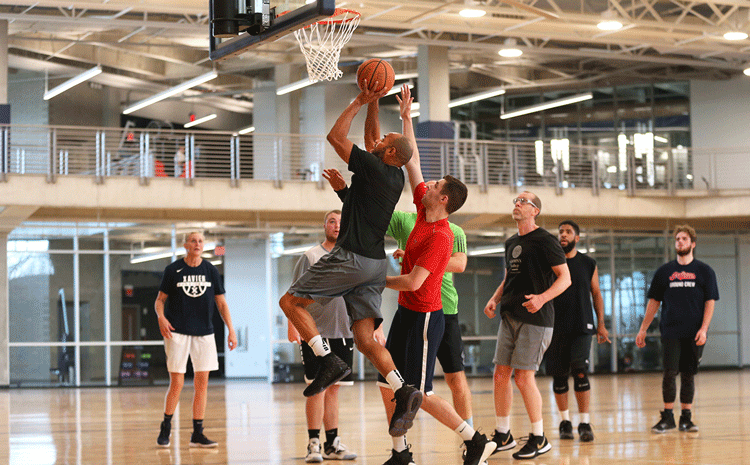 About 1,000 students are expected to use the rec center daily. Combined with the 1,500 students attending class, there could be up to 3,000 students in the HUB each day. Here is a floor-by-floor look at what's inside the new Recreation Center: 
THIRD FLOOR
Running Track with 3 lanes
Fitness alcove with exercise equipment
All-gender restroom
SECOND FLOOR
Three wooden courts for basketball and volleyball
Fitness alcove with exercise equipment
All-gender restroom
FIRST FLOOR
Front desk entrance
Market Place Café
Center for Population Health
Student Wellbeing Services
Exercise Science academic training lab
Athletic Training academic lab and treatment space
Personal training assessment lab
Cardio floor with 75 pieces of equipment
Lounge
All-gender restroom 
GROUND FLOOR
Cycling studio has 20 bikes and offers cycling classes
Balance studio for yoga and dance classes
Transform studio for personal training workouts
Indoor pool – 4-lanes, 25 yards long
Wet classroom for CPR, first aid and lifeguard training
Weight floor
2 all-gender family restrooms
Men's and women's locker rooms
Multi-sport court
VIEW A MAP OF THE FOUR LEVELS.