Xavier students take over Yard to Celebrate Holi
Mar 31, 2019
By Ryan Clark
Lexy Rieger had heard about Holi, and she knew a little bit about the Hindu faith, but she wasn't sure what it was all about.
So naturally, she had to come out to the Hindu Celebration of Spring, held annually on The Yard at Xavier, to find out more. She ended up dancing, throwing water balloons at her friends, and getting covered in paint, as those who participate in this ritual normally do.
"It was so culturally educating," said Rieger, a junior from Hebron, Ky. "A friend of mine is Hindu and I wanted to learn more about it, so I came out."
Sponsored by Xavier's Center for Interfaith and Community Engagement, and featuring dancers from Cincinnati's Culture Centre of India, a crowd of more than 50 came out Friday afternoon for the Holi Hindu Celebration event. They heard speakers, learned dance moves, and then celebrated the colors of Spring by drenching themselves with water balloons and throwing paint on one another.
Padma Chebrolu, who earned an MBA in management information systems in 2002 and now serves as an adjunct faculty in the MBA and EMBA programs, spoke and helped teach dance to those in attendance.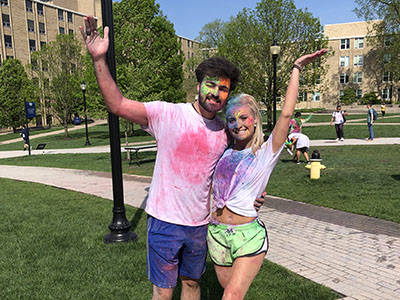 "Holi is about joy, love, friendship and caring for each other," she told the crowd. "It could be giving someone a small hug, or a little bit of support. These little things add up."
She also praised Xavier for celebrating the event.
"It's so important to celebrate other cultures," she said. "We can learn, but we can also have fun. Everyone loves Holi."
Lexy Rieger said she was able to learn and have fun. She even convinced her boyfriend — who doesn't even attend Xavier — to come along for the ride.
"She told me we were going to do this, and it sounded like fun," said Tyler LeBlanc, of Cincinnati. "She was right."
By the end, the pair were covered in color: pinks, purples reds and greens.
"This is just one of those things," Rieger said, "that if you're a Xavier student, you just have to do."